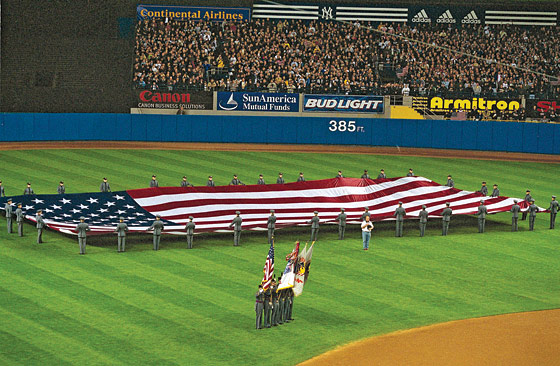 New York City was on high alert on October 30, 2001, the day of Game 3 of the World Series at Yankee Stadium. The day before, Attorney General John Ashcroft had warned that terrorists might attack again within the week. Health officials had just announced the city's first case of pulmonary anthrax. Bomb-sniffing dogs and metal detectors were deployed. George W. Bush received an improbable-enough thunderous ovation in the Bronx as he took the mound wearing an FDNY sweatshirt over a bullet­proof vest, gave the crowd a thumbs-up, then fired a strike to Yankees backup catcher Todd Greene. Rudy Giuliani and John McCain, wearing a Yankees cap and a Diamondbacks cap, respectively, sat together in the front row next to the Yankees dugout. Joe Torre still looked pained.
On the field, Roger Clemens pitched seven innings of nine-strikeout, three-hit ball, Scott Brosius delivered the go-ahead single in the sixth, Mariano Rivera logged two innings of scoreless relief, and the Yankees scratched out a 2–1 win. Instead of "Reggie, Reggie!" or "Boston sucks!," chants of "U-S-A, U-S-A" were heard.
Thanks to dramatic late-inning comebacks, the Yankees won Games 4 and 5 as well, and with the Bombers up by one going into the bottom of the ninth inning of Game 7, and Rivera again on the mound, a Hollywood triumph looked inevitable. Then, after a Tony Womack RBI, the Diamondbacks loaded the bases, and Luis Gonzalez blooped a game-winning single to take the championship for Arizona. The series is often cited as one of the most exciting ever (it was just the sixth in history to end with a walk-off hit). Sports Illustrated later called Game 7 the best postseason game of the decade.
Yankee Pride
"I think I realized at that point in time there was a purpose for us being there. We didn't know all these people, who were certainly devastated, and huddled around in different groups … And then somebody looked up and sort of waved us in, a family member. They brought out pictures of the family members they were waiting on, pictures of them wearing Yankees hats. Big Yankees fans, which was pretty amazing."
—Yankees manager Joe Torre on visiting the Lexington Avenue Armory family-assistance center (from The Yankee Years, by Torre and Tom Verducci)