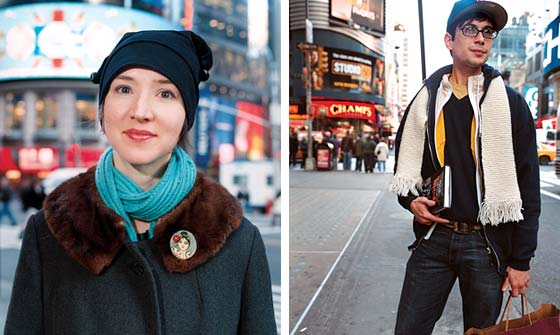 Kathleen Scully, designer, left
Tell me about your outfit.
This coat is the epitome of me. I am never more myself than when I am wearing this coat. It's kind of fifties, and I consider my style more twenties, but there's just something about this coat. It's totally me.


Marcelo Picalomino, bookseller, right
What's your style?
One day I'll go to work in shoes, dress pants, and a button-down, and the next day I'll wear a T-shirt of Tupac Shakur.
What's your commute?
I take the train with my girlfriend, walk her to work, and then I hop back on the train and go to my work.


Jim Harden, left
Where did you find that outfit?
Why are you stopping me? I'm late for work!


Ruth Steinmetz, retired, right
What are you retired from?
Everything. Work, marriage, you name it.
I like your hat.
It's not a hat! It's a wrap that attaches with velcro. I match it to my outfit every single day.


Larry Bianco, commercial credit analyst, left
What's your style?
My kids describe it as scary. I try to make an imposing figure, but not scary. Just attention-grabbing. I tend to look people in the eyes, and I get a lot of smiles back. Especially from the ladies.


Tonya Fluker, client-services associate, right
Do you ride the subway much?
I used to, and it turns out that's good, because my daughter turned 18 on Saturday, got a tattoo on Tuesday, and on Friday we called Dr. Zizmor. It's coming off!


Ken Cherry, human-resources director
Where do you shop?
I'm a big guy, so I shop at the Big and Tall. It's great there! And there are some cool places up in Harlem. That's where I got this Kangol cap. I just relocated from Cincinnati, and I'm still working on my New York style.