New York embraces reinvention. It's where an aristocrat becomes a cautionary tale (Edie Sedgwick), a mayor can become a bad film critic (Ed Koch), and where banks and firehouses transmogrify into condos. Most have had all traces of their origins stripped away—but there are always exceptions.


THE CHURCH
When a church turns into a condo, does an angel get its wings? This renovation of the former Trinity Lutheran Church on Degraw Street makes the most of the structure's bones, from the stained-glass windows to the rafters.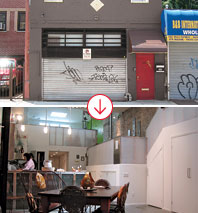 THE AUTO-BODY SHOP
François and Catherine Louy's Clinton Hill boîte, Locanda Vini e Olii, is housed in an old apothecary, and when the two go home from work, they head to a converted auto-repair shop. A burned-out shell when they found it, it was ingeniously turned into a mazelike living space by architect Keith Strand.


THE BASKETBALL COURT
When husband-and-wife team Stefan Boublil and Gina Alvarez, principals in the Apartment Design Agency, remade the basketball court of this former YMCA in Chelsea, they retained the floors and the overhead trusses. They initially planned to move in themselves, but they sold it eight weeks ago, and last they heard, it's undergoing a transformation once more.