Go ahead, call us a sanctuary city. We take it as a compliment. There are 2.9 million immigrants living in New York today, more than a third of the city's population, and one out of every six of them is undocumented. Legal or not, immigrants are good for New York. They stabilize the population (without immigrants and their children, the city would be shrinking). They work hard (43 percent of the city's labor force is foreign-born) and long (immigrants average at least an hour more work a week than native New Yorkers). They keep the city fed, housed, and healthy (70 percent of cooks and construction workers and half of all doctors are foreign-born). And they do the jobs that other New Yorkers would prefer not to do (more than half of the city's dishwashers are undocumented). Some researchers even believe that immigrants—and the blighted neighborhoods they have revitalized—are responsible for falling crime rates in New York. Not since the days of Ellis Island has our population, tax base, and economy been so heavily indebted to those born somewhere else—which is perhaps why the city maintains a "don't ask, don't tell" policy with regard to reporting immigration status to the federal government. But these five illegal immigrants—many of whom took great risks or paid high prices to get here—weren't taking any chances. They wished to remain unidentified.
Jesus
30, baker, Mexico
At 16, Jesus walked from Tijuana to San Diego, crossing the Rio Bravo with the help of a coyote he paid $300. "I guess me coming here had a little to do with teenage rebellion, but I also wanted to work hard," he says. "That's the dream." He spent his first few months in L.A., staying with a cousin and working at a chicken factory. But the cousin turned out to be involved in drug trafficking, and the factory was regularly raided by police, so his parents, concerned for his safety, told Jesus to go to New York. He now spends his days doing carpentry and restoring antique picture frames, and at night he works at a bakery in Brooklyn. He wants so badly to be legal that he once paid a Puerto Rican woman $2,500 to marry him (but she took off with the money before signing the papers). He hopes one day to start his own carpentry business, and plans never to leave the city. "I feel that I'm an American," he says, "that this is my place."
Elena
29, housekeeper, Ecuador
Elena was seven months pregnant when she emigrated from Ecuador five years ago. Her father wanted his grandson to be born in America, so he took $8,000 from his savings and bought Elena a fake passport. ("It's better than trying your luck over the border," she says.) Her first job, at a cosmetics factory in New Jersey, paid $5 an hour. Now she works as a housekeeper in Manhattan during the day and a janitor at night, making $8 an hour. "New York is the best city to work in," she says. "There are so many people here who have the same situation." Still, her opportunities are limited. Elena was in college when she left Ecuador and hoped to continue her studies here. "I thought differently about this country before I came. This job is not what I'd like to do for the rest of my life." For now, she's saving up to build a home for her family back in Ecuador. And her son, an American citizen, is in kindergarten.
Isa
21, student, Colombia
Isa followed her parents to New York when she was 13. She remembers saying good-bye to her grandmother and boarding the plane with a cousin's visa, excited about the move. "Back in Colombia they talk about the States, 'Oh, the land of opportunity, it rains money,' " she says. The reality was different. Her parents worked long hours in Manhattan restaurants. And Isa had a hard time fitting into her bilingual school because most of the students and teachers were Dominican. But she didn't fully recognize her outsider status until senior year. "I couldn't apply to colleges where my friends were going," she explains. She was ultimately accepted to CUNY, where she is studying to be a kindergarten teacher and pays her tuition by babysitting five days a week. But Isa worries that without documentation she won't be able to find a job after graduation. "Bilingual teachers are really needed right now," she says. "What happens to teachers like me? We can fill those jobs. We can help our own communities."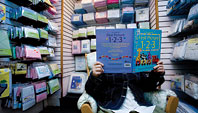 Lee
35, stay-at-home mother, South Africa
When l=Lee came to New Jersey at the age of 19 to work as a nanny, she planned to stay just one year. But when the year was up, she didn't want to go back to her hometown of Durban in apartheid-era South Africa. "My eyes had been opened," she says. Plus, she was beginning to question her sexuality, at a time when being gay in South Africa could be grounds for arrest. At a party in Manhattan three years later, she met an American girl and fell in love. They now have 2-year-old twin boys (with the help of an anonymous sperm donor). But because Lee and her partner cannot get married, she remains undocumented. "I do not have legal rights to my kids," she says. Being in the U.S. illegally has meant that she has had to choose between the family she's made here and the one back in South Africa. "We've become really sad," she says, "at the notion of me not being able to go home and show our beautiful children to my family."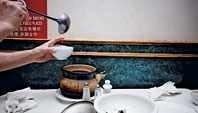 Chan
40, cook, China
The first time he came to the U.S., Chan was arrested at JFK airport and spent three years in jail before being deported. He was scared to try again, but by 1998, he had a wife, an 18-month-old son, and no prospects in the Fujian province of China. "I feel this is the only way I can make money and give my son a good life," he explains. So he promised a smuggler $47,000 for a falsified passport. He handed it over to Customs with trembling hands, and made it through. It took him three years working in restaurants to repay his debt, and he hopes to make enough money in the next five years so that he can return home. His son is now 11, and their talks over the Internet are bittersweet. Still, he says he will miss New York when he leaves. "New York feels like home," he says. "You don't have to speak English here. You don't even have to speak Mandarin or Cantonese, as long as you speak Fujian dialect. Everybody on East Broadway is from Fujian."
Additional reporting by Rong Xiaoqing and Amelia Mularz.