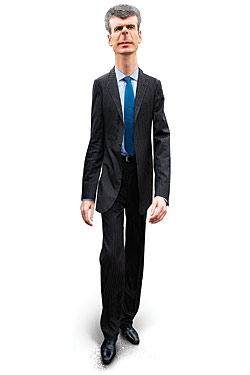 When George Steinbrenner bought the Yankees in 1973, he famously promised to "stick to building ships" and leave the baseball management to baseball people. Within a year, he was the face of the team, and by the time he died, in July, he was indistinguishable from the franchise he led to seven championships. He was, and in many ways still is, the Yankees. Mikhail Prokhorov, after buying the Nets last year, made no such claims to "stick to borscht," and thus wasted no time in becoming the face, heart, soul, and—most important—wallet of the New Jersey–East Rutherford–Newark–Brooklyn (eventually!) Nets. (Name two Nets. Any two Nets. Prokhorov is this team already.) We now have a new George Steinbrenner. It's possible that over the next ten years, he'll be all we talk about. We can't wait.
Prokhorov's journey to owning what will become our city's second basketball team is as improbable as Steinbrenner's was. It's important to remember that Prokhorov is the world's 39th richest man (and the third richest in the city, one spot behind the mayor) in large part because he was arrested. After being picked up for importing alleged Russian prostitutes for a Christmas party in the French Alps in 2007 (charges were never filed), Prokhorov sold his ownership of nickel concern Norilsk mere months before a Russian stock-market crash severely devalued the company. Prokhorov cashed out just in time and suddenly found himself the richest man in Russia. And you thought being born to a wealthy Cleveland shipping magnate was lucky!
Like the Boss, Prokhorov comes to town with grandiose ambitions (claiming the Nets would win a championship "within five years"); an almost irrational commitment to winning (immediately making overtures to the game's best and most compelling player, LeBron James); and an open checkbook. When Steinbrenner bought the Yanks, they hadn't been to the World Series since the days of Mantle. George promised to right that, spent millions signing Reggie and other stars, and four years after the Boss got here, the Bombers were once again world champs. That's what Prokhorov's after.
Yes, Prokhorov failed to land LeBron; came off like a Reagan-era Bond villain in early public appearances; and spit in the eye of the Knicks, posting a massive billboard next to the Garden of him and minority owner Jay-Z, proclaiming "The Blueprint for Greatness." It all might have looked a bit nuts. But then George was considered a buffoon and a braggart, too.
Steinbrenner was no international ladies' man (and given his Nixon fetish, probably wasn't so high on Russkies). And the Nets, off to a poor start, aren't threatening to knock off the Lakers anytime soon. Still, the stage is set. The Nets bide their time for two years in Newark, preparing for a flank attack on the improving but still–owned–by–Jim Dolan Knicks. Their leader is a crazy Russian billionaire playboy who does flips on his Jet Ski and jokes that the Nets' temporary home in Newark will look into "hiring the Red Army Choir to perform at halftime along with Russia's top dancing-bear collective." We have a man who wants to be the center of attention at all times, dive-bombing into a franchise badly in need of rescue and demanding nothing less than a championship, along with the scalps of those who don't give him one. We know how guys like that do in this city. George Steinbrenner was a guy like that. And he wasn't even six foot eight. Would you bet against Prokhorov? Nyet.