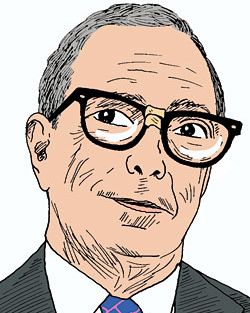 Photo: Illustration by Peter Arkle
The question was about how the death of his father changed his life, but somehow Mayor Bloomberg had detoured into delivering a science seminar. "I worked in the summers for U.S. Sonics," he said excitedly. "They made piezoelectric crystals. Piezoelectricity—you deform the ceramic, and it changes the electrical characteristics. I worked for a company calculating orbits for satellites—by hand. You have no idea how many different orbits there are!" For most politicians, this answer would be an elaborate dodging of a painful question. For Bloomberg, science often is the answer—and this is a huge civic benefit, and point of pride, at a time when American politics devalues empirical truth and the "Christian nation" crowd ­forgets scientists–founding fathers like Jefferson and Franklin. Our billionaire mayor is many things, but there is still a great deal of the Johns Hopkins electrical-engineering major in the man. Many of his signature accomplishments—the smoking ban, rezoning, the bike lanes—share an engineering geek's desire to find the most efficient, rational use of people and resources.
The subjects of his experiments, also known as citizens, don't always enjoy the mayor's cold application of reason and his obsession with data, particularly in the public schools. But what could be the grandest physical and intellectual legacy of Bloomberg's three terms in office is beginning to take shape, and for all its business development potential, the idea also appeals to the mayor's inner nerd. New York's proposed multibillion-dollar applied-sciences campus has attracted bids by Stanford, Cornell, Columbia, NYU, and ­others. No doubt they've all come up with innovative educational visions and plans for breathtaking research labs. Whoever gets the free city land and up to $100 million worth of infrastructure contributions should also make sure to set aside a classroom for one very special visiting professor.