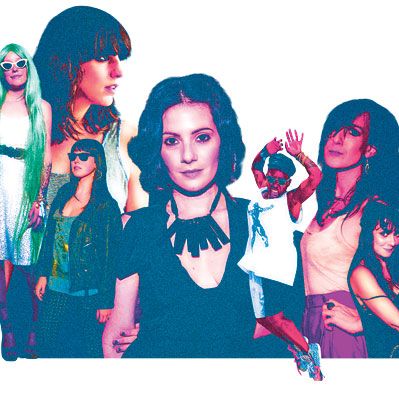 From left: Andrea Estella, Eleanor Friedberger, Alexis Krauss, Aleksa Palladino, Shannon Funchess, Elizabeth Harper, and Lizzie Bougatsos.
Photo: From left: Roger Kisby/Getty Images; Michael Rubenstein; Paul Archuleta/Filmmagic/Getty Images; Tim Mosenfelder/Getty Images; Patrick McMullan; Angela Weiss/WireImage/Getty Images; Donna Ward/Getty Images; Thomas Concordia/Getty Images; Patrick McMullan
Pop and R&B may be filled with a variety of women making innovative noise, but even in 2011, backstage at the Bowery Ballroom can still feel like a boys' club. Though maybe this was the year something shifted. Almost every week, it seemed, another indie-rock girl from New York changed the soundtrack of the city. Molly Shea's band, Acrylics, released a danceable folk-rock debut, Lives and Treasure; Twin Sister followed soon thereafter with their first album, In Heaven, in which front woman Andrea Estella swoons over funk beats so stretchy they sound like they're played in taffy. Glamour girl Elizabeth Harper built her case for mainstream relevance with Class Actress's sophomore LP, Rapproacher, while the Lizzie Bougatsos–led Gang Gang Dance released Eye Contact, their fifth and most assured album. Eleanor Friedberger, previously best known as the girl in brother-sister duo the Fiery Furnaces, transformed into an entirely new artist on her solo debut, Last Summer. "I've been living in New York for eleven years, and I finally feel like I'm a part of a musical community," she says.
And there were many more. Criminally underexposed scene veteran Shannon Funchess homed in on her best self with goth disco act Light Asylum. Playful electroclash hip-hop duo Twin-Gemz emerged with a series of witty, insouciant tracks. Boardwalk Empire actress Aleksa Palladino performed increasingly packed sets alongside her husband as Exitmusic. Sleigh Bells' Alexis Krauss continued her impressive rise, thrashing her way through festival gigs. And then there's Debbie Harry, who, at age 66, released her newest album, Blondie's Panic of Girls. Three decades into her career, the ultimate New York City rock girl is as much herself as ever, imperious, uncompromising, and still unsatisfied. "I'm allergic to love," she sings on the forlorn, tough "China Shoes." "My rate of recovery is not fast enough … / I left a note on the back page of your book / Volumes away but it's worth the good look / Remember me, remember that you're mine /   Remember me when you get to the last line."