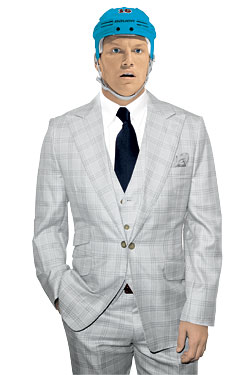 Even in the rough-and-tumble world of pro hockey—a sport in which one man per team is paid six figures to remove opposing players' teeth—the Rangers' Sean Avery is considered the worst of the worst. In 2008, NHL commissioner Gary Bettman suspended him for six games for "unacceptable and antisocial behavior" after he called out opposing players for dating his ex-­girlfriends (24 star Elisha Cuthbert, for one)—or, in his phrase, for falling "in love with my sloppy seconds." In August, he was arrested for allegedly shoving a police officer. (The charges were later dropped.) In 2007, The Hockey News asked 283 players which player in the league was most reviled. More than 66 percent of those surveyed said "Sean Avery."
It's more than a little ironic, then, that the most despised person in a sport full of despicable people has, amazingly, become one of the most progressive athletes in all of professional sports. This spring, Avery came forward in support of same-sex marriage. "I'm Sean Avery, and I'm a New Yorker for marriage equality," he said in a spot for an advocacy group. "I treat everyone the way I expect to be treated, and that applies to marriage." He even lobbied in Albany before the vote.
Avery has always been an outsider in hockey circles. Don Cherry, the sports' preeminent voice, has known Avery since he was 16. "Once a jerk, always a jerk," Cherry has said. It's little wonder, then, that Avery has found reward in unconventional off-ice pursuits, including famously interning for Vogue one off-season. But with his gay-marriage support, Avery, whose on-ice career is nearing its end, secured his legacy in a way few pro athletes have dared, and he is ours. (He even co-owns a bar and lives in Soho.) There never has been another hockey player like him, something everyone—from the staff of Vogue to 66 percent of hockey players surveyed—can giddily agree upon. And he still appears to have all his teeth.