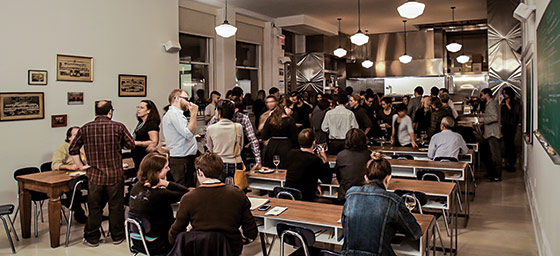 There are all sorts of reasons to visit the Prado in Madrid, say, or the Louvre in Paris. But the last time I checked, it wasn't for the food. In this culture-saturated and culinary-mad metropolis, however, you can enjoy a civilized luncheon of licorice-poached flounder at Danny Meyer's award-winning restaurant the Modern after examining the Picassos at the MoMA. The Guggenheim has its own celebrated dining establishment, the Wright (named after the building's architect). Meyer also recently opened Untitled at the Whitney. And after you've finished dragging your unruly children through the many edifying exhibits at the New-York Historical Society, on Central Park West, you can treat them to a hearty $17 bowl of Tuscan-style oxtail agnolotti en brodo at the year-old Caffè Storico, run by noted Philadelphia restaurateur Stephen Starr.
Do pointy-headed culture vultures object to herds of merry, overfed gourmands overrunning their high temples? Maybe. Do we overfed gourmands give a damn? Of course not. New York is in the midst of a museum-restaurant boom, and unlike many other culinary trends, this one shows no signs of abating. Cash-strapped cultural institutions need the income, and restaurateurs love the exposure.
The team behind white-hot Little Italy restaurant Torrisi Italian Specialties, it was recently reported, will be opening an eatery adjacent to the new downtown Whitney on the southern end of the High Line. Until then, the trendy new cultural destination for the food obsessed isn't even in Manhattan; it's at MoMA PS1, in Long Island City, where the celebrated Montreal chefs Hugue Dufour and Sarah Obraitis have just opened a restaurant called the M. Wells Dinette in a space that resembles an old-school cafeteria. On a recent weekend, there appeared to be more people sitting down to brunch than there were in the museum itself. And why not? Ten dollars buys you an elegant salt-cod brandade, and for dessert, you can enjoy a great, Frisbee-size Black Forest Charlotte for two, which the chefs rim with ladyfingers, just like they do at the grand restaurants of Paris.