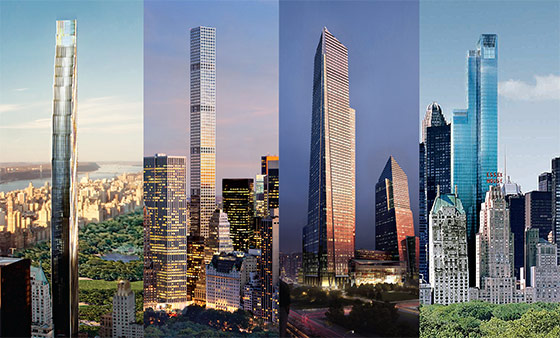 No matter how tall it gets, the New York skyline grows like a permanent adolescent. Nourished by fitful infusions of money, odd pieces shoot up in gangly disproportion, then nothing happens for a while, then the rest fills in. At each turn of the cycle, some New Yorkers wish it would just stop, while others prefer the way it was decades ago, before everything went to hell.
Thanks to complex technology and simple math (stronger concrete + astronomical land costs = megatowers), we're in a growth spurt now, centered in lower Manhattan and a narrow belt of midtown. The Council on Tall Buildings and Urban Habitat recently decreed that One World Trade Center has a spire, not a mere antenna, and thus is the tallest in the Western Hemisphere. Across the plaza, the 978-foot Tower Four, by Fumihiko Maki, has just opened. In midtown, a platoon of apartment buildings that either brush or surpass 1,000 feet is falling into line: One57, designed by Christian de Portzamparc; 432 Park Avenue, by Rafael Viñoly; 107 West 57th, by SHoP Architects; 220 Central Park South, by Robert A.M. Stern; Nordstrom Tower, at 215 West 57th, by ultrahigh-rise virtuosos Adrian Smith and Gordon Gill; 53 West 53rd Street, by Jean Nouvel, once again primed to rise next to MoMA …
And that's just for now. Hudson Yards will add to the list, and though the Bloomberg plan to rezone east midtown to allow more behemoths has stalled, something like it is likely to rumble back to life under Bill de Blasio. The Empire State Building will soon sink below a rising tide of rooftops. And Brooklyn has a new spiky profile of downtown offices and waterfront condos.
A surging skyline is a sign of a vigorous city, which does not mean it should be left untended. These towers are rising in areas where zoning caps square footage but not height. The De Blasio administration might consider a threshold—1,000 feet?—that would trigger a public review. Morally, the skyline belongs in the public weal, and architects and developers have an obligation to avoid screwing it up—a responsibility they often take pretty casually. It's astonishing how quickly an ungainly tower can stake its claim, almost before the public has a chance to squawk. Even the Municipal Art Society, usually vigilant, got a late start trying to beat back hypertall midtown. A new MAS report points out that on a winter afternoon, nearly half of Central Park will be thrown into shadow. It's enough to make a preservationist pray for another recession—or at least a few wise rules.
45. Because the Developers of the Fancy Condo that Replaced the Mars Bar Building Really Did Sell Former Tenants Apartments for $10