It's Sunday, just past 1 p.m., on West 13th Street. The pavement is an archive of cigarette butts and other residue from another heady Saturday night in the Meatpacking District. But for some well-rested New Yorkers, the party is just getting started. The door policy is strict: no children without adults and no adults without a child. Inside, there are close to 200 tiny dancers, ages 6 to 13, blissing out on a strobe-and-neon dance floor.
This is CirKiz, the brainchild of the husband-and-wife team Jesse Sprague and Jenny Song—New York club-scene veterans who met at Limelight back in the early '90s. When they had their baby, Alden, in the mid-aughts, they wanted to celebrate his 1st birthday in style. So the couple rented a space at Cielo (where Jesse was a manager), invited all their friends, and blasted classic dance tracks. It was a straight-up baby rave. Little ones who couldn't even walk were crawling on the floor chasing laser lights. Their friends convinced them to go professional, and they've been holding regular ticketed events ever since. Alden, now 8, regularly presides as the resident DJ. At the moment, his favorite songs include "Gold Skies," by Sander Van Doorn/Martin Garrix/DVBBS, and "Virus," by Martin Garrix/MOTi.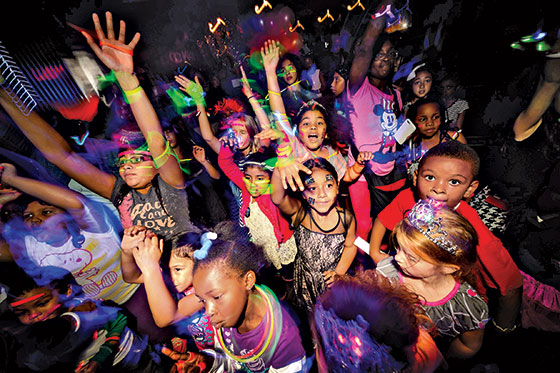 "I want to see insanity!" today's underage guest DJ yells into the crowd, as a remix of Lil Jon's "Turn Down for What" shakes the sound system. A glowing robot staggers out to perform a crowd-pleasing mechanical dance routine, while two preteen boys in plaid blazers and low-hanging neon medallions stand back, arms crossed, observing the scene through electronic flashing sunglasses.
Claire, Lyla, Esha, and Natalie—10-year-olds who are there to celebrate their friend Aliyah's birthday—drape their arms around each other and lightly bop. "There aren't that many boys here, but I don't care," Natalie says. "I just want to dance with my girlfriends and have fun."