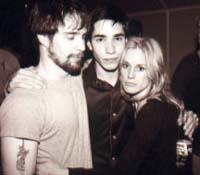 Circle of friends: Actors Sam Rockwell (Charlie's Angels), Justin Long (Jeepers Creepers), and Catherine Kellner (Pearl Harbor).


Obviously, no one has felt much like going to a party lately, and most social events have been canceled or postponed. In their place, benefits have provided a welcome opportunity to take a break from CNN, connect with friends, and help a good cause. On September 24, Planet Impact and Workhouse Publicity held an event, the 24-Hour Plays, benefiting Working Playground, an organization that brings arts education to public schools. Six plays were written, rehearsed, and performed in one day. The actors met with the writers at ten o'clock the night before to discuss their unwritten roles. "I have no problem bringin' in the noise or the funk," Benjamin Bratt told everyone, "but I don't want to wear a suit."
Tall order: Actor Liev Schrieber and producer/actor Adam Nelson.

Catherine Kellner wanted to dance, and Julianne Moore didn't want to talk much. The writers wrote all night. The actors came back at 8:30 in the morning and started rehearsing. Outside the Minetta Lane Theatre an hour before showtime, Mary-Louise Parker, Natasha Lyonne, and Robert Sean Leonard ran lines while Philip Seymour Hoffman snuck a cigarette. Scarlet Johansson huddled with Brendan Sexton III, and Liev Schreiber towered over the crowd. "I can't believe you learned your lines so fast!" someone said to Kyra Sedgwick. "Me neither," she laughed. Robert De Niro came to watch his daughter, Drena De Niro. Backstage, as the packed house cheered, the cast found itself in tears.