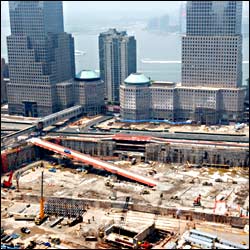 Send us your vision!
If you have an idea for the World Trade Center site, we'd like to see it. Make it as simple -- or as slick -- as you like. You don't have to be a professional. Crayons and paper will do just fine. So, will computer-generated graphics.

Terms & Agreements
1. By making your submission, you represent and warrant to New York Metro ("Metro") that all images, photographs, diagrams, drawings, proposals and concepts (collectively, the "Works") submitted are your original works, not that of any other party and that you have that the full right and authority to submit such Works for use by Metro.

2. By submitting your Works, you grant Metro and its parent, subsidiaries and affiliates the world-wide, royalty-free, perpetual right to use, publish and exhibit the Works in any media (including, without limitation, television and print), in the manner determined by Metro in its sole discretion, and you also give Metro the right to use your name in connection with the exhibition of your Works. You agree that Metro will have the right to modify, edit or crop the Works due to space considerations.

3. Due to the large number of anticipated responses, Metro may not be able to use all of the Works that are submitted, nor will Metro be able to return any Works submitted, and you understand that Metro has no obligation to do so. Metro will not be responsible for lost or misdirected submissions.

4. By submitting your Works, you also represent to Metro that you are at least 18 years of age. If you are under the age of 18, you may not submit any Works via this site or e-mail and must instead make your submission by regular mail to:

WTC Proposals
New York Metro
11 Penn Plaza, 2nd floor
New York, NY 10001

In addition, if you are under the age of 18, your submission must be accompanied with your parents' or legal guardian's written permission.