10:08 a.m. | dow -253.36 erik council,
Multimedia designer I was considering buying a house, but now I'm not sure.
10:12 a.m. | dow -255.03 michael hall,
Construction-company owner My brother and I own a business, and Obama wants to take our money from us and give it to other people.
10:24 a.m. | dow -293.58 bonnie wong
Runs the nonprofit Asian Women in Business My stocks are going down, and I don't like it when they go down. But I'm pretty optimistic this can't last forever.
10:28 a.m. | dow -284.34 michael g. cluer,
Landscape architect I'm a little anxious, mostly for my friends, but I'm not being obsessive.
10:32 a.m. | dow -263.87 linda key-kanuteh,
Jewelry vendor I just don't spend on anything but the mortgage and food.
10:36 a.m. | dow -229.78 noah norman,
Technical director for events When companies see their marketing budgets cut, they'll stop paying me as much, so I've been cooking a lot and eating in.
12:24 p.m. | dow -368.53 dave gallego,
Sales I'm not even looking at my 401(k), let's put it that way. In ten years, I'll take a look.
12:28 P.M. | dow -368.13 kathryn hong,
First-year associate at a law firm It was a very good choice that I went to law school instead of getting my M.B.A.
12:32 P.m. | dow -359.29 billy nash,
Morgan Stanley portfolio manager The media only focuses on the negative—come on, people, the United States of America is not going out of business.
12:36 p.m. | dow -347.42 Mark Seruya,
Morgan Stanley portfolio manager I've been doing this for 26 years, and it's the most difficult time I've ever been through.
12:36 p.m. | dow -347.44 Frank Garcia,
Actor Sure, I'd like to find some work; but I was born in 1935, so I know how to survive.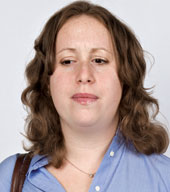 12:40 p.m. | dow -315.88 Anne Green,
litigation lawyer I started investing for the first time in the last couple of years, and it's been a depressing and discouraging process.
12:44 p.m. | dow -316.12 Jessica G. Sanoh,
Works in business news I'm okay for right now. I'm working crazily.
12:48 p.m. | dow -306.48 Rachelle Glantz,
Executive Assistant I bring my lunch to work every day, and I hardly ever take cabs.
12:56 p.m. | dow -277.17 Eric Bolling,
On-air Fox News personality My anxiety is high. I get thousands of e-mails daily asking, "Is my money okay?"
1:00 p.m. | dow -305.45 Robert P. Mangieri,
Lawyer Oh, I'm hurting-the clients hire me, but then they can't pay.
1:04 p.m. | dow -341.85 Nicole Jones,
Ad sales My husband's a driver for celebrities, and celebrities aren't taking the train anytime soon, so we're pretty recessionproof.
1:08 p.m. | dow -346.31. Casey Cox,
Building-security man If I lost my job, I wouldn't have anything to fall back on, and I just moved into a new place, so I have more bills now.
1:12 p.m. | dow -330.21 Nicole Marolda,
advertising My father is a stockbroker, so we're looking to sell our vacation home in Florida-at least we're not living in a box.
1:16 p.m. | dow -389.24 Ann Choe,
Advertising I'm actually taking advantage of the opportunity now and am trying to buy and invest.
1:28 p.m. | dow -426.85 Hazel-Ann Millien-Davis,
Legal secretary My homeowners insurance is applying for federal relief, and that's going to add to my mortgage.
1:36 p.m. | dow -476.37 Michael Wilhelm,
Asset management at Bank of America I've been stressed, but it's all about managing my expectations; I'm not going to take as many trips this year.
1:40 p.m. | dow -478.44 Alex Walker,
Analyst at Bank of America I was laid off from Citibank, and I'm so lucky to have landed at Bank of America, which is one of the last banks standing.
2:12 p.m. | dow -534.99 Gina Suk,
Online project manager There's always a chance that I'll get laid off, and then my wedding next year will have to be a backyard wedding.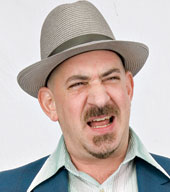 2:16 p.m. | dow -543.99 Bennett Breen,
wine salesman I can still make money, but people are buying wines that are $35 to $50 a bottle, instead of $75 and up.
2:24 p.m. | dow -493.34 Arlene Johnston,
Legal adminstration I've been at my firm for eight years, so if people start getting fired, at least I won't be the first one to go.
2:28 p.m. | dow -487.92 Bentley Gray,
Starbucks manager I never go out anymore. I just work and go home and put my money in the bank; my backup plan is to move to Japan.
2:36 p.m. | dow -486.65. Robert Bogdonoff,
IT manager I have a 401(k) that hasn't gone down, but my wife lost it all.
2:44 p.m. | dow -428.51 Don Rueckert,
Actuary, insurance and risk consulting My business picks up in times of uncertainty, and obviously risk is extremely high right now.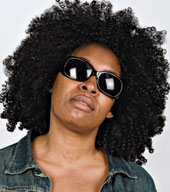 3:08 p.m. | dow -384.54 Lavinia Dowdell,
Fashion I'm an actress, and I'm worried about funding for the arts.
3:28 p.m. | dow -452.56 Robert Davis,
IT manager Oh God, my 401(k)! Instead of getting Starbucks five days a week, I'm only getting one or two.
3:44 p.m. | dow -520.98 Petra Masson,
Starbucks employee Every day I come home and look at the Dow, and I didn't used to be that kind of person.
3:48 p.m. | dow -581.75 Noelle Reno,
fashion I just started a new label in this economy, which isn't great, but I'm working with a lot of people from China and Russia, so it's not so bad.
3:52 p.m. | dow -607.95 Rowan Mark,
International Consultant I'm not partying as much-no more bottles at clubs.
4:00 p.m. | dow -724 Shoeb Kabir,
cafe Manager My business has been down 10 percent, and it disturbs me that the CEOs are leaving with $200 million.
4:00 p.m. | dow -724 Julie Delaurier,
secretary It's weird that the subways are still running and everyone's going to work and school, and it's like, when are the bombs going to start falling?.
Photographs by Spencer Heyfron
Photos taken Wednesday, October 15, 2008