I was tired of being the single person at every party, not having someone to go to weddings with," says Jane Harnick. "We're not meant to go through life alone. And my friends said to me that people who want to get married get married."
A 41-year-old manager of photography production for Ralph Lauren, Jane is sitting in her one-bedroom apartment on the Upper West Side, surrounded by her family: husband Adam Freifeld, with his shaved head, and 10-month-old daughter Roxie. Her mother, the actress Barbara Barrie, wanders in from the kitchen and sits down on the sofa, tucking her feet under Vinnie, Adam's shepherd-Lab mix.
Less than three years ago, Jane was living in this apartment alone. There was no husband here, no baby, and definitely no dog—Jane hated dogs and considered them a deal-breaker for men she dated. But by the age of 37, Jane felt like she had become a walking "Cathy" cartoon: serially dumped by emotionally unavailable guys, about to age out of her own fertility, and becoming "tough," says her mother. ("It was all the rejection," responds Jane.)
So when Jane's mother noodged her to attend a dating seminar, she went. And this time, she decided to treat her search for a family as a project. She even set a deadline: If she didn't find the right guy by the time she was 38, she was going to have a child on her own.
"I said I'd help her," says Barbara.
Every night, Jane sat at her computer, sometimes until three in the morning, e-mailing every remotely promising-looking guy on J Date. "I totally blitzed it," she says. "I would say to myself, 'One more page, one more page,' until I got back to the beginning."
She began going on two to three dates a week. Then she had a picnic with Adam, a 37-year-old PR director for ABC Sports. Four years out of a divorce, he was living alone with his dog in a studio in the East Nineties. "He brought the right kind of food," Jane remembers. "Hummus, bread, and cheese. Mangoes and avocado salad. I was impressed. I asked him if he wanted to have kids. I didn't want to beat around the bush."
"Right after we met we stopped using birth control," says Jane.
"After you met?" exclaims Barbara. She turns to Adam.
"But you hadn't asked her to marry you yet!"
"We weren't actively trying to get pregnant. We were, like, if it happens, it happens," says Adam.
Seven months later, in November, Adam—and his dog—moved in to Jane's place. By February, they were engaged. And in October 2005, Jane walked down the aisle eight months pregnant in a size 46 white stretch jersey dress. Roxie was born two months later.
"I was basically as single as can be," says Adam. "Living in a classic dumpy bachelor pad, dating a lot, and really wanting to meet somebody. I was lonely. I wanted somebody in my life and I absolutely wanted to be a father. But I wasn't quite sure what I wanted. And then I met Jane."
"In a perfect world, I wish we had more time alone before she was born," Jane says. "We're so busy and tired, it's hard to find time for each other." But her days of feeling like a fifth wheel are over. "Now the baby goes down at seven, Adam and I have dinner, and we go to bed. I'm thrilled!"

SETTLING: A LOVE STORY
It's a truism that everything moves faster in New York—everything, that is, except relationships, those one-step-forward-two-steps-back negotiations, eternally bumped down on our list of priorities. Now a subset of the generation that has put off marriage is changing the way they make families. Anxious not to miss out on domestic life, they are speeding into life's next act in less than two years; sometimes in just a few months. It's a defiantly pragmatic approach to a decision many people tiptoe into slowly. But those who take the leap say that they are not merely settling, that old-fashioned term for jumping at the first decent marital option. For them, a superfast courtship—and subsequent insta-family—just makes good sense. It's an attitude a bit more akin to arranged marriage, except that the bride and the groom are the ones doing the arranging.
Of course, there's nothing new about people getting marriage-minded as they age. Career-focused urbanites have long delayed settling down, and, despite advances in fertility technology, there's a limit to how long women can delay childbearing. But we're living in an unusually conflicted time, maritally speaking. On the one hand, this is a family-obsessed era: There's been a spike in the number of women choosing to stay home with their kids rather than work; the reproductive habits of female celebrities are tracked obsessively by the paparazzi; and on television, shows like Bridezilla and The Bachelor revolve around the notion that a wedding ring is the ultimate prize, one that any woman would willingly humiliate herself to win.
At the same time, the age at which people marry continues to rise, especially in New York, where the median age is currently 29 for men and 27 for women. Women increasingly postpone pregnancy until their late thirties (the percentage of women pregnant from ages 35 to 44 has doubled since 1980, according to the National Center for Health Statistics). All of which means that courtship and commitment are squeezed into a narrow, pressured chronological strip. Under these circumstances, it's no wonder that a pregnant wedding can feel less like a shotgun tragedy and more like a double play.
Although there's no magical study that reveals whether a speeded-up relationship is a good idea, data suggest that for some couples, quickie weddings may work just fine. Ted Huston, a professor of psychology and human ecology at the University of Texas at Austin, has tracked 168 marriages since 1979. He found that the relationships in which couples were engaged within nine months have a better chance of surviving to the seven-year mark. Infatuation early on motivates couples to try harder when things get rocky.
Studies have also found that living together for a long period of time increases the risk of the couple breaking up after they get married. A 1997 study conducted by demographers at Pennsylvania State University showed that the more months a couple lived together, the more accepting they became about the possibility of divorce. They also grew less enthusiastic about marriage and having children.
But then, diving in has its own risks. "If you have a shaky sense of self and try to solve it by getting married quickly and having a child, when things get challenging, you're going to start to question the relationship quickly," says Rob Stein, a Manhattan-based therapist who sees a lot of insta-families in his practice.
Joanne (not her real name), a mother of two who lives in Westchester, would back that up. She married, bought a house, and had her daughter within a year and a half of meeting her husband when she was 36. She had her son sixteen months later. "The decision to have kids quickly was not an accident," she says. "I knew I wanted to be a mother, but it was my husband who pushed it." Two years after their second child was born, her husband left her. He left, Joanne explains, because "he wanted to be admired."
Looking back, she thinks she got married too quickly. "It made sense on paper, but I was too caught up in the things that I was accumulating," she says. "If we had moved slower and had more of a courtship, I would have seen certain things in his personality that were going to cause problems." Still, Joanne is grateful that she had her children—and she says that she would make a fast decision again. "It's always a risk, and now I'm wiser from the lessons I learned the first time."

"I DIDN'T HAVE TIME TO PLAN A WEDDING. I WAS HAVING A BABY."
On a recent Saturday afternoon, Sophie Deprez holds court, surrounded by six girlfriends in a bright Tribeca loft. "I took my epidural, then a little while later, it was time," she says, touching a thin gold chain around her neck. "I did my uuhh uuhh, and he popped out!" Dressed in a knee-length black-and-white dress, her reddish hair pulled back in a bun, Sophie passes her tiny son, Charlie, born less than a week earlier, to her friend Nicole. "He's so out of the womb," she says.
"He wanted to make it for the party," chimes another friend.
The party is a triple-header, celebrating Sophie's 40th birthday, her recent marriage to Lars Kry—a clean-cut 39-year-old real-estate entrepreneur who is standing across the room—and the birth of their son. A large group of friends has gathered around a table covered with bowls of baby-blue M&Ms, fruit salad, bottles of De Bortoli Willowglen Shiraz, and a chocolate cake with a "zero" candle on top. The group raises small glasses of champagne to toast the couple.
"Yeah, meeting Lars, getting married, having a kid," says Sophie. "The pace of it all. I was an overachiever in college, and I've achieved all this in fifteen months."
A little more than a year earlier, Sophie was a wild party girl, living single with her roommate in midtown. At 38, she had resigned herself to her independent life working as a special-events manager. "I was like, it's okay not to have a baby because not everyone has to have one," she says. "I said to myself I'll be fine if I don't find the right guy."
Then one week in February 2005, she was hanging out with a friend in Florida. They were drunk-dialing when her friend called Lars in Connecticut and put Sophie on the phone. The two had known each other since college, but hadn't connected in years. Lars asked her out.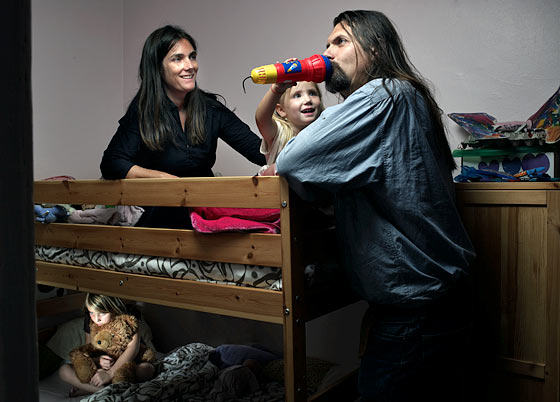 Two years earlier, Lars had been in a horrific car accident. He miraculously survived, although he spent one month in a coma and suffered short-term memory loss—and lost one of his legs. Before the accident, Lars had had a brief marriage, but he defined himself through his career. After the accident, things changed. "He wanted someone to love and take care of," says his friend Mike Ferguson. Lars was instantly attracted to Sophie, but she was busy dating one of her usual string of bad boys. "I thought Lars was a freak because he kept talking about the future," she says. But then, one hungover morning, Sophie woke up thinking about Lars. She called him and they began dating seriously.
At three months, Lars broached the topic of kids.
"It was his idea," she says, a few weeks after the party, sitting in a big armchair, burping her son in the house they are living in temporarily in Connecticut. "I was like, I'll wait for my last egg to drop."
Sophie's OB/GYN told her that the challenge at her age would be keeping the pregnancy. She should start trying as soon as possible. The couple got more relaxed about birth control. A month later, she was pregnant.
"It wasn't like 'Let's try tonight,' " she says. "I didn't even know I was ovulating."
At the time, Sophie was still living with her roommate; she and Lars were commuting back and forth from New York to Connecticut. "I didn't have time to plan a wedding. I was having a baby!" says Sophie.
They finally decided to make it official in time for a fancy society party that Lars's mother threw them at her family home in La Jolla, California. The week before, the couple hired a horse and buggy to take them to a remote spot in Central Park. Under a blossoming cherry tree, with Sophie in her sixth month, her roommate performed the ceremony. "I was relieved," says Sophie. "I guess I had a little catch-up to do."

"IT WAS GETTING LONELY."
In front of a tiny television perched on a dresser, Scott, a 45-year-old window dresser with a long ponytail, snuggles on a sofabed with his daughters, Coco, 2, and Rubyrose, 5, watching cartoons in their East Village walk-up. In the adjacent kitchen, Erica, his wife, slips a frozen pizza into the oven.
"Before him, my longest relationship lasted six months, and it was always with some unavailable guy who lived in Switzerland or L.A.," she says, leaning against the counter.
Erica, a freelance video director, wears loose jeans, and her hair is pulled back casually. "I was always the eternally single girl," she says. She hands a slice of pizza to her older daughter. "I wanted to have kids, but that wasn't my overwhelming motive to get married," she says, taking a seat on the floor.
In the late nineties, the two ended up living blocks from each other in the East Village. Scott, who grew up in Fresno, was painting murals in a nightclub and playing in a punk band. Erica had a crush from afar. "He was the long-haired guy who I had to run away from because he was so hot," she says. "It was that weird shy-schoolgirl thing, like you can't talk, and you think I gotta get out of here."
The two started to say "hi" whenever they ran into each other, but nothing happened until one day in the fall of 1999, when Erica ran into a girlfriend by chance at Benny's Burritos on East 5th Street. The friend was sitting with Scott. It turned out that he was breaking up with her. "She didn't want a relationship and I sort of did," says Scott. A few weeks later, Erica ran into Scott at CBGB, they flirted, and Scott asked her out.
Erica says she knew she was going to marry him. Her two previous relationships had ended badly. "It was getting lonely," she says.
At first, Erica tried to take it slow with Scott, seeing him only once a week. But when she went away on a trip, Scott stayed at her apartment. "When I came back, he started to stay with me every night," she says.
"Once it started, it was a snowball," says Scott.
Then, a few months in, some fantasy house hunting in Delancey, New York, turned real when they found an old farmhouse.
"The Realtor said, 'It sounds like you want to make an offer,' " says Erica.
"I said, 'We do,' " says Scott. A month later, Scott was settling into bed when he found a denim heart-shaped pillow with the words WILL YOU MARRY ME? embroidered on it.
"He just sat at the end of the bed, silent," says Erica. "I just knew it was right. My parents were married for 50 years, so I come from that, or else I wouldn't have gone out on such a limb."
She turns to Scott. "You probably thought I was insane."
"I was shocked," he responds.
"If I was 25, it would have been insane," she says. "Suddenly you're in your mid-thirties and you realize it's time to get going."
Scott, whose parents are divorced, didn't give her an answer right away. A month before Erica's proposal, he'd received another shocking piece of news: that he had a 5-year-old son, the result of a brief fling in Florida. He and Erica were due to fly down to meet the child. "I felt like my life was out of control," he says.
As Scott was sitting in Lauderdale by the Sea, a cheesy surf-and-turf joint on the beach, trying to figure out how he was going to incorporate his son into his life, Erica asked him how much longer she was going to have to wait for an answer. Something about the gravitas of discovering his son made everything clear.
" 'Yes, let's do it,' he said. And that was that," says Erica.
Two weeks later, they found out that Erica was pregnant. "All of a sudden Scott had a son, we had a house, we were getting married and having our own baby."

"WHO MOVES TO NEW YORK BECAUSE THEY'RE LOOKING FOR LOVE?"
Judging from the stories of couples who paired up fast, it's apparent that fertility pressure—especially for women—is a huge catalyst for the quickie family. But for many of the couples involved, there is also a redefinition of love, making it less about whirlwind romance and more about a practical desire to just get on with it. Their point of view is that after a decade of dating experience there's no point to a long courtship: You just know if it works.
"New York is a weird scene for dating," says Joe Cooney, a handsome 32-year-old musician with an angular haircut. "Who moves to New York because they're looking for love?"
He and his wife, Larissa Martell, who is nine months pregnant, are sitting in a midtown lounge after work. She is 37, an ethereal Brit with long black hair who aspires to be a screenwriter, although she currently manages the gym at an investment bank. After dating Larissa for two weeks, Joe said, "I love you." A few months later, they took off on a spur-of-the-moment trip to Paris for the weekend.
"When we were in Paris, I knew he was the one," says Larissa. "I thought to myself, I'm going to get pregnant in a year."
Three months later, Joe packed a bottle of vintage champagne and took Larissa away for the weekend to Montauk, where he planned to ask her to marry him.
"It came on fairly quickly, like, this is it," he says. "I was ready to settle down. Careerwise, I wouldn't say I'm the kind of guy who has to have my ducks in a row, and now I have to find a wife. I'd spent a lot of time in previous relationships trying to figure out what's important."
"Suddenly you're in your mid-thirties and you realize it's time to get going."
But before Joe had time to pop the cork, let alone the question, Larissa confessed that she was pregnant. They had conceived when they were in Paris.
"At first I was afraid that he would be upset," she says, smiling coyly.
"At first I thought she was joking," he says.
After a few seconds of uncomfortable silence, Joe said, "Let's do it!" and gave her the ring.
Larissa was surprised—and relieved. She later admits that she had been thinking about her biological clock, and that, combined with being caught up in the moment, made them both less conscious about using birth control. "We didn't go to make a baby, but I thought, If it happens, it happens. So many people have trouble getting pregnant."
Larissa and Joe planned their wedding in a day, and got married at a BYOB Chinese restaurant in midtown.
"The justice of the peace was on a schedule and married us in, like, six minutes," says Joe.
"We know people who were together for, like, six years and then broke up," says Larissa.
Practical desire is also what brought Béla Schwartz and June Zimmerman together quickly. Eight years ago, Béla, a baby-faced financial executive, turned 40 and looked back at a decade of fourteen-hour workdays and weekends in the office. "I just kinda said it's time to grow up and get a life, have kids, and, you know, figure it out," he says. Six months later, he was dating June, a sporty redhead who was living in a small studio in midtown, dating rarely, and preoccupied with the pressures of her career as a medical writer.
"I wanted a sense of home," says June. "I no longer wanted to depend on luck, or that idea that you're destined to meet the right person. In your forties, if you're not in a relationship, you get a sense that you could be alone for the rest of your life."
The pair met on Match.com; Béla was one of the first men June went out with. "Ten years ago, if I had read that his profile said New Jersey, I might have moved on. I would have been a snob."
After six months, Béla asked June to marry him. She immediately made an appointment at a fertility specialist. "My OB/GYN told me that I was in the last inning in the World Series and that I better start now," she says. Immediately after the wedding, June went through her first IVF cycle and got pregnant with her son on the first try.
On a humid day in August, the pair, now both 48, arrive at a local playground, unpack the car, and settle down under an oak tree. Their 5-year-old son, Isaac, runs off to the play equipment. Their towheaded twins, Elana and Margalit—the result of IVF when June was 45—sit on the ground, drinking juice boxes. June tells me that she was initially shaken by her sudden transformation from a Manhattan career girl into a married, stay-at-home New Jersey mom: Even learning to drive was a culture shock. But she is satisfied with the decision she made to choose a relationship that she quickly knew was right for her—and to get out of what she calls "a needle in a haystack and a numbers game."
"The negative is that you haven't had the ten years to nurture your relationship and you don't have the memory base to keep retrieving," says June, taking the juice from one of her daughters. "We don't remember what life was like before our son was born. We should probably put it on the to-do list to have more alone time! The positive is that we don't have to mourn the freedom that we lost, because we never had it."