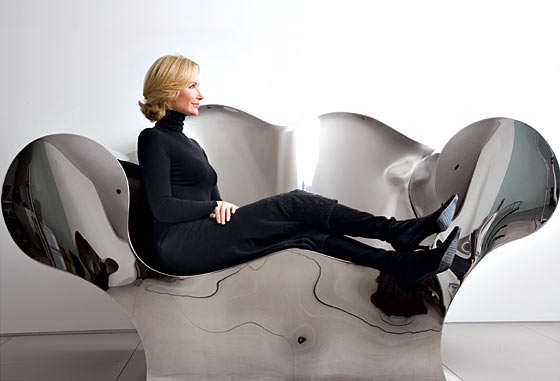 It is a warm night on Park Avenue, and Louise T. Blouin MacBain is spinning through a series of wood-paneled rooms at the Council on Foreign Relations in a tight black-lace top.
Tonight, at her Daniel Boulud dinner for 160, it's glitter and politics, artists and Nobel Prize–winning scientists, with a sprinkling of spiritual leaders in the mix, each trailed by an assistant with a spare silken robe over his arm like a waiter in an expensive restaurant. There is His Royal Highness Prince Turki Al-Faisal, ambassador to the U.S. from Saudi Arabia, having a Perrier, and Wikipedia founder Jimmy Wales, wearing corduroy pants in a room of handmade suits; Richard Meier, one hand on his back after a recent trip to the doctor, discussing whether to join former Beatles manager and publicist Peter Brown in St. Barts for Christmas. A slip of a man in an askew paisley bow tie dashes by: Eric Kandel, the Nobel laureate who discerned memory in the giant marine snail. "I'm an enormous admirer of Louise," he says, gesticulating wildly. "She brings to bear on the cultural and political scene an adolescent enthusiasm that most of us cannot generate. She's a lot of fun!"
A mod middle-aged angel, MacBain, 48, weaves through the crowd with a ruler-straight back and a quick, light step. Single and blonde, she has the looks of Céline Dion, with a flawless figure and odd Québécois accent. Her delicately boned face is composed in a well-tempered mask. She floats over to Sri Sri Ravi Shankar, the bearded guru who some followers think may be the reincarnation of Krishna—"His Holiness is a great, great man," she says breathily—and then to Richard Serra, clean-shaven and grumpy in a black cheongsam. With the half-smile that she reserves for drawing people in, she tells him about the $40 million gallery she opened this fall in a Rolls-Royce chassis factory in London's Notting Hill. ("I'm not a social person," croaks Serra. "I'm here because Louise seems like a mover and shaker, I guess.")
"Seventy-eight windows in my museum," says MacBain, in her dreamy way. "And now, today, each window filled with a light work by James Turrell."
"No columns in the space?" he asks, a hand on his chin.
"Not one inside," she says.
"Hmmm," he says, hailing the waiter with the canapés. "Must've been expensive, huh."
"Oh!" says MacBain, laughing girlishly and grabbing a nearby arm. "He's telling me to watch the financials!"
An auction begins—a Robert Wilson Plexiglas chair, an Antony Gormley drawing, a tour of the Venice Guggenheim. The bids lag for the last one, and the handsome auctioneer begins to point around the room, eyeing MacBain. "Louise, what about on your jet, can you take them over to Venice? Or Eli Broad over there—can you offer your jet? Or I'll take them on the Christie's jet!" He dissolves in laughter. "But that jet has been broken for so many years!" Next up is a tour of the New York Guggenheim—"You don't need Louise's jet to get to that one," he says, laughing. And then tickets to a Renée Fleming performance—"Oh, the holidays are so dreary, you'd have something to do, and Renée is a great friend of Louise's, so perhaps she can arrange a private hello?" he declares. "Louise's jet can take you backstage?"
The jet may be off-limits, but tonight, like many other nights, is primarily footed by MacBain, the unique millionairess entrant into the upper echelons of New York society, as gusty, ruthless, and frivolous as a heroine in a Judith Krantz novel. She's the publisher of a half-dozen art magazines, including Modern Painters and Art + Auction, and an art-book company as well as international auction-pricing indexes, a business that certainly doesn't pay for nights like this. The magazines—all this business about the hiring and departure of James Truman and other employees—are mere tabloid fodder. Her greater mission is to empower humanity via the power of the imagination. She is the muse of leading neuroscientists. She would also like to bring opera to the children of Sudan. All this is very pricey, but it is better than buying jewels.
From a corner of the room, MacBain's friend Chuck Close looks over the scene. "It's Louise's money," he pronounces. "She can do what she wants with it."
If you wanted to enter New York society today, you could do worse than purchase a $20 million penthouse on the sixteenth floor of the Richard Meier building on Charles Street. Up there, high in the clouds, MacBain holds court in her aloof, vaguely British way. She was raised in Montreal, the youngest of six children of an upper-middle-class insurance executive. She'd had one annulled marriage, to a tobacco heir, before she wed John MacBain, a Rhodes scholar with whom she began a classified-ads empire. It was 1993, and not much was understood about moving product on the Internet, but the power-suited MacBain was an early adopter, expanding their company's reach into trading autos and boats on the Web and amassing a nearly billion-dollar fortune over the next eight years. The couple broke up in 2000, and MacBain, spending a lot of time in Paris, began to date Switzerland-born Simon de Pury, at the time the head of the Phillips auction house, which was backed by LVMH. After 9/11, fearing a dip in the luxury trade, LVMH head Bernard Arnault balked, and De Pury was desperate for a new investor. He appointed MacBain CEO of the company, hoping she would put in some of the $250 million she received when she sold her stake after her divorce, but she never handed over a dime. The two parted ways amid whispers that he had wanted only her money. It was then she became Ms. MacBain, an independent and very grand lady.
This is her first New York apartment. Every morning, she wakes up at five for an hour of Pilates on the floor next to the legs of her 26-person dining set, which she uses for her dinner parties, or, as she calls them, "think tanks." She selects her outfit for the day from a duplicate of the set of clothes she has in London, where her three teenage children are in school, because she does not travel with luggage. Then she begins her toilette. MacBain was once a redhead, and her fingers and arms are still covered with light freckles. Nothing is ever out of place in her appearance; always wanting to look her best, she's even commissioned Steven Klein to take a publicity portrait. Once, when we were talking, she went upstairs in her stilettos to her bedroom, and afterward a maid scurried down with her hair dryer, stuffing it in a cupboard in the kitchen for future emergencies.
On this rainy morning, she is taking meetings. One cannot imagine the view in her living room: The sun beaming off the Hudson at this height fills the West Side with a light rarely seen in the city, transforming the glass cube into a vessel of the sky. (MacBain bought two apartments beneath her as well, each at a price tag of about $15 million—the rumor that went around was that she bought them because she found the first apartment didn't have room for a washing machine.) She hasn't finished furnishing this place yet, except for a white sectional in the living room, a big dining-room table, and a Tony Cragg pillar in the corner, the silver stack of faces turned every which way like a weathervane.
"I look at it every day, and I see it differently every day because of the curves and many shapes of the mouth," says MacBain, pointing at the sculpture with a slim hand. "It is a perfect piece of art for me, because it is an opening without limits, representing one day one thing and another day something else. I don't like borders." She locks eyes and gives one of her half-smiles. "I cannot be confined. I cannot. I cannot be confined in a cage."
Her butler serves cappuccino on the thinnest bone china, setting a place with fine white linen. We talk about the international luxury-goods market and how hard it is to find special clothes in Paris today. Then our conversation takes an odd turn. With the pride of a child showing off a schoolroom drawing, she shows me a Xerox photo of a brain, sliced up into a dozen areas marked with topics like "empathy," "imagination," and "making sense of the world." In the middle, a big blob is dedicated to one word: "creativity."
"Do we not need a more creative brain in this era?" she has asked. "So many of the practices in our world were forged in the industrial revolution, but we are now in a new era. We must develop our brains with the energy and commitment we once used to develop our factories."
The science of creativity has yet to produce even a definition of the term, but new genetics analysis and brain-imaging techniques have inspired promising research on creativity in topics like learning and recovering from trauma. The new breed of neuroscientists-slash-philosophers drawing connections between biology and human culture delight MacBain greatly, and she has funded a seminar at Columbia University titled "Art and New Biology of Mind," attended by scientists and Calvin Klein.
But MacBain is in touch with creativity in a deeply personal, almost mystical way. "I am dyslexic," she says, making it sound almost like a confession. When she was young, she was called stupid. "I lost my confidence then," she says. "If you don't have a fabulous memory to realize there's two a's or two p's in a word, forget it, it's as important as whatever's in there, and what's in there is the intuition to create something, which is truly more important. Later in my life, it took me a long time to figure out who I was, really."
She streaks across the room in her pointy shoes to pick up a worn tan journal from her sideboard. The blue pages are filled with diagrams that look like a sun with rays coming out the sides; in the center of each sun, she's written the title of one of her magazines or her new Website, artinfo.com. On the rays, there are topics like "education" and "philanthropy" and "Internet."
"Leonardo used such thinking," she says—that's Da Vinci, the dyslexic—paging through the book slowly. "This is what I do every time I start a business." She traces each one with a perfectly manicured nail. "These are my stars," she says. "My creative stars."
In her effort to spread the gospel of creativity, MacBain puts on a lavish conference in the mold of the Clinton Global initiative. The Global Creative Leadership Summit, as Orwellian a title for a conference as is imaginable—an "art Davos," MacBain calls it—runs for three days, with barely time for tea. She opens the festivities with a speech. "Technology and globalization have forced new proximity and new challenges—out of sight is no longer out of mind," she says, her skin dewy with some sort of moisturizer and her slim form like a mannequin's in a black suit. "A Website can be shared between Beijing and Berlin. Damage to the Arctic Circle raises the temperature in Great Britain. One diseased bird from India can infect many in Iceland." She looks out at the assembled crowd. "They say no man is an island," she says. "But today, no island is an island."
Some of the speakers are friends of MacBain's and have dined at her Charles Street "think tanks," but many tell me that someone from her foundation, or MacBain herself, had simply called them up and said flattering things about their work before inviting them along. Everyone seems happy to be here, in such excellent and diverse company—David Boies and president of the United Nations General Assembly Sheikha Haya Rashed, Peter Bergen and the CEO of Best Buy, the ambassador from Qatar and Francesco Clemente, plus at least a dozen neuroscientists of stature who work mostly on understanding the brain's role in visual perception and emotional experience, looking around themselves with pleasure at finally having been recognized for the important part they will play in the future of the world. (Bianca Jagger, MacBain's best summertime buddy, when Jagger crashes at her Southampton house and uses her driver, was a no-show.)
MacBain, resting for a moment in a cream-colored sitting room, explains how she selected the participants. "I'm interested in culture, and I say to myself, 'Why am I interested in culture?' " she says. "I feel that every time I open a subject, the culture component is a major, major issue. And whenever you talk global or geo, you talk conflict. So I think, Let's find people who study the Roman decline and the Greek empire and see if there are some parallels. Let's ask them, 'What do we really need to prevent cultural conflicts?' Well, we need empathy, okay, and empathy starts from the brain. So why not get a scientist to talk about it? Let's dialogue! Dialogue is an interesting tool: We all know it's harder to kill someone you know. And in dialogue, we say, 'What are the solutions for the culture?' Perhaps the Internet; we want to know what happens there. Then you think about the threats to cyberspace, and you think, I must get someone there."
With such logic leading the conference, panels ping-pong from topic to topic, like the secret of world peace or the origin and architecture of human emotions. How are we to address avian flu, catastrophic terrorism, nuclear proliferation, climate change, dollar collapse, cybercrime, famine? Does the new information economy level opportunity between those who have wealth and those who do not? Is it possible that the brain's capacity for creativity could be the answer to fixing the world?
Everyone basically agrees that creativity is a good thing. There are oohs and aahs as Robert Greenberg of R/GA shows off a soon-to-be-released Nokia camera phone that's being used to shoot full-length features—it's a remarkable DVD player, camera, music player, and Web-accessible cell phone that immediately takes images and posts them to a Flickr account. The group listens raptly to Henry Kissinger, happy to talk about creativity instead of answer pesky international-relations inquiries. "But I shouldn't talk about computers," he says, lurching forward in his seat to treat the crowd with a Kissingerian scowl. "I am almost illiterate on the subject—my grandson, total contempt."
Then Abbot Shi Yongxin, the spiritual leader of the Zen Buddhist sect of the Shaolin temple, is trotted out to demonstrate kung fu. His "boy virgins" leap across the stage, chopping hard at the air and throwing their legs behind their heads. Does anyone want to kick one of them in the nuts to demonstrate "Iron Groin"? "Mind is form, form is mind, and it's all empty, so go for it," says the abbot's translator. "Any skeptics?"
"John Gage should do it!" calls out Esther Dyson, pointing at the Sun Microsystems chief researcher, but he refuses.
Someone else kicks the monk in the nuts. He stares back at the audience with contempt.
Around midday, James Watson, the Nobel laureate who discovered the double-helical structure of DNA in 1953, takes the stage for his talk, titled "Discovery: To Infinity and Beyond!" Now 78 and with hearing aids in his ears, a proponent of genetically modified crops, genetic screening, and genetic engineering ("Getting rid of the bottom 10 percent of stupid people," as he has put it), Watson is introduced by the New York Academy of Sciences president, who nicely asks him to address MacBain's topic: the notion of creativity as he sees it. "The lack of creativity in even intelligent people is surprising," says Watson. "I think it'll be a much better world when we accept that people aren't equal—the difference between smart and dumb people is the extent of neurogenesis. Someday, the world's going to completely change when we can read people's throw of the genetic dice and realize that some people got good ones and others got bad ones. That's it."
At this, the room is silent.
Creativity isn't exactly the word some might use for the way MacBain has been running her publishing company, LTB Media. Art is interesting to MacBain because of the way it makes her feel, for the difference a light sculpture produces on her mood, which is noted to swing quite wildly, but it is hardly her passion. Unlike other art-world players, who are at least occasionally spotted in galleries and museums, MacBain rarely goes to see art. She zips into art-world stops like Art Basel and the Venice Biennale on her private jet for press conferences about her new business plans and acquisitions, sometimes making speeches with autocues. As the art-media business loses money, it has become boring to her. The mood in the offices is grim. Five heads of finance have left this year, and there has been near-100 percent turnover in the past eighteen months. MacBain has visited LTB Media's Eighth Avenue offices only a few times, usually with a Paris-based consigliere whom employees call her "French brain"; a search is now on for new space. Payroll was a day late last month when MacBain didn't wire the money. (MacBain says there was a problem with the payroll carrier.)
Among the few staffers she treated nicely was James Truman, who seems to have made it clear early in his tenure (he lasted barely a year) that she was not to bother him with her plans to make peace in the Middle East. His departure was devastating to her. Truman, the former Condé Nast magazine director, was CEO of LTB Media until October. He became livid when MacBain began insisting that the company become profitable by Christmas. Sources say Truman had also been trying to find a buyer for the magazines, but realized MacBain was not going to sell."Working with me is a vocation, a calling," MacBain says with a shrug. "It's not for everyone."
"Usually, people that criticize are people that don't do anything," says MacBain. "Ones that try are the courageous people. The world is so scary now, don't you feel that? Don't you feel we all have a responsibility to help people who are fixing the world?"
MacBain essentially bought a group of publications that had been small operations founded by art lovers—Gallery Guide, Museums, Modern Painters, Art + Auction, Spoon—and then began to starve each one of editorial cash (Spoon was closed). The anger of those who have been there during this transition is enormous: The jobs they loved are now destroyed. ("She's not violent," says one, struggling to come up with something nice to say.) "We are probably the one that invests the most in content in the world of art," says MacBain. "I have a real interest in writers. There's a lot of content. And content is king."
MacBain has said her company is worth as much as $120 million, and the company claims significant revenue growth across all of its titles, but LTB Media internal spreadsheets show losses except for the Paris-based Somogy art-book publishing house, which made a profit of $1 million, and Art + Auction magazine, which made $230,000. The rest of the magazines are in far worse shape: Culture + Travel lost $1.2 million; artinfo.com lost $2.3 million; Modern Painters and Gallery Guides in the U.S. and the U.K. show losses. The company is running at least $6.6 million in losses this year. (MacBain says these numbers are inaccurate.)
How much more can she afford to lose? Her $250 million fortune may be leveraged to the breaking point. Her shopping binges have included tens of thousands of dollars on custom underwear. According to sources, MacBain has been selling home contents in Paris and some of her art collection in London at Christie's contemporary-art auctions. One of the Meier apartments has been sold. Other homes are on the block: La Dune, her eight-bedroom Southampton mansion on Gin Lane, went to contract for $35 million with Donny Deutsch but has since fallen through. In London, she has put her ten-bedroom Holland Park villa on sale for $27 million. "She has asked for such astronomical sums they most likely won't sell," says a friend. "She refuses to part with them."
MacBain denies any cash-flow problems. "You can criticize all you want—I did build an empire and a second one now," she says with steely resolve. "Usually, people that criticize are people that don't do anything. Ones that try are the courageous people. The world is so scary now, don't you feel that? Don't you feel we all have a responsibility to help people who are fixing the world?"
So they still come to her, those who want to change the world. Eric Kandel has even postulated a Louise MacBain Theory of Creativity: He says that it is possible, though only metaphorical and prescientific, that the alternation in wiring in the language-oriented part of the brain's temporal lobe that occurs with dyslexia allows for an enhancement of wiring in other areas of the brain. This is what MacBain wishes for more than anything: to be picked apart and studied by important scientists, who will tell her who she really is. She daydreams about it as she makes notes for a book she wants to write about creativity and culture—the title: "The Obvious."
MacBain receives the scientists in her penthouse; today, Lisa Randall, a Harvard star in theoretical physics, comes by. Randall pioneered "braneworld scenarios," the idea that our four-dimensional space-time is embedded in an eleven-dimensional bulkhead. "In particular, my focus has been that there could be extra dimensions that we don't see," says Randall.
MacBain leans forward. "What is your vision?" she asks. "What do you feel?"
"Well, I think we're going to discover something great, an extension of space-time symmetry or an extra dimension of space," says Randall.
"But what does that mean to us?"
"Well," says Randall, pondering this. "We'll understand the universe better."
"But what will it bring to our lives?"
Randall stays quiet.
MacBain puts down her tea with the barest clatter. "Do you know how we can post the Creative Leadership summit to the Harvard Website?" she asks, perking up. "I mean, the summit should be there, for the benefit of the student masses at Harvard."
"I don't think we can do that if the conference was not associated with Harvard," says Randall.
"What?" says MacBain. "That's like saying don't let the students read any books—just let them hear the professors talking!" She looks to her assistant. "I'll speak to the president of Harvard." She looks back at Randall, and then, grandly: "And how is he?"
"He's fine," says Randall. "I think." Then she backs out of the apartment.
After this, MacBain flew back to London on her private plane, then she returned to make another important speech. She fired a few more people at LTB Media and signed a letter of intent to buy the armory show for about $10 million, although she and the sellers then began to squabble. (MacBain will not comment on this.) Then she went off to address the United Nations. "All the pieces are moving so fast today, and I must help build a bridge," she told me. I asked if she was a supporter or critic of the U.N. "I never judge others," she said, curtly. "Only God judges. I am not for that."
Speaking after the former president of Finland and actress Julia Ormond, she stood there looking beautiful, as usual. "A new generation of children has grown with entirely new stimuli from the Internet, yet we know so little about the effect of this new world on the brain," she said. "Terrorists use the Internet like caves, hiding in uncharted locations. We can swap recipes for bombs as easily as recipes for cakes. So although we so rightly celebrate the breakthroughs of our age, we must ask ourselves a question: Are we Googling while Rome burns?"
The audience looked on in rapt attention, and confusion.