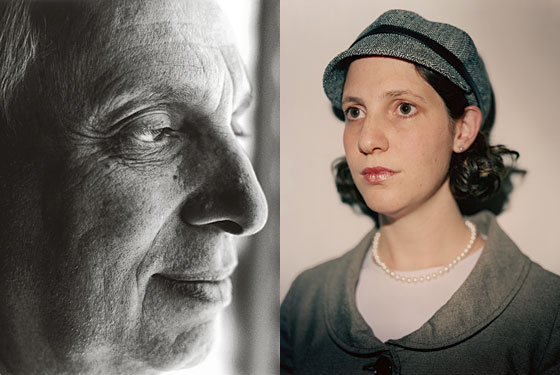 "Where is the drumroll?"
Rabbi Avi Weiss looked ebullient. He was facing the congregation on a Sunday morning in March of last year, at the Hebrew Institute of Riverdale, the synagogue he founded nearly 40 years ago. His white yarmulke was bobby-pinned to his white hair, a broad smile lifting his jowls. In a few minutes, he would ordain the first woman in American Orthodox Judaism.
This so-called conferral ceremony honoring Sara Hurwitz, a 32-year-old mother of three, was unprecedented, and everyone in the room knew it. Orthodox rules strictly delineate gender roles in all aspects of life, especially in synagogue, and these divisions go a long way toward defining what Orthodoxy stands for. Avi Weiss is not one for subtle gestures, yet even he recognized that this ordainment would require an unusual level of political finesse. He had picked his protégée's title cautiously, choosing not to dub her rabbi—too loaded an honorific—but rather a new designation he'd invented: maharat, a Hebrew acronym, he explained, which stands for a legal, spiritual, and Talmudic leader.
Someone drummed on a chair, obliging Weiss's request. "The authority of Torah will rest upon her shoulders," Weiss proclaimed dramatically, "to spread the knowledge of God throughout the land." Large hands planted firmly on the lectern, Weiss gazed like a father at Hurwitz, who sat smiling back, dressed in a plain black suit, cloche hat, and pearls. "Sara, what you have achieved today is distinctive. It's set apart." He told his audience how well versed Hurwitz had become in Jewish law—Halacha—as if to anticipate any questioning of her bona fides. "Sara, under the tutelage of Halachic experts, has studied the established traditional rabbinic texts that are required to become a religious leader and, based on her mastery of these texts, is assuming a full religious leadership position in a synagogue." With open hands, he gestured to her. "We bless you as you rise and come forward to join me in officially becoming part of the religious leadership of Israel and officially becoming a full member of our clergy!"
The crowd cheered.
"You have risked so much to stand behind me," Hurwitz said to Weiss in her acceptance speech. "It is my dream that young Orthodox girls will be able to say, 'When I grow up, I want to be a maharat and serve in the capacity of female Orthodox rabbi.' "
No one seemed to flinch. In fact, in the weeks that followed, it appeared that Weiss had accomplished something else unprecedented: a significant challenge to Orthodox rabbinical codes that had avoided waking the lions of the Establishment. This is not how he typically conducts business. Though described by his congregants as soft-spoken and gentle, he has, over the past three decades, built a career out of confrontation. He is known for his unrelenting political activism, championing causes from Soviet Jewry to clemency for Israeli spy Jonathan Pollard. Few can keep track of the number of times he's been arrested, threatened, and lambasted. Within the Orthodox community, Weiss has been equally disruptive, agitating for what he calls an "open Orthodoxy," which he believes can be inclusive without breaching the tradition's stringent parameters.
This morning's ceremony appeared to represent a quieter radicalism—no news conferences, no protests. Perhaps, even, it was a glimpse of a new Avi Weiss: as crusading as ever, but, at 64, grown wise to the benefits of diplomacy.
Those in the congregation who knew Weiss best knew better.
Six years after having first discussed with Hurwitz the outsize notion of her studying to be accepted as an Orthodox rabbi, Weiss approached her ordination at a loss for what to call her. His longtime friend Blu Greenberg, who founded the Jewish Orthodox Feminist Alliance, convened a kind of focus group to help him figure it out. On two separate evenings at her house in Riverdale, Greenberg invited about two dozen prominent Jewish women—and a few men—to eat poached salmon and wrestle with the question of what title Hurwitz should be granted and whether Orthodox Judaism could accommodate her ordination.
Everyone present agreed that Hurwitz represented something seismic. "I think everybody was in amazement that she had achieved this," says Reform rabbi Jacqueline Koch Ellenson, who attended a meeting. Hurwitz had put in three years of learning at Manhattan's Drisha Institute, then repeated the course work under Weiss's supervision, this time with an eye toward psak: being equipped to weigh in on intricate questions of Jewish law. "Sara completed everything," Ellenson continues. "She bucked the system. So what happens next? Do you let her in?" Some were afraid that by ordaining Hurwitz, Weiss would jeopardize his synagogue's funding; others expressed concern about the impact on "his boys," as some refer to his students from the already-controversial yeshiva he created. But after hours of discussion, the group was largely in accord: Hurwitz should be named rabbi, or, failing that, rabba.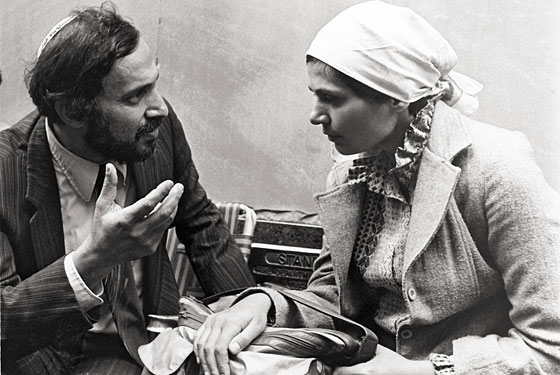 Weiss, however, had chosen not to attend the meetings. This was not altogether surprising. His close congregants describe—with affection and exasperation—a man who claims to invite opinions but ultimately listens to his own. "Everyone who joins the shul knows it's not a democracy," says a former president, Howard Jonas. "He's 'the Rebbe.'" And perhaps he decided to discard the group's recommendation for the same reason: He doesn't like to feel nudged.
Weiss may not have welcomed hashing things out by committee, but in the months following the announcement of Hurwitz's maharat title, he started to come around to their conclusion. Many found the word clumsy. It never really took hold in the wider Jewish community. Some people had even taken to mocking it, stressing the last syllable, rat. Perhaps most important, what had felt like a momentous ordination had, in less than a year, lost air. No one really knew what maharat meant, which suggested that little had really changed.
And so, in January, to the surprise of his congregation, his board, and his yeshiva, Weiss announced from the pulpit that he was changing Hurwitz's title to rabba. Now, finally, came the response he'd been used to—though the extent of the vitriol left even Weiss shaken. As he confided to Rabbi Dov Linzer, the dean of Weiss's yeshiva, "The way people are reacting, you would think I killed somebody."
"These developments represent a radical and dangerous departure from Jewish tradition," declared Agudath Israel of America, ultra-Orthodoxy's most authoritative rabbinic body. "Any congregation with a woman in a rabbinical position of any sort cannot be considered Orthodox." Weiss, never a favorite among the hard-liners, was accused of sabotaging his community. Steven Pruzansky, a rabbi in Teaneck, New Jersey, wrote on his popular blog, "Those who seek to infiltrate the Torah with the three pillars of modern Western life—feminism, egalitarianism, and humanism—corrupt the Torah, cheapen the word of G-d."
Even many who cheered Hurwitz's initial ordination thought it a blunder. "My immediate advice to Avi was just, 'Apologize and go back to maharat,' " says a friend. The announcement looked reckless and unconsidered, and it threatened to destroy the momentum Weiss had built up over the years: As rabbi, he had insisted on constructing a synagogue space that ensured equal access to the bimah for both genders, passed the Torah to both sides unlike in other Orthodox shuls, introduced women's prayer groups despite caustic warnings that he was violating Halacha, and found a way for women to say Kaddish, the prayer for the dead, which normally requires a quorum of ten men. And for a few months, he had even managed to ordain a woman to what was effectively (if not precisely) the highest position within a synagogue. "After he got away with the maharat thing, he should have cooled it," says Lawrence Schiffman, chair of NYU's Judaic-studies department.
"I didn't understand," says one rabbi who had studied next to Weiss, "why, after Rabbi Weiss invented a word for what Sara Hurwitz was—a word that didn't mean anything and didn't drive anybody crazy—why he'd switch to a word that he knew would drive everybody up the wall." That was the question everyone was asking: Why did Weiss change his mind? "I wish he didn't do it," says his friend Howard Jonas. "But he loves the Jewish people. And he's a child of the sixties. He doesn't have the gene to back down."
When Weiss was 28, a few years out of rabbinical training at Yeshiva University, he and 29 families founded a shul in a boiler room of the Whitehall Building off the Henry Hudson Parkway. The Hebrew Institute of Riverdale has grown over the years—it now has 850 families—and has served as a platform for Weiss's rabbinical advocacy. From the start, he has voiced a commitment to a larger "congregation" of Jews beyond his Orthodox brethren. In 1989, during a controversy over a convent at the site of Auschwitz, Weiss climbed the fence in protest, and was beaten by Polish workers and dragged out by police. He repeatedly faulted Mayor David Dinkins for doing too little to protect Jews during the Crown Heights conflagration, at one point carrying a coffin to Gracie Mansion. He shouted down President Carter at a Queens synagogue; chased accused Nazi war criminal Kurt Waldheim around the world; and held up a sign next to David Duke's face that read nazi of the '90s.
"There are a few who feel that 'God has put his hand on my shoulder and said, "I need you to be an ambassador to the Jewish world,"" says Marc D. Angel, Weiss's classmate at Yeshiva University and now rabbi emeritus of Congregation Shearith Israel on Central Park West. "Avi is one of those kinds of rabbis. He sees himself not just as a rabbi of a synagogue but as a rabbi responsible for the whole Jewish people." In his 2008 book Spiritual Activism, Weiss wrote, "I was once involved in activism because I enjoyed it, but now I have come to believe that a true activist is one who takes no pleasure from it. Now I'm an activist because I feel I have no choice; there are things I believe I simply must do."
Weiss has had two heart attacks. He never enjoys a vacation and rarely sits still, except to watch the Yankees. His wife, Toby, who comes from a Haredi (right-wing Orthodox) family, says her husband is particularly preoccupied when he knows someone is suffering—be it a congregant going through a divorce or the victims of a terrorist attack. After a Jewish community center was bombed in Buenos Aires in 1994, Toby recalls, Weiss was walking on his treadmill and asked her, "Should I go? I'm thinking I should go." "What time is your flight?" she replied. He said, "Seven o'clock." When she called the cardiologist for his advice, he told her, "Toby, you know he'll have more stress if I tell him he can't go."
Like any Jewish wife, Toby worries. But her husband gives her good reason. After Meir Kahane was killed, in 1990, Weiss received a letter that said, "Kahane's dead; you're next." Another time, a hand grenade arrived in an envelope. There were several nights that required an NYPD security detail parked outside their apartment. "My daughter once said, 'I cannot wait to get married and get out of here,' " Toby says with a trace of amusement. "It was scary to sleep in our house."
Toby calls her husband "the Rabbi" and chauffeurs him to endless shivah calls and sickbed visits. He is not a careful dresser, and he can't cook a simple meal. He forgets to exercise, has never written a check, and loses everything. It's not that Weiss is entirely selfless—he has a robust ego, savvy press instincts, and high-profile friendships. (Mayor Bloomberg has joined the Weisses for Shabbat, and Natan Sharansky, the Soviet refusenik, made a beeline from Israel to the Weiss home in Riverdale after his release from nine years in the Gulag.) But Weiss mostly spends his time with those decidedly on the margins: the elderly, the widowed, the infirm, the disabled.
Weiss believes many Jews eschew activism because they're convinced it will create an anti-Semitic backlash—that rabbis are supposed to be religious, not political. But he defiantly wears his prayer shawl to most protests. "The greatest sin is not to act," he says. "When people used to ask me, 'Where was God during the Holocaust?' my response was, 'Where were we?' "
This is Weiss's core: He feels deeply and acts unself-consciously—sometimes impetuously, despite eye-rolls from skeptics or chiding from critics, and despite the impact on his family. During his early fatherhood, he was away constantly. He now says he regrets having skipped his son Dov's eighth-grade graduation to fly to Rome to protest Pope John Paul II's reception of Kurt Waldheim. "My family paid a price," Weiss says quietly. "There is no doubt."
"I wish he didn't do it," says a friend. "But … he's a child of the sixties. He doesn't have the gene to back down."
Dov Weiss, currently working toward his Ph.D. at the University of Chicago, says he's made peace with his father's choices. "My father has apologized on many, many occasions, and he feels bad about it," Dov says of his childhood. "My response was, 'Abba, you were doing important work.'" But Dov doesn't sugarcoat his father's absences, and remembers having to compete for his attention. "We always had 25 guests on Shabbat," Dov recalls. He remembers those crowded suppers fondly because they were the only nights he could be sure his father would be present.
In April, Weiss decided to skip this year's annual convention of the Rabbinical Council of America, the largest Orthodox rabbinic organization. Still, he was a powerful presence in the room. An amendment was circulated that proposed the RCA expel any member who ordained a woman. It failed in the first round of voting by a margin of one, but another resolution passed unanimously. After going out of its way to extol strides in women's scholarship, it shot down any notion of women rabbis: "We cannot accept either the ordination of women or the recognition of women as members of the Orthodox rabbinate, regardless of the title."
Weiss has had private conversations with the Rabbinical Council, and they have managed to reach an unstable compromise. Rabbi Moshe Kletenik, the council's president, says that the matter of women rabbis has been settled. "We've established firmly as a matter of public policy that a woman cannot be an Orthodox rabbi," he says, "and he has made a commitment that he will not ordain women in the future."
"I've said I will not do it," Weiss says wearily. And yet, Hurwitz is still rabba. ("To take back a title," Weiss says, "that's a very serious matter.") More to the point, she remains dean of a new women's yeshiva, Yeshivat Maharat, which Weiss created last year and whose mission, according to its website, is "to train women to be fully integrated into the Orthodox community as spiritual leaders." There are four students in the inaugural class, and Weiss has made it clear that he will continue to educate women for leadership, though he is now vague about what their title would be.
To many of the rabbis who rebuked Weiss in April, this new yeshiva is a more extreme rerun of Weiss's last act of heresy. Ten years ago, Weiss resigned from Yeshiva University, which he and all his children had attended, where he had taught for decades, and where Toby had worked for 21 years as head of alumni affairs. Life at YU had become inhospitable. Influential rabbis there were contemptuous of Weiss's ideas (including a women's prayer group he championed) and not shy about voicing them, even when his son was in their classrooms. "They were calling my dad terrible names," Dov recalls. "For whatever reason, the heads of YU were not putting a stop to the vitriolic language."
Rather than continuing to try to push the school to the left, Weiss decided to found his own. "I thought he was crazy," says Rabbi Dov Linzer, whom Weiss approached to run the new seminary, Yeshivat Chovevei Torah. "There was no other Modern Orthodox rabbinical school in the United States. How can you start something else that would attract people and be able to compete with YU?" Ten years later, the school's graduates are often placed at some of the most prestigious college Hillels and pulpits. But the RCA does not offer membership to its graduates, several of whom report that they've been maligned by YU associates.
While many Orthodox hard-liners chafe at Chovevei Torah's leftward bent, they view Yeshivat Maharat as an existential threat. Rabbi Hershel Schachter, a revered scholar at YU widely known as the foremost authority on Halacha in the United States, raised eyebrows at the RCA convention when he reportedly put the ordination of women in the category of yehareg ve'al ya'avor, a tenet that literally suggests one should opt for death before violating the law, used by rabbis when referring to acts that are absolutely impermissible. "He believes that it is a slippery slope that will lead to the breakdown of traditional Judaism," explains Marc B. Shapiro, an expert on Orthodoxy.
Exhibit A for rabbis like Schachter is Conservative Judaism. "It's a model of what went wrong," Shapiro explains. "People had a commitment to observance and then made small reforms, and this led to bigger reforms, until Jewish law was almost completely jettisoned as a binding force." The main culprit, many Orthodox rabbis agree, is feminism. (Indeed, Agudath spokesman Avi Shafran has called Weiss and his allies "rabba-rousers," writing that "their master seems to be feminism, not Judaism.") "I think there's this preoccupation that Rav Schachter has that anything that might smack of the Conservative movement must be avoided like the plague," says Rabbi Shai Held, dean of Yeshivat Hadar in Manhattan. "There's a tremendous amount of anxiety among religious traditionalists that when you take one step toward egalitarianism, the floodgates are open and everything that seemed self-evident will no longer be. Men go to work, and women raise children. If you undermine that, you have lost your whole universe."
Shortly after Weiss's conversations with the Rabbinical Council, after a nudge from its conservative flank, the RCA's first vice-president told the Jewish daily Hamodia that the council "in no way endorses the title 'maharat' or the 'maharat' program under the direction of Rabbi Avi Weiss."
Neither side has budged since.
At one recent Friday Shabbat service, Rabbi Weiss sits inconspicuously among his male congregants. He greets men in black hats and prayer shawls, gripping a hand, squeezing an arm. On the women's side, Sara Hurwitz, dressed a little haphazardly in an ill-fitting skirt, light-blue cardigan, and faux-straw hat with a low brim, chases after her toddler son, Davidi, who is clearly at home careering around the temple. For the standing prayers, she hoists Davidi up in her left arm while holding the prayer book in her right. When seated, she lets her son knead her face. Occasionally, she ambles over to her fellow worshippers sharing the female side of the gender divider—the mechitza—making sure they know which page the cantor is singing from. During one song, she dances briefly, though not exuberantly, in a small circle of women, including Toby Weiss, while across the partition, Rabbi Weiss, tallis slipping off his shoulder, starts his own congalike procession, snaking around the cramped rows of chairs.
Hurwitz has privately told people she worries about how Weiss's championing of her has backfired for him. She's gone so far as to publicly float the possibility of relinquishing her title if it continues to distract. She nevertheless believes she has earned it. "Do I consider myself a religious leader? Yes," she tells me. "I wake up in the morning and help out with a Bris, and then counsel a couple who is going through a difficult time, and then answer a question about Passover, and then teach a class. I don't know what else I am if I'm not a spiritual leader."
Weiss, who stresses that Hurwitz upholds Halacha—she doesn't, for instance, lead services or act as a witness under a wedding canopy—talks of her with a parental protectiveness. "Sara deserves the recognition," he says. "But the right wing is very intimidating and very frightening." Indeed, the controversy has been a lot less invigorating than any of Weiss's previous crusades. "The world that I'm dealing with now, the people who are very critical—they're not the Turks, they're not the Poles, they're not the Russians. They're family," Weiss says. "And in certain ways, it's more painful." "He has internalized this in a very sad way," says Rabbi Angel. "Many rabbis who he thought would be his natural allies kept quiet. And I think that's a very upsetting thing, when you go out on a limb and nobody's there to catch you."
Toby has rarely seen her husband so uncomfortable. "To see him, for weeks, entrenched in trying to put out the fires, it was very painful," she admits. "I actually cried one night. I heard him on the phone with someone, and he said, 'I just wish this would go away.' "
But then there are days when Weiss appears steadfast—proud, even. "I have a lot of enemies," he says. "I'm not happy about it, but I'm convinced I'm on the right side of history." He could, of course, simply capitulate to the RCA, shut down Yeshivat Maharat, and withdraw Hurwitz's title. But no one expects that to happen. "Anyone who thinks Rabbi Weiss is going to back down on anything doesn't know Rabbi Weiss," says Rabbi Saul Strosberg, one of his former students. His fiercest critics agree. "He basically gave up that one name, rabba," says Agudath's Avi Shafran. "Big deal. It was a superficial change—just a paint job. I admire him for that: So far, he's stuck to his guns. Though I'd admire him even more if he gave up his guns altogether."
Many of his allies suspect Weiss is biding his time—until the squall is behind him, more women complete Hurwitz's level of scholarship, and he must decide whether to ordain his female graduates in three years. "His retraction or 'backing up' or whatever you want to call it doesn't mean that he's going to stop pushing the envelope," says Reform rabbi Ellenson. "I'm sure it's not over for him. This community is going to have to wrestle with the reality that women are capable of deep learning and leading. This horse has run out of the barn."
I remind her that Weiss pledged not to confer the title of rabba again. "My response to that is, 'He isn't going to do it again,'" she says, "'until he does it again.'"