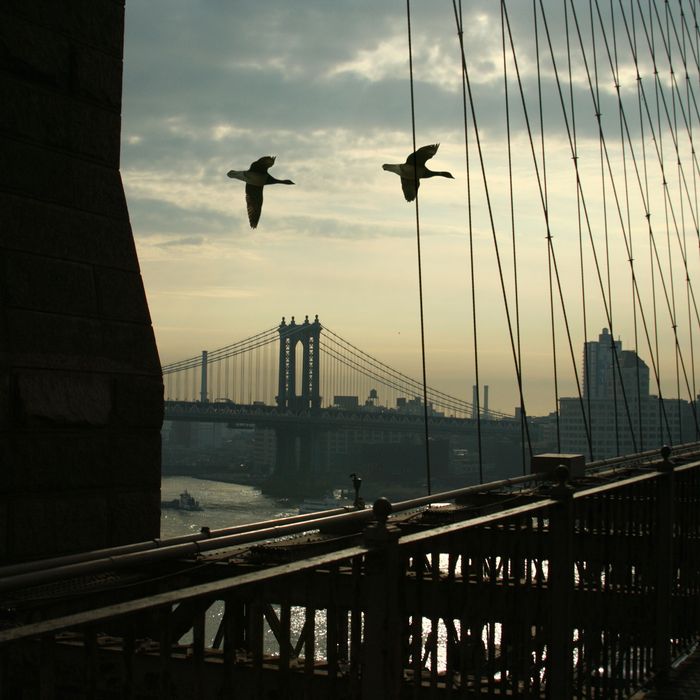 Photo: CribbVisuals/Getty Images
Coyotes are suburban news at the moment. Over Labor Day weekend, a rabid coyote showed up on the lawns of Rye Brook. It lunged at a 14-year-old, attacked a 2-year-old, and killed and beheaded its own pup before being shot under a trampoline by the local police. Nervous homeowners faced the television cameras to voice concern for their children and their pets. "Tonight," a newscaster reported, "one of the victims who fought off the vicious animal speaks out…"
But six months ago, a coyote made a high-profile visit to the city. It was a less macabre event, occasioning a long, weird video clip, filmed at about three in the morning, of a bunch of cops standing on the West Side Highway in Tribeca trying to catch the poor thing. It took the cops a long time. The coyote hid in the shrubs of Hudson River Park, then ran along the embankment. It looked pathetic and lost.
The coyote may have been lost, but she wasn't, ecologically speaking, out of place. As it turns out, she was as at home in the city as she might have been anywhere else. This can sound backward. You would expect coyotes to be perfectly happy living in the wilderness, if not in Rye Brook then at least a few hours north on the Taconic, far beyond Westchester County. But people who study coyotes are finding that the creatures are drawn to cities, with their large woodland areas, small rodents, and lack of large predators. The New York Police and Parks commissioners are aware of this, too, and they are quietly ironing out interdepartmental coyote protocols regarding when to capture them and where they might be taken. This last concern is significant, and an open question, because not all of the coyotes that will be captured in New York City are expected to be tourists. In fact, it turns out that there is a whole mess of coyotes already living in the city — specifically, in the Bronx.
The way we currently think about nature in New York is that nature, for the most part, has skipped town. Henry Hudson pulled into New York Harbor and made possible the arrival of the Dutchman, who stood, as F. Scott Fitzgerald has it, "face to face for the last time in history with something commensurate to his capacity to wonder." Then, over the centuries, the wonder — Fitzgerald's "fresh, green breast" — moved off westward. Nature was paved, as New Amsterdamers logged and landfilled, and their ancestors subsequently filled with trash and sand and construction rubble the very swamps and marshlands that made New York Bay the great natural-resource-rich harbor that it was.
What we built on top of the harbor was so awesome, and its effect on the natural landscape so extensive, that we tend to forget its foundation was once a teeming metropolis of flora and fauna. Like most large cities, New York was built where river meets ocean. But the network of waterways and islands that make up our harbor — the Hudson, Bronx, Passaic, Hackensack, and Raritan rivers; the creeks, kills, narrows, and tidal straits; the bays, inlets, basins, and coves — is one of the most intricate and ecologically complex estuaries in the world. This variety of place attracted a variety of species, all living in proximity, and as a result, New York was vibrant, dense, and diverse before it even was founded. We were a natural capital first.
Then the city happened. But over the last handful of years, as the occasional charismatic megafauna has caused headlines by squatting in Central Park or nesting on Fifth Avenue, scientists and naturalists have discovered something much more fundamental: Nature is prospering in New York. Yes, the otters, minks, bears, and mountain lions have long since disappeared. But nature as a whole — the ecosystem that is the harbor — never went away. In fact — and this may seem implausible—nature is in many ways more plentiful in New York City than it is in the surrounding suburbs and rural counties. New York is again a capital of nature; we are an ecological hot spot.
How can this be possible? What does the grimy coast of Queens have over the fields and forests of Dutchess County? The answer is the same thing the city has: variety. While upstate nature may be robust and all-encompassing, it is also, from an ecological point of view, relatively barren — a small and fairly static number of species coexisting in a scenic but manicured wilderness. This is true for most of America's wide-open spaces. "People think of the rural as this pristine, untouched place, when it's actually highly controlled and highly engineered space," says Nette Compton, a senior project manager at the Parks Department. "The fact is urban areas are not as well controlled. They are messy. There is diversity."
Indeed, as scientists explore the abandoned dumping grounds of Canarsie, or the beat-up marshes where the saltwater of New York Harbor meets the streams that still run out of the hills in Queens, they are discovering the depth of our wilderness. We've long known that our waters are home to herring, mackerel, shad, blues, anchovies, blackfish, stripers, crappies, Lafayettes, tomcod, hake, eel, weakfish, killifish, and perch — but we're only starting to understand that they swim above a still-operative and vibrant food chain of smaller creatures. Just beyond Exit 30 on the L.I.E., there are secret, untended forests, where black locusts shoot sprouts through the rusty chassis of abandoned cars. On Staten Island, great-blue and black-crowned night herons nest in hundreds of acres of marsh grass, and racer snakes and spring peepers live in kettle ponds. A few hundred feet beyond the runways of JFK, dolphins arrive in schools every spring. In a survey taken this past June, scientists turned up more bird species in Jamaica Bay Wildlife Refuge than in Yellowstone and Yosemite parks combined — and nearly half of all the bird species found in North America.
This is New York's nature. At its wildest, it exists in the places humans let be, either because we mapped it as parkland and forgot about it, or we abandoned it as ruin, allowing it to transform yet again. Look at a place like Willow Lake in Flushing Meadows Corona Park: What was once a tidal wetland had been filled with Gatsby's ash heaps, then covered over by Robert Moses for the 1939 World's Fair, subsequently turned into ball fields, which frequently flooded and were eventually neglected. What has returned? Wetlands. "It's almost like they're under there and trying to come back," says Ellen Pehek, an ecologist who has worked for the city's Parks Department for twelve years. "When they flood, you find bullfrogs there. It's like they know.
"When you write grants to get funding, people say, 'Oh, you are not going to find any diversity in the city,' " Pehek continues. "But that's wrong. Sometimes you're in an area that's degraded and seems like there is going to be no diversity — but there is. Like in Ocean Breeze Park, on Staten Island. It used to be brackish marshes, but they dumped sand on it when they built the Verrazano. Then the springs began to well up, and now they are like coastal ponds, which are rare, and it's got grassland birds that are rare in the city, and there are dragonflies like the Rambur's forktail and Needham's skimmer that are rare in the state. That's where people are mistaken about urbanization. It just makes things different."
Nature has been working off our radar, and we are just now seeing the unexpected environmental consequences of building the Verrazano-Narrows Bridge, or losing our shipping industry, or choosing to turn our backs on the banks of the Harlem River. But part of the reason why it's taken so long to discover New York's nature is that this is not the nature we had been looking for. It's less precious. It's the opposite of pristine. In the city, we live in a nature that is even more resourceful and resilient than we have ever imagined. And when you look at nature that way, of course there are coyotes in New York. Look at all the forests and small mammals — not just rats, but also voles, chipmunks, and small red foxes — with whom we share the city. The question becomes: Where has the coyote been, and why are we so reluctant to have him? Why can't we see the nature that we are living in?
On its surface, just below the Colonial-era dam at 182nd Street, the Bronx River looks almost unspoiled. But it's been around too long for that. When the headwaters of the river were dammed, the river was used as a sewage ditch, earning, in 1892, that classic urban-river sobriquet, "an open sewer." Even now, after neighborhood groups began pulling appliances out of it in the seventies and the Feds directed over $15 million to its restoration in the nineties, it is often injected with sewage outflows.
Earlier this summer, a recent Ph.D. grad named Robert Leaf was on all fours, sorting through the muck. A heating-oil spill from an apartment building in Westchester recently sent oil leaking through the sewers, killing a few dozen birds. "Yeah, you'd better wash your hands after this," he tells me.
Leaf is acting on a tip from an ex-cop turned naturalist who had seen something interesting in the mud: mussels. And not the common zebra mussels that are clogging up the Great Lakes, but native Eastern floaters. This was a potentially major discovery. One of the great incongruities of the New York Harbor is that, despite centuries of industrial pollution, it is the only estuary on the East Coast that still sustains its historic fish stocks. It follows, logically, that an estuary robust enough to support fish would be active all the way down the food chain, but nobody until now had thought to investigate whether that would include native mussels growing below the sewer outflow in the Bronx River.
Leaf had taken a summer job as a research assistant for the Natural Resources Group, a small corner of New York City's municipal bureaucracy that has done more than any other group to change how this city — and urban areas worldwide — thinks about nature. It was founded in 1984 by then–Parks Commissioner Henry Stern. At the time, the job of Parks commissioner had to do with maintaining the city's parks infrastructure: the ball fields and tennis courts and grounds designed by Olmsted. But with the city slowly coming out of the fog of the fiscal crisis, and with fears that suburban trees might be in jeopardy from gypsy moths hiding somewhere on the edges of the city's handball courts, there was an interest in exploring what land, exactly, the Parks Department controlled. Stern dispatched a handful of scientists.
The NRG began as a guerrillalike band of young ecologists and naturalists who took up residence in the former birdhouse in Central Park. It was led, for fifteen years, by Marc Matsil, a Brooklyn native who had worked in parks in Alaska and who was interested in applying backcountry wilderness-conservation ideas to the city. To do that, though, he had to discover what wilderness already existed. "The thought was that before you could act on restoration principles and land acquisition, you had to show that there was something to save," Matsil recalls.
The NRG's first task was to look at the official parks maps and focus attention on the empty places between ball fields, out past the city beaches. Working off an aerial survey, the team fanned out into the edges of the city — places where few New Yorkers ever went, and those who did took part in the kinds of activities that often included drugs, nudity, cars, and fire. "You learned to be careful interrupting someone doing something illegal in the woods," says Tim Wenskus, who first worked on a forest crew in Alley Pond Park and is now the NRG's deputy director.
By 1990, the NRG had rediscovered ten Central Parks' worth of land, and it became clear that the Parks Department was an accidental land trust. This was at the dawn of urban environmental awareness, and many conservation groups (not to mention New Yorkers) had a hard time understanding that there really were wild lands in New York City. Richard Pouyat, an early NRG staffer, remembers asking a Nature Conservancy naturalist to visit wilderness sites in the city. "What the hell would I want to do that for?" the naturalist responded. But he finally agreed, and they hiked out to the Bronx to see rare plants like roundhead rush and cattail sedge and the endangered noctuid moth.
Over the course of their explorations, the NRG researchers rediscovered the great salt marsh of Pelham Bay in the Bronx, still a quiet place on the western edge of Long Island Sound, and a freshwater wetland hidden between Kissena Lake and the Creedmor branch of the Long Island Railroad in Queens. They found centuries-old woods, called the Northwest Forest, just west of the Major Deegan Expressway, in Van Cortlandt Park (where, as recently as 2006, a strong and healthy American chestnut was found, the last of a species almost killed off in the early 1900s by chestnut blight). They came across lakes in the Greenbelt of Staten Island, and marshes in the string of abandoned coastal industrial sites and illegal dumps. On Prall's Island, just off Staten Island's western shore, they found a five-island wading-bird rookery, the largest in the metropolitan area.
It's no longer strange to hear ecologists talk about urban wilderness. In fact, sometimes it seems that's all they want to talk about. Recently, the NRG attracted international headlines for its propagation of alewife in the Bronx River. Alewife is a kind of herring that spawns in places like the New York estuary and then heads north, serving along the way as food for the majority of fish from New York to Nova Scotia. When NRG researchers repatriated the alewife in 2006, they imagined themselves planting fish food for the entire Northeast coast; it was far from clear, however, that the fish would return to the Bronx River to spawn. But they arrived last year, right on schedule.
It was an exhilarating demonstration, pioneering and fundamentally optimistic, and it's contributed to New York City's appeal to ambitious young ecologists. Leaf, for instance, has studied fish populations in Monterey Bay and the Mendocino coast, but he chose to spend the summer digging for bivalves in urban estuaries. The presence of mussels, he hoped, would be a heartening follow-up to the alewife restoration.
Down on his hands and knees in the banks, Leaf is having trouble finding anything alive among Duracell batteries, used auto parts, beer-bottle tops, and what looked like an old engagement ring. But after about an hour and a half, Leaf stands suddenly. "Mussel," he says. He gets back down on his knees. "Now I am approaching this with renewed vigor."
It isn't long until Leaf finds another and packages them to send to a mussel expert. In a few days, the analysis comes back positive: Eastern floaters — one more sign that the river lives.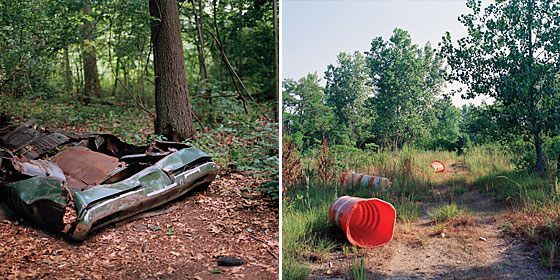 It takes only a few steps from the edge of Grand Central Parkway to be deep in 635 acres of woods at Alley Pond, an hourglass-shaped park bordered by the Grand Central to the south and Little Neck Bay to the north. It's a park with an entire watershed's worth of ponds, streams, and marshes, and it is known, among natural-resource people, especially for its forest. "For the first fifteen years of my career," says Tim Wenskus, "my talk at conferences was, 'Yes, there are forests in New York.' Now my talk is, 'Yes, there are forests, and yes, we manage them.' "
A quick review of land use in the area of Alley Pond: Native Americans practiced controlled burning of the area but mostly used the creek for fishing; Colonial settlers farmed, leaving a few large trees, which are today among the oldest, biggest examples of oak, beech, and tulip trees in the city. They line the giant "alley" (or mini-valley) that led from the North Shore to the ferries in Brooklyn. The farms were slowly abandoned. In the twenties, Mayor Jimmy Walker bought the area for parks. More trees grew up on formerly cleared farmland. Ball fields and parking lots were constructed under WPA programs, but as budgets wandered, the immense wildness of the park became victorious. The forests were rediscovered by the NRG's early mapping projects, and in 1991 the Lila Wallace–Reader's Digest Fund gave a $6 million grant to support the beginning of the city's restoration and management.
Five years later, Parks Department employees had extracted 262 abandoned vehicles from parks and installed highway guardrails on the edges of parking lots to prevent continued auto invasion. "We had one site, we called it the Trans Am site 'cause we found a Trans Am in there," Wenskus recalls. "There was another site with an illegal chop shop." In one kettle pond in Queens, a car still remains. "It would have disrupted too much to remove it, so we just left it there," Wenskus says.
In other words, the city's forests are mostly an accident. "In a lot of ways, they are here because we are lucky," says Wenskus. "After 300 years of Western man basically doing his thing, we still have these amazing forests that are predominantly intact — or as intact as they can be with 8 million people." Recently, however, scientists have come to suspect that urban forests have thrived not despite their urban environment but because of it. "The old idea was that urban areas are not ecologically interesting or don't have ecological processes, and that's false," says Richard Pouyat, who studies urban forests for the U.S. Forest Service. "The difference is, it's been altered." And altering the natural landscape isn't always a bad thing.
Take fires. Alley Pond experienced many car fires over the years, and this is now understood to have played an important role in the forest's ecological health. In some parts of Alley Pond Park, as well as in forests in the Bronx and Staten Island, open forest canopies encouraged sensitive species like upland sandpipers or a threatened suite of plants like purple and green milkweeds. In a 1996 article in Restoration & Management Notes, Marc Matsil and Mike Feller, an early NRG naturalist, called arsonists "New York City's incidental restorationists."
Urban forests are healthier than their suburban peers in other ways, too. The flora scene is more diverse. Much of the soil found in places like Alley Pond Park is pristine compared to suburban areas. Perhaps more interesting, from the point of view of the larger urban ecosystem, our forests have evolved to become more productive. According to a study comparing oak-tree stands in rural Connecticut with ones in New York City, city forests carry more of the metals associated with air pollution into the soil.
Our trees, in effect, are not just ornaments in a recreational facility; they are also civic lungs, cleansing and cooling the air and absorbing rain runoff. This has obvious implications from a land-value perspective, as it would cost billions of dollars to build man-made systems that perform as effectively as Alley Pond Park. "These areas are ecological systems that need protection and enhancement," says Adrian Benepe, the current Parks commissioner, who was director of the NRG in the nineties. "They are infrastructure."
Understanding nature as infrastructure means thinking about it less as a painting to restore and more as a process to encourage. River-cleanup parties, those classic old-school conservation outings, may help in attracting humans to a restoration site, but they don't necessarily do much for nature. "It's fine if they realize that they are doing it for people and not for wildlife," says Pehek, the NRG ecologist. "Roof material and plywood, for instance, is great for snakes."
In the city's forests, Parks employees might take a more laissez-faire approach to invasive species. Some are targeted for removal, including the Norway maple, once the darling of Parks tree-planters throughout the East Coast but now known to release chemicals that discourage undergrowth. But mostly, urban foresters are comfortable with the idea that the species makeup of nature will change based on external events and that tomorrow's forests won't be the same as yesterday's. They talk about encouraging the trajectory of the forest. The imminent arrival of the Emerald ash borer, an exotic beetle, may mean the destruction of thousands of ash trees in the next few years, but it also will bring about the beginning of something else.
This is a culture shift, and it has already happened in Europe, where biologists tracked plant and forest succession at bombed-out sites after the war. There, what Americans consider invasive species are tolerated as plants that thrive in the warmer, more acidic ecology of the city. "They just consider it nature, and this whole question of 'natural or not natural' is just a moot point," says Peter Del Tredici, a senior scientist at the Harvard arboretum who teaches urban ecology at the Graduate School of Design.
This is not to say the Parks Department farms kudzu vine; it just means that it recognizes that invasive plants are, by definition, ecologically successful, and there's something admirable about that. You hear this in Wenskus's patter, as he inspects Alley Pond on a midsummer afternoon. He walks by a ten-year-old tree that foresters had planted on the top of the hill. "Okay," he says, "maybe you shouldn't plant a tulip tree at this elevation on a glacial hill. But then, look: That one's doing fine."
Nothing has helped illustrate the potential productivity of New York City's nature more than an oil spill. In 1990, Exxon's Bayway Refinery released 567,000 gallons of oil into Arthur Kill, a narrow tidal strait separating Staten Island and New Jersey. Arthur Kill is one of those bodies of water that people typically look in only when looking for bodies; it was assumed to be lifeless, even before the spill. Indeed, in the litigation proceedings that followed, Exxon argued that it was not obligated to provide reparations because the waterway was of no ecological value.
The NRG's naturalists knew that this was wrong, and the city joined state and federal bureaucrats in pursuing damages against Exxon. Traditionally, damages were valued on the number of dead birds or animals. The NRG proposed arguing that for one egret to survive, it meant that the area was habitat to small fish, which in turn depended on smaller fish, and so on down to the marsh's bacteria. "I was sitting there at a meeting, and I thought, What about counting all the killifish at, say, 25 cents, and then counting all the bacteria in the marsh?" Matsil recalls. "Everybody said I was crazy." But the government won a $15 million settlement, and the money moved NRG into the wetland-restoration business.
In the Middle Atlantic states and parts of southern New England, restoring wetlands has a lot to do with planting spartina grass. At first, the NRG researchers imported healthy spartina from Maryland, but it was seemingly overwhelmed by the pollution in Arthur Kill. So they took a chance on the local spartina, hoping that the grass would pump oxygen into the ground, thus re-aerating the marshes so that the bacteria in the peat would ingest the oil. The ecologists at the National Oceanic and Atmospheric Administration doubted the NRG's plan, but the local grass survived, and after about two years, tests indicated that the total amount of petroleum hydrocarbons in the marsh had fallen. "The bacteria that was there already — they went to bat," says Carl Alderson, who worked with the NRG at the time and is now a wetlands-restoration expert with NOAA. "The spartina had a remedial effect on the oil."
The success at Arthur Kill changed everything among naturalists. Now, in addition to documenting how urban nature has thrived in areas we've left alone, they are designing projects with an eye toward actively encouraging it. Arthur Kill has been used as a model for similar remediation efforts in London and Beijing, and in New York, the NRG is focusing most of its energy on ecosystem restoration. There may be nothing on Earth as ecologically productive as our spartina marshes: The fish, crabs, mussels, copepods, and bacteria together produce ten tons of organic matter per acre per year, more than ten times the amount that deserts produce, and about twice as much as a typical forest or farm. At the moment, in addition to its work in the city's forests and waterways, the NRG is restoring another 200 acres of salt marsh across the five boroughs.
But it has been difficult to convince politicians that urban nature is worth the investment, and even those whose livelihoods depend on urban wildlife can take issue with how it's restored. Last month, the State of New Jersey ordered the conservation organization Baykeeper to remove the oyster beds it was propagating in the Raritan Bay estuary. Oysters are natural water filters; one bivalve can cleanse up to 50 gallons of water a day. But one measure of how efficiently they capture pollution from the estuary is how quickly they become contaminated — and dangerous to eat. To Governor Christie, the oysters looked more like a threat to the state's seafood industry than hyperproductive natural cleaning agents.
Just before dawn, Mike Feller, the NRG's chief naturalist, puts in a canoe at Gerritsen Creek, on a berm of trash and white sand on the Brooklyn coast, about fifteen miles due south of Central Park. An oystercatcher circles over a dormant mechanical crane, which in a few hours will begin moving the trash and barged-in sand at the docks off Marine Park as part of one of the NRG's longest-running restoration projects. Feller paddles past roughly twelve acres of freshly planted spartina grass encased in tall fence cages and topped with foil — all to prevent Canada geese from eating weeks of work in a day. In the morning light, the cages look like something along Oregon's Columbia River, or the famous sandy vineyards in Provence's Bouches-du-Rhône.
As the NRG has focused its attention on restoration ecology, it has discovered that a model for doing so had already been invented, albeit unwittingly, by a former Parks Department employee: Robert Moses. When Moses, in his glory days of parks and highway construction, wanted to make more land in the New York Harbor, he often dumped garbage into the marsh. Sometimes he covered the trash with dirt, which didn't do much for the ecology of the region. But in other places (like in Ocean Breeze Park in Staten Island), Moses layered sand on top of garbage, and something else happened: He unintentionally restored the coastal grassland habitat.
Feller, who is 52, has been around since the early days of the NRG. He remembers when they moved from the old birdhouse to an office beneath the arsenal, where the staff used the incoming steampipes to heat their lunches. He grew up in Marine Park and has explored, researched, and written on most of the city's Forever Wild areas. This morning, he points to the shore, where sand is already making for grassland flora and fauna, vis-à-vis the Moses method. "This is a garbage layer, and there is the salt marsh on the bottom, and sand goes on the top, just as Robert Moses did it," he explains. "One hundred and ten cubic yards of beautiful sand from the Rockaway channel!"
We pull ashore to the adjacent White Island, which has been topped with sand dredged from the channel. "See the golf course over there? That's where it all started for me," he says, referring to Marine Park Golf Course, which is framed by the Kings Plaza shopping mall just beyond. "I started out birding on the golf course, seeing gulls. Once, when I was in junior high school, I saw a goldfinch alight on this big purple bull thistle. The color! I had never seen anything like that. It occurred to me that maybe it was a canary, and I ran across the golf course, into Kings Plaza, into Waldenbooks—I had to find it. And the great thing is in the old Golden Guide bird book, the American goldfinch is sitting on a bull thistle. So I knew this was legit."
If ecology is anything, it is a process. It is the tiniest actions mixed with long stretches of time to make large differences in the unimaginable future of the land. The Gerritsen Creek restoration project started in 1992. Feller watched the proposal proceed slowly, then stop completely when funding disappeared in 2001, then return last year with a new commitment from the Army Corps of Engineers. "There have been things that have been frustrating about this taking eighteen years, except that I see a silver lining," he says. "This is not rash. You want a project like this to simmer. It's not like flash-cooking a swordfish."
The oystercatcher circles again as we walk up the hill to the top of the island. To stand there is to stand on all the layers of New York: the burial grounds of the local Lenni-Lenapes; the Dutch settler Gerritsen, whose mill is still barely visible in ruins; the seaside landscape of the Whitneys, who vacationed here until the early 1900s; the trash; the sand imported from the construction of the Belt Parkway; and, in a few field-size patches, a bizarre asphalt covering. (The asphalt was a mystery that Feller only recently solved; according to a retired Parks employee, it was sprayed over White Island to stop sand from blowing on the course during tournaments.) In the mix of creatures, we see a heron, an egret, and, on a little creek coming off Flatbush Avenue, a small gaggle of geese that Feller guesses escaped from a Long Island foie gras farm.
Further out in the distance, the Empire State Building nudges over a ridge of black locust trees that have grown up on construction rubble, and here a vision of the future comes into focus. Urban ecologists are now taken by the idea of a feedback loop, in which the sullied, mixed-up nature of the city begins to affect the nature of the entire Northeast region. This is what happens when herring planted in the Bronx become food for bluefish in the Gulf of Maine, or when the uncommon trees grown in the NRG's seed bank in Staten Island are planted in Pennsylvania. But it occurs in less premeditated ways, too. We see the feedback loop in the avian flyway that runs from Alley Pond Park to the little wetland on the brook that runs through the Wykagyl Country Club in New Rochelle and then up through the Hudson Valley into Vermont. Or in the wildlife corridors that connect the Lenoir Preserve in Yonkers through Bear Mountain State Park to the Catskill Forest Preserve. Or in the growing number of green roofs that connect insects across boroughs and counties, slowly turning Google's satellite view of the city from gray and black to dusty green.
An ecological feedback loop is a natural extension of the idea that nature exists in the city, but it requires a change of thinking that is equally profound: There is no difference between urban nature and rural nature. It is all one ecology, adjusting and cross-pollinating in the face of change. This can be disturbing, since local stresses threaten to disrupt wildlife hundreds of miles away. But it is, in fact, a hopeful idea. If New York City's ecology has taught us anything, it is that nature likes intrusions — counts on them, even. Change makes for vibrancy. We are not just a city of bedbugs and rats; we are a wellspring for regional vitality.
Like all the immigrants and urban pioneers who have come before them, the coyotes that live in Pelham Bay Park may take some getting used to. But they are not going away. "There are going to be more coyotes," says Bram Gunther, the NRG's current director. The question becomes how we think about them. Are they nuisances that might put in jeopardy a small off-leash dog or, in rarer circumstances, small children? Or, instead, can they be viewed as just another example of the ecological-feedback loop?
Over the next few years, the coyotes living in the Bronx will adapt to their surroundings. They will be exposed to new threats and exploit new opportunities, and they will mix and match with other like-minded coyotes who arrive from other counties. These coyotes will mate, and (suburban police sharpshooters notwithstanding) eventually some of their offspring will mate with coyotes who live in Westchester, and this scrambling of birth lines will likely continue over generations until it ultimately stretches back to the Adirondacks and Canada.
Scientists believe genetic diversity is as important to species survival as sheer numbers. It has a lot to do with the mix, in other words, and if it is characteristic of human nature to look at things metaphorically, then it turns out that the city serves the same function for nature as it does for human beings. It is an intersection, a place where outsiders arrive to set up camp anew, to commingle, to move on, carrying influences and encouraging dynamism elsewhere. Like cities in the seventies, our global ecosystem is in trouble; we are flirting with environmental bankruptcy. If we are to save nature — which is to say, save ourselves — then we need to embrace that which is around us.
The mayor of Rye Brook recently announced that the village will continue its coyote trapping (or what it calls "hazing") indefinitely, doing its part to rid Westchester County of any potentially menacing wild megafauna. With any luck, we can be more welcoming here in New York and allow our environment to be a little more wild. We didn't know until recently how much urban nature was doing for us. Now that we do, we have to ask: What can we do for it?
At its wildest, New York's nature exists in the places humans let be, either because we mapped it as parkland and forgot about it, or we abandoned it as ruin.
Finding the Wild
Nature excursions within city limits.
At Alley Pond Park (above, left; LIRR to Douglaston Station), tour Turtle, Lily Pad, and Decoden Ponds in the Upper Alley Woodlands. Look for bladderwort, the carnivorous pond plant, as well as spotted salamanders and black tupelo trees. At Pelham Bay Park (6 train to Pelham Bay Park, then the Bx12, 29, 5, or 52), the Split Rock Trail leads through the Thomas Pell Wildlife Sanctuary; out past Orchard Beach, in the replanted Eastern gamagrass, look for some of the only Amphipoea erepta ryensis moths in the Middle Atlantic, or, in the distance, harbor seals. On Staten Island, in Wolfe's Pond Park (right; S78 down Hylan Boulevard), look for loons along the beach and a giant black oak in the forest. In the fall, the Western Ridge walk in Inwood Hill Park (center; A train to 207th Street) offers views of Manhattan foliage, and in the Jamaica Bay Wildlife Refuge (A train to Broad Channel Station), egrets and herons roost along the edges of West Pond.
Bring the following guidebooks: Field Guide to the Natural World of New York City, by Leslie Day, and Wild Urban Plants of the Northeast: A Field Guide, by Peter Del Tredici.