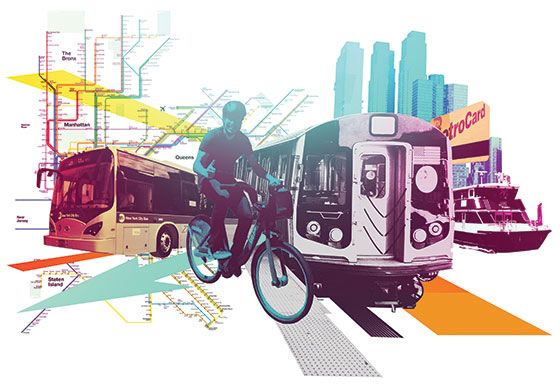 Clustering has been, for the whole history of cities, the key to economic growth—the ability of people to meet and mingle is the secret sauce of urban wealth. For a city like New York, transit stagnation means stagnation of the city's economy, with millions of New Yorkers living effectively off the grid of economic opportunity, forced to either buy a car or endure long bus rides to even longer subway rides. Manhattan isn't the only borough with jobs, but it is the most job-rich, and being able to commute there within a reasonable amount of time makes it a whole lot easier to get—and keep—work. Better transit won't itself fix New York's high cost of living, but it can enable the sort of development that might, and while transit isn't a panacea for unemployment, it can make living far from Manhattan less of an economic death sentence.
Fix the buses.
Beyond and in between the reach of the city's underground and elevated lines, buses serve 2.6 million trips each weekday, and these riders—largely the elderly and those without any other options—get uniformly awful service. At busy bus stops, New Yorkers line up single file to dip their MetroCards under the watchful eye of the idling driver. But the MTA's enhanced bus brand, Select Bus Service, suggests another way: Fares are paid on the sidewalk, and passengers board quickly from any door. It works fine on First and Second Avenues in Manhattan, and it could speed up boarding on ordinary routes throughout the five boroughs.
Bus lanes and signal priority at stoplights could also be rolled out aggressively. Putting buses in the medians of streets (and banning left-hand turns) combined with streamlined boarding would allow much faster service: Today's 25-minute trip from Red Hook to Downtown Brooklyn could easily be cut to fifteen minutes with a bit of care, and the scheduled 8-mph B46 service on Utica Avenue could double its speed—no small thing for a route that hosts around 50,000 trips each weekday.
Make the commuter railroads useful to New Yorkers.
The MTA treats Metro-North and the Long Island Rail Road as a limited, luxury service for suburbanites commuting during peak hours, with city residents largely excluded from the lines that run through neighborhoods like Ozone Park and Jamaica in Queens and Tremont in the Bronx. But each of them could be transformed into super-express subways: The LIRR, for example, could easily handle trains every twenty minutes from Forest Hills into the city midday and late at night (to pay for it, retrain conductors as train drivers), compared with the hour-long waits between trains today—a welcome relief line for the overcrowded subway beneath Queens Boulevard. And with more frequent trains, railroad stations in Queens that were axed decades ago could be added back without slowing down existing commuters. Elmhurst could get its LIRR stops back, and the confluence of lines at Sunnyside Yards merits a major transit junction, with all of the development that would follow.
Build new subways.
There are shinier cars and plans to bring countdown clocks to every line, and three new stations on the Upper East Side are scheduled to open in 2016. But the workhorse of the city's transportation system remains largely as it was at the end of World War II, and there are plenty of neighborhoods in New York crying out for subway service—there are nearly 200,000 daily boardings on bus routes that in a better world would be subways. And where to put the new lines? In Manhattan, there's the East Harlem phase of the Second Avenue subway (and maybe even a line across 125th Street) and then the southern segments down to Houston Street and then Hanover Square. In Brooklyn, there's the unfinished line on Nostrand Avenue and the not-even-started one on Utica, planned for nearly a century but long since forgotten. In Queens and the Bronx, there are relatively new lines that could be connected to a completed Second Avenue train. Subways are expensive, but there's plenty of fat to cut from bloated construction costs. London and Tokyo have built underground lines at a fifth of New York's per-mile costs, in much more difficult terrain (and Paris managed to build a line for even less).
Embrace old freight and commuter lines.
The city could refashion a number of freight lines in Brooklyn, Queens, and the Bronx into the so-called Triboro RX line. The new line, which could be called the X train, would make travel between the outer-boroughs easier (think of it as a G train for the not-yet-gentrified parts of New York like Sunset Park and the South Bronx) and provide rail service to parts of the city—the far reaches of Astoria and East Flatbush, for example—that currently lack it. The Regional Plan Association estimated that the line would serve 76,000 New Yorkers each day, tens of thousands of whom would switch from cars and buses.The Long Island Rail Road's Atlantic Branch, which runs from Downtown Brooklyn through Bed-Stuy and Broadway Junction to Jamaica and beyond, is also going to be freed up toward the end of the decade when the LIRR diverts those trains to its new terminal near Grand Central. A "subway-ified" Atlantic Branch (call it the H train) would link traditionally West Indian neighborhoods in central Brooklyn to the parts of eastern Brooklyn and southeastern Queens they've been gentrified out to, making it easier to stay connected with family, churches, and jobs.
Let informal transit bloom.
Outer-borough New Yorkers should have the option of legal and metered cabs, which means expanding the number of licenses handed out under Bloomberg's green-cab system. Dollar vans—those jitneys plucked from the Caribbean that pick up the slack from the busiest bus routes in Brooklyn—could be legalized, with an eye to improving bus service to the point where they're not necessary. Citi Bike could be brought to outer-borough neighborhoods that Citibank won't fund, even if it means the city pitching in a few million dollars each year. Ferry routes should be consolidated and rationalized, with an emphasis on parts of the city like Rockaway and Staten Island that really need them, not the luxury waterfront neighborhoods of western Brooklyn and Queens.