What's in a name? Sometimes, the entire inspiration for a restaurant. When the corner location down the street from Frank Castronovo and Frank Falcinelli's Frankies 457 Court Street Spuntino became available, they grabbed it, with plans for a giant commissary kitchen to service their growing Italian-American operation. What they would do with the rest of the new space was a bit fuzzier at first. Then a year ago, when Falcinelli was driving down Flatbush Avenue, he spied a vintage sign from an old kosher butcher shop, prime meats, and the idea took hold: Their next project would mark a return to an earlier era—the late nineteenth century, to be precise—when quality ingredients were sourced locally as a matter of course, classic cocktails were mixed impeccably, and Germans ran many of New York's better restaurants, like the Franks' foremost influence, Luchow's.
All of this (except maybe the German bit) applies just as neatly to today's New York, when everything Olde, from pre-Prohibition cocktails to nose-to-tail cooking, is new again. But Prime Meats represents more than a capitulation to the current craze for Sazeracs and in-house butchering. It's a chance for Falcinelli and Castronovo to partner with various experts and connoisseurs: Sixpoint Craft Ales' Shane Welch accompanied them on a brewery tour of Munich, for beer and design reconnaissance (their dark-wood booths are ringers for the ones at Augustiner-Bräu). And Stumptown Coffee Roasters' Duane Sorenson not only trained the baristas at Frankies and Prime Meats, but is about to open a Red Hook roastery in the rear of Delightful Coffee Shop, a café the Franks hope to unveil this spring at the corner of Commerce and Van Brunt Streets. Most crucial, perhaps, is the contribution of Sarah Barber, Prime Meats' official "product procurement agent," whose small-farm contacts will ensure regular deliveries of sustainably raised, local, and seasonal products, from Jersey tomatoes to sides of grass-fed beef from upstate New York.
As for the food, it will be Central European–esque and served "Spuntino style," which is to say incrementally—steak tartare by the ounce and lamb by the chop, for example. But despite the presence of dry-aged beef, Prime Meats isn't a steakhouse. It's a tribute to great restaurants of the past, and a bid for modern-day destination status. The bar room will open first, followed by an adjacent dining room, an upstairs speakeasy, and a garden. But if the bar is circa 1890, the skylit 3,200-square-foot commissary kitchen is emphatically 21st-century, with ample room for butchering, curing, and making nearly everything in-house, from mustard to the rillettes, pâtés, and sausages that will be sold in a forthcoming retail shop. Putting your grocery tab on your house account, though, is one venerable tradition the owners have no plans to revive.
Prime Meats will open its bar room for breakfast, lunch, and dinner this month at 465 Court St., at Luquer St., Carroll Gardens; 718-254-0327.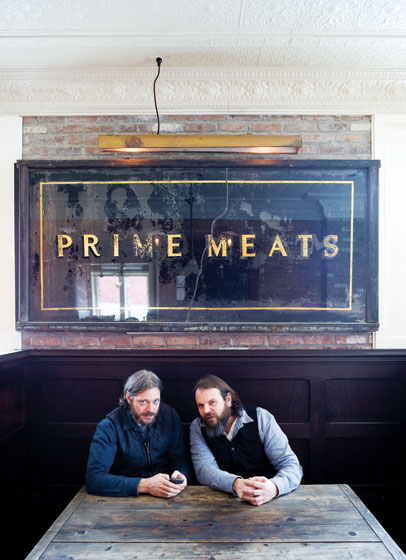 After two years of feverish work including a trip to Germany to drink beer (research!), the Franks, Falcinelli and Castronovo, of Frankies Spuntino fame, are ready to unveil Prime Meats, their homage to the grand old New York restaurants of yore. The bar room, with its pre-Prohibition drinks and house-made Buddha's-hand bitters, opens this month. Soon, they'll add an adjacent 60-seat dining room, an upstairs speakeasy, and a retail shop. Photographs by Dean Kaufman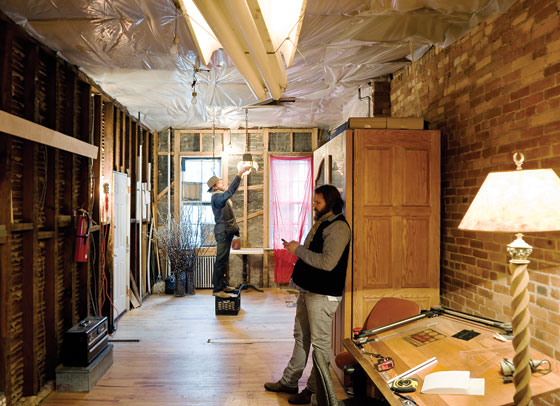 Delightful Coffee Shop
These signs will grace a Red Hook café and roastery with public cuppings on weekends.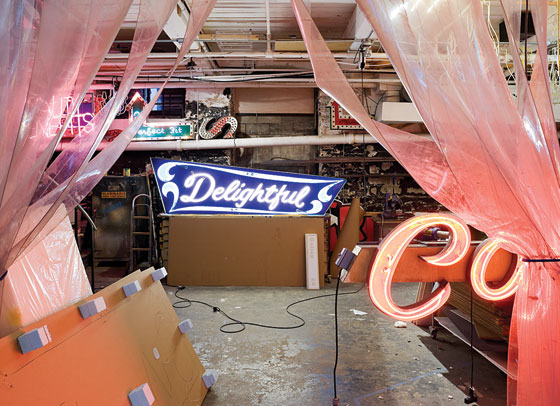 The Speakeasy
Will have its own bar and terrace overlooking the garden.
The Retail Store
Selling everything from Frankies olive oil to house-made pickles and charcuterie.
The Bar Room
Breakfast-through-late-night service, and a barkeep who worked at LeNell's booze boutique.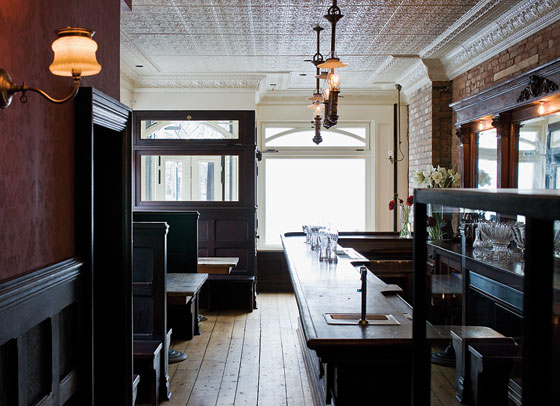 The Kitchen
High-tech and spacious, with skylights and a refrigerated second floor for prep and storage.