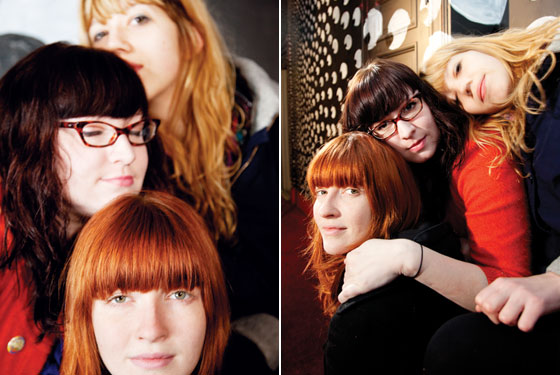 At a time when 13-year-olds conjure professional-grade beats on their laptops and indie artists pack their records with the sound of ringing cash registers, there's something refreshing about Vivian Girls, a Brooklyn band that just plays instruments. "I hate electronic music," says Katy Goodman, the trio's bass player, over an iced coffee on a recent afternoon at Williamsburg's Verb Café. "I'm so sick of overprocessed, overproduced sound." Cassie Ramone, the group's front woman, looks up over a layer of blonde bangs. "We like music that sounds like music," she explains.
With muddled vocals and plaintive poppy lyrics about love, Vivian Girls recall a high-school grunge band of the Courtney Love era, or the tinny-sounding girl groups of the late sixties. Their self-titled debut, printed by their friends at the tiny label Mauled by Tigers, was released in May and sold out in ten days, prompting a bidding war on eBay for the LP (one sold for $68). Suddenly, and with very little promotion, Vivian Girls were all over the music blogs and college radio stations, and by October they had rereleased the LP with In the Red Records.
They've quit their day jobs, but they still design their own merchandise, drive themselves around on tour, and practice at Bushwick's Market Hotel. And while Cassie and Katy have an apartment in Williamsburg, drummer Ali Koehler lives at home in Toms River, New Jersey. "The other day my mom called after she heard us on XM radio, like, 'They played your Beach Boys cover!' " she says. "I was like, 'That was recorded in your basement.' " They play at the Market Hotel on January 20 before heading off on their first European tour.

Vivian Girls' World