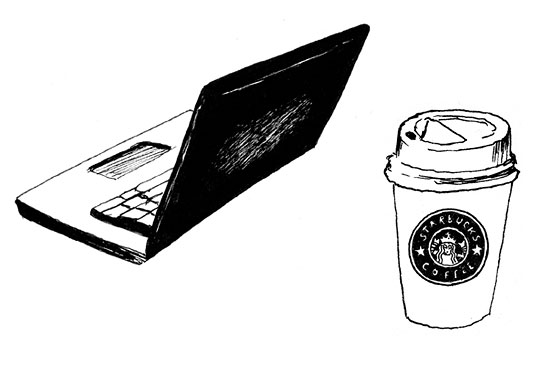 On Wednesday and Thursday of last week, we approached laptop-using strangers in Manhattan Starbucks stores and asked them to show us the sentence they were working on. The results are below.
"Social conventions and institutions overwhelm and even attempt to redefine the material world. Present-day United States culture reduces the entirety of human sexual biology into two-and-only- two medical categories: male and female …  Divergence is rendered pathological."
Essay on gender identity.
Ethan Levine, New School graduate student in sociology,
Union Square W. nr. E. 17th St.
"A and T shareholders lump together and get shares in AOL, and A corporation owns T corporation as 100% subsidiary. (RMDCA section 11.03)."
Law-school outline.
Tim Nolan, NYU law student,
Greenwich Ave. nr. W. 12th St.
"He looked like a zit-covered tomato."
Creative-writing exercise.
Kathryn Holmes, New School M.F.A. candidate,
Sixth Ave. nr. Waverly Pl.
"Such a combination of hard assets and functions will allow for the realization of reciprocal synergies such as cost savings through the elimination of redundant processes, increased procurement power, and economies of scale."
"Corporate Development Options and Strategies in the Chemicals Industry."
Neil Dalal, Wharton graduate student,
Eighth Ave. nr. 16th St.
"I was never like this."
Short story.
Sarah Huggins, actress,
Union Square E. nr. 14th St.
"I'll make them puff like Donald Trump's exaggerations."
Lyrics.
"DD," songwriter,
Union Square Barnes & Noble.
"I'm writing to be considered for the position you posted." Cover letter.
Stephanie Dawson, unemployed,
Union Square E. nr. 14th St.
"When Philip returned after his evening run, Jenny was already packing the car."
Creative writing project.
Claire Sullivan, NYU student,
Astor Place
"I'll leave that to you."
Screenplay.
Michael Galvan, filmmaker,
Union Square W. at 17th St.
"CHARACTERS: Navy Seal (Steve)"
Preproduction notes for student film.
Paul Dalio, NYU graduate student,
Third Ave. nr. St. Marks Pl.
"Oh, fuck."
Screenplay.
Dave Rosenberg, screenwriter,
Union Square Barnes & Noble.
"What knowledge of cultural perspective on pedagogy and uses of multimedia can I as a designer learn or borrow from aboriginal or traditional media makers?"
Thesis on digital education technology.
Zach Nataf, graduate student,
Greenwich Ave. nr. W. 12th St.
"In the future, I envision myself in arts administration as … "
Cover letter.
Leah Ives, unemployed,
Ninth Ave. nr. 15th St.
"Please feel free to contact me any time."
" Cover letter.
Jeff," unemployed,
Union Square W. nr. 17th St.