Without the Internet, Chris Hughes would not exist as we know him today—a just-turned-29 idealist on the go, determined to make what he calls repeatedly a "direct and positive impact on the world." The first time I met him, back in October, in the new open-plan New York offices of The New Republic, the magazine he bought earlier this year to do just that—naming himself both editor and publisher—he asked me, with solemn wonder, if I'd heard that Facebook had reached a billion users that day. Hughes was Mark Zuckerberg's sophomore roommate at Harvard—a propitious year to bunk together. He had the fifth Facebook account (Zuckerberg had the fourth, the first three reserved for testing) and became, for the first few years of its resistance-is-futile, planet-conquering rampage, its minister of external affairs and chief liaison to the human race. He acted as spokesperson, sounding board, and right-brain brainstormer among the coders, for whom even normal social interaction (of the kind they were trying to map onto the web) was a public-relations adventure. For this, and for helping forge the "poke," he received one percent of the company and was, at the time of the magazine purchase, worth, according to Forbes, at least $600 million.
Hughes is polite and physically slight, with a taut part of blond hair, a courtly southern habit of calling people "sir," and a casually fussy deportment—jeans, open-neck dress shirt, leather shoes. "I have been fascinated by this idea of how serious journalism would survive in this digital era," he says, as the bang-bang-whirrrr! of construction in the office goes on around us. "It's important. If people don't support this type of journalism, I feel like we'll have a less cultivated citizenry and it's less likely for democracy to flourish."
It's difficult not to get swept up in Hughes's sincerity, his life-of-the-mind swagger, his vertiginous luck. (There's even an obsessively compiled Tumblr called, with lighthearted haterism, "Chris Hughes Is Better Than You.") Given that he was a history and literature major, he's perhaps the most accidental of the Facebook zillionaires, barely even figuring in The Social Network (probably because he didn't quite fit into its hetero-nerd revenge myth). And these days he's choosing to use his computer money to help shore up a set of Establishment values that matter to him (and to many of us) but are not quite thriving in the everybody-has-something-to-share Facebook era. If Zuckerberg used to refer to himself, presumably jokingly, as the "enemy of the state," Hughes, whose demeanor is less piratical, has his eye on state dinners. And he has dined at the White House, and he celebrated his wedding to his somehow even younger partner, Sean Eldridge, with a revel for 400 people—­including Chuck Schumer and Nancy Pelosi—this summer at Cipriani Wall Street.
But he is not really a showboat. Given that he's trained himself to be on-message since answering media inquiries about Facebook from a dorm room, he is a considered person, not predisposed to blurty swirls of confessionalism or raucous self-doubt. His old friends talk about his circumspection, and his new ones his calibrated fresh-faced-ness. He radiates opportunity in an era of disruption, and people read things into him or onto him. Politicians do it: He's become a big Democratic fund-raiser. Literary mandarins do it: The Paris Review had him host its annual benefit bash earlier this year. And certainly journalists do it—those he employs, those he hopes to employ, and those who are just curious about whether he has an answer for this whole shaky-seeming business. He seems happy to represent, to all of us, what a fantasy member of his never-not-wired generation could be—a savior from the future for the institutions of the past.
It was the Internet that beamed him to the door of the Establishment. Like many precocious eventual New Yorkers, he realized sometime around puberty that the sticks weren't for him. He grew up in Hickory, North Carolina, the only child of small-town Evangelical Lutherans who always told him he could be whatever he wanted. One day, he typed "best high schools in America" into Yahoo search, ordered up brochures for the ruling class, and without telling his parents, got himself admitted to Phillips Academy Andover, which is where both presidents Bush went. With an imploring phone call, he even persuaded the school to give him financial aid after they had originally denied it. Then he set off to better make his mark on the world. In a "senior reflection" in the student paper, published just before graduation in 2002, he wrote that Andover taught him to put aside typical high-school indulgences of "sex, sleep and booze" for a self-­improvement ethos he called "Asceticism for Progress."
That theme rhymes with the mission of The New Republic, which was founded in 1914 as a principled progressive political organ, then went through various liberal iterations—from Communist fellow-traveling to New Democrat centrism to neoconservatism. But by the time Hughes came calling, many at the magazine weren't sure if it would make it to its 100th birthday. The formerly weekly, steadfastly wonky D.C. publication was becoming obscure and obsolete as the political-opinion and advertising markets migrated to the web. It had always been an influential money-loser, founded by a man who'd married into the Whitney family fortune and owned more recently by the indulgent, idiosyncratic Marty Peretz, who'd married into the Singer family fortune. In recent decades, under Peretz, it had distinguished itself as a contrarian policy journal in a town dominated by political tribalism and careerist sellouts. But the Internet did for considered opinion what globalization did for fashion: It made it cheap, widely available, and disposable. The days that insiders had to read The New Republic for their new ideas were over. The circulation had shrunk to around 39,000, about a third of its 1990s high point, and the staff to about twenty.
For Hughes, the advantage of trying to fix journalism by fixing The New Republic is that, in addition to its good breeding, it's always been small and will remain small: He wasn't taking the helm of a grand, listing superliner like, say, Newsweek. (Though, a source says, he did ask around first about buying The New York Review of Books, which isn't for sale and is, actually, profitable.)
Certainly he can afford this experiment. But it is an experiment, his goals noble if abstract. Hughes wants to produce what thoughtful people ought to read, as opposed to churning out what most people like to "like." And while he's completely upfront about not having a business-side "silver bullet," he has confidence that there's a way to make it work and faith that the magazine's relaunch, scheduled for February, will make enough influential people want to pay to read it on their phones.
One of the first experiments Hughes made at the magazine was to take down its paywall, to help it get back in the conversation in the months leading up to the election—it quickly got to over 3 million unique visitors. He hired a Harvard M.B.A. who'd worked at Bain & Co. to be COO and rethink the business model. He tried other things, like getting people to subscribe by offering a chance to win a seat at a table at the White House Correspondents' Dinner, but he had to withdraw that idea when he learned it was against the group's rules. He went on a research-and-hiring tour, zipping up and down the Acela line in a trim blazer, meeting writers and editors and publishers, and making, in some cases, eyebrow-raisingly generous offers. He fired the magazine's editor and rehired his predecessor, Franklin Foer, who then hired back an editor who'd gone to The New York Times Magazine to lead the new Manhattan office Hughes wanted to start. D.C. may be the capital, but it was too provincial for Hughes's TNR, which wants to be about "power," he says, defined more generally to include all that glitters—from technology to movies—beyond mere politics.
"If you'd told me three years ago that a founder of Facebook would buy The New Republic and reinvigorate it, I wouldn't have believed you," says Foer. "This is the Hollywood version of the old-media narrative."
Even if Hughes (inevitably these days) refers to the magazine as a "brand," which produces "content" oriented toward a "North Star," he's a sort of cultural revanchist, animated by affection for something that's been in decline his entire adult life. In fact, he's never really known a time when the mainstream media was a power to be resented. After having dinner with him, David Bradley, the publisher of The Atlantic, quoted a friend who called him "the youngest old man any of us knows."
"It's this classical story," says Leon Wieseltier, The New Republic's literary editor of three decades, who's giddy at the prospect that Hughes will save the magazine he calls "a public good." "In the nineteenth century, there was no Internet, but Balzac is all about young people who come from the countryside to the big city," he says. "I mean, if you think about it, he has been on one of the most amazing rides that any young person in the history of the world has ever seen."
Before Hughes was a character in Wieseltier's novel, he was a reader. "He's usually reading two or three books at once," says Eldridge, who's less instinctually bookish but no less committed to the pursuit of rigor than his husband. "It's good. He pushes me to read more." Hughes's favorite books, according to his Facebook page: Midnight's Children, Les Fleurs du Mal, Walter Benjamin's Arcades Project, something called The Wealth of Networks. On their honeymoon, Hughes and Eldridge read War and Peace together—Hughes read much of it on his iPhone and finished first. If that doesn't sound conventionally romantic, for them the intellectual ambition is part of their romance.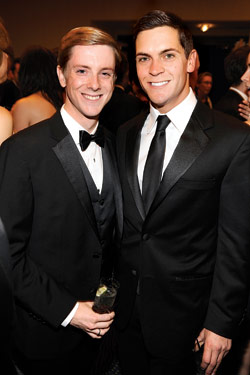 "Time is precious," Hughes tells me over coffee at the Library bar at the NoMad hotel—someone's Wi-Fi-enabled, book-lined Edwardian fantasy. (He loves the place.) Maybe some of his unslackerishness—he seems to have completely skipped his feckless twenties—comes from the fact of his parents being older (his father turned 80 this year). Certainly being the son of a traveling paper salesman and a public-school teacher in an area that was once said to produce over half of the country's furniture and now markets itself as an ideal home for data centers (Google, Apple, and even Facebook operate server farms there today) would quicken your appetite for neo-Balzacian self-­invention. "I didn't feel like I was necessarily in sync with a lot of people I was around," Hughes has said, with some understatement. "He hates where he's from with a passion," observes an acquaintance.
While at Andover, Hughes polished away his accent (though it can come back a bit, sweetly, when he's comfortable with a person) and conservative religious upbringing, became president of the Young Democrats, and came out of the closet. He was also the news director of the school paper and, in his senior year, he wrote that melancholic but determined essay, titled "Deprived of Indulgence, but Granted an Edge." It is mostly in the first-person plural—a defensive posture for a guarded young man—and describes how students at the school coped "by working harder or doing more activities, distancing ourselves from the persistently returning loneliness, hesitancy and confusion." As for what Andover did for them: "It has shattered any hopes of a pure world of perfect beauty and of complete success in its teaching us—even though perhaps inadvertently—that we are condemned to live in a world with flitting moments of satiation … Whether we wanted it or not, we have the edge."
Olivia Ma, today the news manager at YouTube, remembers seeing him in the cafeteria his first week at Harvard, when she was recruiting for Current, a collegiate newsmagazine. Even as most freshmen looked away, she remembers, "He locked eyes with me." Hughes joined, and later he and some friends also started Queer, a gay-culture journal.
Sophomore year, Hughes found himself in one of the smallest suites in Kirkland House with Zuckerberg, Dustin Moscovitz, and Zuckerberg's eight-foot-long whiteboard. At the time, Hughes didn't have much interest in computers but soon was swept up. He and Zuckerberg were an unusual pair: Ben Mezrich reports in The Accidental Billionaires that Zuckerberg nicknamed Hughes "Prada" because he dressed fashionably. According to David Kirkpatrick's The Facebook Effect, in addition to selling the site to the press, Hughes helped Zuckerberg appreciate the user's perspective and had such a hold on his roommate that Zuckerberg would often marshal Hughes's arguments to make a point. After Harvard, Hughes worked for a time at Facebook, then in Palo Alto—the company preferred that employees live within a mile of the office—and became one of the only nontechnical people there with any real authority.
Another then-employee, Katherine Losse, published a memoir of her time in Palo Alto called The Boy Kings. She always felt that her own skills, as an English major, were considered "woefully unscalable" in a company whose founder, Zuckerberg, listed in his own profile, under "Favorite Books," "I don't read." For unscalables like her, Hughes was a beacon of hope: He'd talk about James Baldwin, and when she moved into his former apartment in a Deco building, he even mused with her about the lives of the people who used to live there—not something the programming people were programmed to do.
"In stark contrast to these boys who were on the floor playing with their trucks," Losse says, Hughes "was the 50-year-old man in nicely cut jeans and a little sweater." His hygiene was much better too.
Most got-in-on-the-ground-floor digital millionaires get bored or frustrated, jump ship, and go cook up new tech schemes. Hughes decided to join another type of start-up: the Obama campaign. It turned out to be quite scalable. (The then freshman senator's "body man," Reggie Love, had worked with Hughes to help create Obama's first Facebook profile.) "He didn't seem overtly political, and he still doesn't," notes one Washington operative who met Hughes around then and still knows him. "But he's been drawn into that world to seize the opportunity."
Amid the decorative stacks at the NoMad, I ask him why he left Facebook for Obama. He sighs. "There were several factors at play," he explains carefully. "I really wanted to do something that had a direct and positive impact on the world, and though Facebook has had a positive impact on the world, Facebook doesn't have any normative disposition. It's a company that's trying to connect people so they can share, but what they're sharing is up to them." Bullet point: He wanted meaningful work. His project, my.barackobama.com, applied some Facebook lessons to make campaigning more "user-centric."
Everyone agrees Hughes worked very hard, explained things well, followed up. But as much as anything, he himself became part of what the campaign was communicating: He lent Obama some of Facebook's kids-from-Tomorrowland aura, merging its story with Obama's, even though he was never one of the social network's lead futurists. In May 2007, The Wall Street Journal put him on its front page, his hair a shaggy sweep like Justin Bieber's used to be. The LOL (but totally off-target) headline: "BO, U R So Gr8." After a Chicago Sun-Times columnist labeled him a "youthful web legend," his co-workers in the Michigan Avenue campaign headquarters made him a bright-red sweatshirt with those words on it, which he wore. He knew he was acting as a kind of mascot for tech inevitability.
"This is probably a parallel to Facebook and The New Republic," says Michael Slaby, who started right after Hughes as the campaign's CTO, returning in 2012. "There's a certain kind of—arrogance is not the right word. He brought a bit of that Facebook gravitas to the campaign, that sense of the invincibility of your ideas."
Post-Obama, some of his ideas didn't turn out to be so invincible. One was Jumo: With the backing of the Knight Foundation and others, Hughes started the company in 2010, promising that it would do for nonprofits "what Yelp did for restaurants." The user was supposed to connect to NGOs and charities through Facebook. It quickly proved to be more higher purposeful than practical, and he's no longer involved.
The more important lesson for Hughes of that start-up was that he wasn't really a tech entrepreneur after all but a guy whose special talent is the ability to speak in the language of liberal arts to those in Silicon Valley, and in the language of Silicon Valley to those in the liberal arts. And whose humble demeanor, combined with great cyberwealth, allows him to come across as interested rather than domineering. That curious cipher-ness is a mark of success in the social-media era, and people tend to defer to him: Even Stephen Colbert, who had him on to launch Jumo, led him gently through the comedy routine, while Hughes, thrown off his usual bullet points, laughed along. The fact is, people want to see what's next from him and for him to succeed.
That question is now mixed up with his being a member of a handsome, and quite public, couple. Eldridge, who's two years younger, grew up in Toledo, Ohio, the son of doctors. When they met, Eldridge had just left Deep Springs College, an all-male two-year institution in the California desert that emphasizes cowboy intellectualism, self-governance, self-denial, and chores. He'd taken some time off to work in Boston before finishing college at Brown, and mutual friends got them together. Among the things the two found they shared was a desire to have, Hughes has said, "a serious impact on the world."
Eldridge is the less socially limber of the two. He's far more of a dude than Hughes, and with a narrower set of interests—mostly political. "We're monogamous, committed, dare I use the word traditional," Eldridge told the Advocate when they appeared together on the cover. Through a friend, they met Senator Kirsten Gillibrand, who then began to introduce them around.
In December 2009, after the New York State Senate voted down gay marriage, Eldridge quit law school to work with a group called Freedom to Marry. Richard Socarides, who worked as liaison to the gay community under President Clinton and remains an activist, met them around then, too. "Even though they are young, they quickly became among the more prominent funders of gay-rights causes in the country," he says. Hughes and Eldridge donated $250,000 to Freedom to Marry; Eldridge was named its political director.
They threw fund-raisers for politicians and dinners for notables at their apartment on Crosby Street (or "venue," as one politico who's been there for events and dinners calls it). And their efforts helped Governor Cuomo pass the state gay-marriage bill through the legislature. Guests the night it carried included Charlie Rose, Tony Kushner, and Nation editor Katrina vanden Heuvel. Their marriage, last summer, was a kind of political celebration. Senator Schumer did his best Saturday Night Fever finger-point on the dance floor in full view of Zuckerberg, Sean Parker, Cory Booker, Gayle King, and Mo Rocca (who came as someone's date). When I ask Hughes if he thought that the event was, perhaps, a bit much, he looked like that hadn't crossed his mind. These are the people they hang out with, he says. "We've seen Nancy Pelosi twice since then, once at her house in Napa. It was sort of like most weddings in that regard: It was a convergence of many worlds."
Hughes and Eldridge's real home is an hour and a half upstate in Garrison ("Maximum retreat in the minimum amount of time," theorizes an acquaintance of theirs). The property includes a farmhouse built in the 1800s once owned by a Vanderbilt and a 5,000-square-foot main house with eight fireplaces and more than enough acreage for their Rhodesian Ridgeback, Lucy, to roam.
The house in Garrison is also in the congressional district that Republican Nan Hayworth won, in a surprise, in 2010, and friends of theirs say that Eldridge talked about running for the seat, which another gay Democrat, Sean Patrick Maloney, took back this November. Eldridge denied to me that he considered it (he and Hughes threw fund-raisers for Maloney) and says he is now primarily focused on helping with another Cuomo initiative: campaign-finance reform. The strategy is duplicated from the gay-marriage fight: pairing a private, outside education-and-fund-raising effort with the governor's Albany inside game. Just to avoid the appearance of hypocrisy, Eldridge says that he and Hughes are now matching campaign donations with donations to campaign-finance reform.
And for now, Eldridge is not running for anything. "No, no, no," says Hughes. "He's 26. He's going to do all kinds of things in politics, but I don't think there's any rush."
Things had been grim for some time at The New Republic before Hughes bought it in March. It was down to being printed twenty times a year. Foer—the most recent wunderkind editor in a long line of them including Andrew Sullivan, Hendrik Hertzberg, and Michael Kinsley—had stepped down in the face of all the layoffs mandated by ownership, which kept changing. He was replaced by Richard Just, also young, who made the best of a bad situation (even getting The New Republic a National Magazine Award nomination a year ago). "Richard and I were both very, very worried," says Wieseltier, head-to-toe in black and wearing aviators when he greets me in his corner office, which is almost comically stacked with books. "We would constantly commiserate about, you know, what the fuck we were supposed to do. Then one day he came in and said, 'Do you know who Chris Hughes is?' " Wieseltier didn't but suggested that Richard cold-call him. "Next thing I knew, Richard and I were meeting Chris for brunch at the Mandarin Oriental."
By doing this, Just saved the magazine but not his job. He had misunderstood Hughes's intentions. Which were to be hands-on. Hughes ordered the presses stopped on the first issue because he found the cover line too unserious ("Cry Babies," for a story about Wall Street turning on Obama). He wrote the editorials and took up the restaffing of the magazine himself, sidelining Just. He tried to hire, or hire back, writers from magazines with circulations far larger than The New Republic's. He was going to re-create the magazine as something like The New York Review of Books meets The Economist, he told these people, who were amazed by his bustling persona and confidence. Among those he tried to lure over: Ryan Lizza, a former New Republic writer now at The New Yorker; Hanna Rosin, another alumna now at The Atlantic; Mark Leibovitch, at the Times Magazine; Dexter Filkins, formerly of the Times; as well as several writers for this magazine. None of the big names joined this small ship, however inspiring its new manifest, other than Walter Kirn, who'd been at GQ and who wrote an evocative memoir this summer about his parents converting to Mormonism and the meaning of that church to him.
Foer was editor-at-large of the magazine at the time—"and very much at large," he says when I meet him in Hughes's office in D.C. Foer is a gregarious, at times bro-ish (in a nerdy way), 38-year-old who grew up in D.C. and had spent nearly his entire career in the cloisters of The New Republic, pausing in his twenties to write a book called How Soccer Explains the World (it opens winningly with the confession that "I suck at soccer" and explains that his parents hoped playing the sport would "necessitate my becoming more aggressive, a breaking through of inhibitions"). He grew up in Washington in a family of overachievers: his younger brothers are Joshua Foer, who wrote a best-selling book on memory, and the novelist Jonathan Safran Foer (who was for a while working on an HBO show based in part on the Foers' Washington and the Peretz-era magazine). He's thoroughly a part of the native life of that town; his wife was even one of the producers of The Real Housewives of D.C. While at large, he'd been helping take care of their kids and working on an anthology called Jewish Jocks and a history of liberalism in America—which was really a history of the magazine.
In short order, Hughes fired Just and asked Foer to return. "I was kind of instantly charmed by him," Foer says on Hughes's leather sofa. There are plastic-bagged stacks of very old New Republics on the side table and hardcovers piled about—the Steve Jobs biography, Harold Bloom's The Anatomy of Influence, The Autobiography of Mark Twain, Edward O. Wilson's The Social Conquest of Earth. "I think the biggest thing that was clear was that here's a guy who was eager to move fast," says Foer. "He wanted to make an imprint and wanted to leave it quickly. Which I loved. For 98 years, we existed within this very honorable genre of opinion magazines, and we often chafed at being classified alongside those magazines, and longed to be compared to the new New Yorker and The Atlantic. But I think we were deluding ourselves." Hughes promised the resources to end that era of delusion once and for all.
In return, Foer promised to make the magazine worthy of the new owner's ambitions. "Over time, you've had self-inflicted wounds, austerity, which was aching, and a lot of instability," Foer says. "And also kind of perpetual alienation of the magazine's base of readers." In the nineties, they printed an excerpt of The Bell Curve and helped defeat "Hillarycare" with a denigrating cover story. More recently, The New Republic had been very much in favor of the Iraq War and a steadfast defender of Israel. "I think the magazine always reveled in the fact that its readers would sometimes throw it across the room in anger when they read it, but sometimes they weren't picking it up again afterwards." The days when JFK toted it around or the Carter White House had twenty copies messengered over hot off the presses are long gone.
Hughes's unsigned editorials took such unremarkable stands as a qualified thumbs-up on the Obama administration's position on the "open nature of the Internet." And after he hired Foer, for the first time in the history of the magazine, the editorials disappeared. "Chris does not want to be a magazine that lectures its readers," Foer says.
So what does Hughes want? It can be hard to say, even for those who know him well or work with him, most of whom seem to believe that he believes what they believe. "He shares our general orientation, which is we're liberal, in the sense that we believe in civil liberties, meritocracy, capitalism, but not the religion of the market," says Wieseltier, sounding hopeful down in the corner office.
Given that Hughes's interests are at least as literary as they are political (a Hughes tweet last week: "So many books, so little time … The NY Times Names 100 Notable Books of 2012"), I found that many of the people I spoke with suspected the real changes at the magazine would come at the expense of Wieseltier—who had his own charmed life as the oldest young man in the room. As the editors came and went at Peretz's favor, Wieseltier ruled a sort of archipelago of learnedness in the magazine's back pages—haunted by its own testy thoroughgoing-ness, dense with type and argument, and deliberately off-putting. "In the old days, I used to get shit from certain people about difficult words or references," Wieseltier says. "The irony now is that I just smile and say, 'Google it.' I have no conscience about that anymore." His culture section, which often made up nearly half of each issue, was supposed to have nothing to do with the rest of the magazine at all.
But Hughes wants a single, readable magazine—with photographs!—not two stapled together, and this will entail treating Wieseltier, as one person familiar with the magazine put it, as an employee for the first time. This brewing tension was presumably why, when I was being regaled, quite pleasantly, by Wieseltier, we were interrupted twice by the magazine's publicist, encouraging us to "wrap it up" by order of the "powers that be."
Before I left, Wieseltier told me how disgusted he was when David Remnick, new at his job at The New Yorker, told Charlie Rose that his job was to produce "entertainment" for the intelligent reader. That's not what Wieseltier thinks The New Republic's job is. Yet despite Hughes's esteem for high-minded, long-form journalism, it is what Hughes thinks its job is: "The New Republic is the brand that you go to to engage in intellectual discourse," he tells me. "And be entertained in the process." To this end, there is now a creative director, who came over from Newsweek a couple of months before it was set to fold. He used to be at Maxim, Hughes confides like it's a naughty joke.
But it's a less odd qualification than you might imagine. Hughes wants the magazine to be more friendly—to have more "entry points." He's on the board of a site called Upworthy, which takes a more high-minded approach to viral content (like a jaunty ThinkProgress video breaking down the deficit), and doubles as something of a laboratory for how to make The New Republic more digitally enticing. And the magazine's new website will have, he promises, a daily "cover story" driven by the editor's judgment of what's important, not what will get the hits. Sadly, that propriety—he's not going to dress this thing up in SEO hot pants—might be considered a heroic stance in these hypermetric days.
"I look at Twitter once a day, maybe twice," he says. "I look at Facebook quite a bit, because for me there's more stuff happening. But Twitter—so many people have TweetDeck in the background," he motions around his newsroom overlooking Madison Square Park. "I realize that I purposely want to keep a distance between me and that." He is always trying to schedule time for reflection. The New Republic "means not just producing a magazine," he says. "We have to be convening conversations."
On November 15, the magazine convened what promises to be the first of them, moderated by Hughes and featuring Arianna Huffington and Peter Thiel, the libertarian Silicon Valley investor who helped found PayPal and funded Facebook. The panel was held in a glass-walled events room at Lincoln Center and built around the putative provocation: Has Twitter Made Democracy Impossible?
Nine days after a successfully accomplished election, it felt like a moot question. But to keep the theme going, the audience members were invited to tweet from their seats and the conversation was live-streamed. Tweets hashtagged #tnrconvos were projected, distractingly, up on a screen stage right.
"I found that I had to stop myself from reading it," complained Huffington. "I'd miss something that Peter said, and then I regretted that." She told the audience she'd felt compelled to create a device-free sanctuary in her bedroom after she fell and broke her cheek in exhaustion five years ago. Thiel, for his part, doesn't tweet and reads the Times and the Journal in print every morning. They both agreed that "unitasking" beats "multitasking."
In other words, it turned out to be a conversation about Twitter that was about as substantive as a conversation on Twitter. But it was a way for Hughes to be a part of things. Which is all anybody who owns a printing press—or, these days, a server farm—ever wants. Up onstage, Hughes, one loafer twisted on its side supporting the other sole, kept the chatter going with poise and alacrity, never challenging or adding much, clearly delighted in the company he was keeping.