Three Teenage Girls
Amelia, Julia, Thais

AMELIA: I love Ian Somerhalder on The Vampire Diaries.
JULIA: Girls like ­vampires because of the story behind it and the mystery there, and it's the bad boy.
AMELIA: And these vampires, they can protect you, take care of you …
JULIA: I'm kind of a feminist, so I just find it like really irritating when you never find an independent woman in any of these stories.
NYM: Do you prefer stories then where the girl gets to save the guy?
JULIA: I do. You know in Titanic, Rose, she saves Jack, and then once Jack dies, she still saves herself, she gets on the boat. She's a very strong woman.
NYM: If you could cast your feminist Prince Charming, who would it be?
THAIS: Leonardo DiCaprio. Before. When he was in Titanic. Or Romeo + Juliet.
JULIA: I want him from Titanic.
AMELIA: Channing Tatum! You don't find many good-looking actors who are also dancers, and whocan go from like ballet to hip-hop to pole dancing.
NYM: You guys know Channing is married, right?
AMELIA: I know. But he'll come for me. I can be a stepmom to his baby.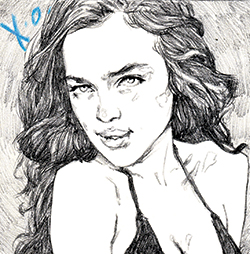 Three Teenage Boys
Nathaniel, Oliver, Alessandro
NYM: Would you ever put up posters of women on your wall?
Nathaniel: In ninth grade, I had this picture of Irina Shayk from the Sports Illustrated swimsuit edition on my computer.
Oliver: What's the name of the one from Silver Linings Playbook?
NYM: Jennifer Lawrence?
Oliver: Yeah. She seems really genuine.
NYM: Okay, imagine you're invited to some party, and Jennifer Lawrence is going to be there.
Alessandro: I'd panic.

Oliver: I'd make a run for it.
Alessandro: I wouldn't know what to say.
Oliver: "How about that weather?"
NYM: Girls do this thing, I don't know if boys do, but if I were a 15-year-old girl and I had a crush on Leonardo DiCaprio—
Oliver: I can understand that.
Nathaniel: He's an attractive guy.
NYM: But if I were talking about him, I might refer to him as my "boyfriend."
Alessandro: When we're talking about Beyoncé, it'll be half-sarcastic, half- …
Nathaniel: "Wifey."
Alessandro: It was always a joke.
Nathaniel: Is she your wife?
Alessandro: Not yet.