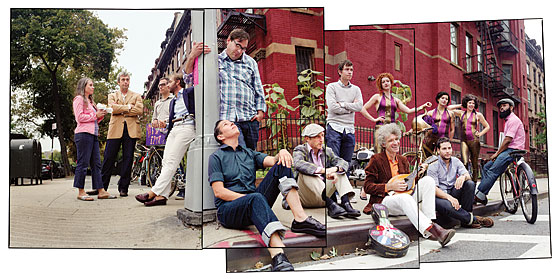 I f you travel from New York to any midsize or larger city, not just in the United States but in the Western world, you can now reliably find some portion of it that you'll intuitively recognize as "Brooklyn"—as in "the Brooklyn of Portland" or "the Brooklyn of Montreal." Think about that for a moment. The ascendancy of Brooklyn is a familiar and oft-told tale—nice blocks, good restaurants, beards—and the push-me-pull-you tug between upstart Brooklyn and king-of-the-castle Manhattan has long since settled into détente. Yet you would never, ever travel to another city and describe a neighborhood there as "the Manhattan of Seattle." Why is that? Well, in part it's because they only ever made one Chrysler Building. But it's also testament to the fact that Brooklyn has, in a relatively short time, developed a distinct and recognizable set of characteristics that's echoed in cities around the world but which finds its epicenter here. Not in Manhattan. In Brooklyn.
Maybe Manhattan, for all its recent transformation, is still too vast and jumbled and myth-encrusted to ever be summed up as one idea. Brooklyn, of course, is also vast and jumbled (some might argue vaster and jumblier), and is still composed of large, vibrant, and viable stretches that have little to do with the "Brooklyn" you recognize in Seattle. But the part we refer to as "Brooklyn" is now our city's most dominant cultural export. And it's being imagined into existence, in tiny pieces, every day, by the people pictured on the previous page.
They represent a new kind of Establishment in Brooklyn, one organized around creativity rather than elected office or ethnic enclaves. (For a colorful illustration of the old-world Brooklyn Establishment, Google "mayor of Carroll Gardens" and "Buddy Scotto.") They don't hold regular meetings as a cabal in a smoke-filled room; in fact, most of them never met before we took this picture. And they don't constitute an exhaustive list but a selective sampling—the best, smartest, most creative ones we could fit on one Brooklyn street corner on one sunny afternoon. Yet if the defining characteristic of an Establishment is the influence it wields, well, these are precisely the sort of people who make up the Brooklyn Establishment circa 2010: writers, artists, musicians, gallery owners, designers, restaurateurs, flea-market entrepreneurs, and, yes, an artisanal butcher.
You can start with a restaurant like Diner, opened by Andrew Tarlow and Mark Firth in Williamsburg in 1999 and now acknowledged as the birthplace of a haute-rustic approach that's since been imitated endlessly in Brooklyn and beyond. Or with Jonathan Ames, the confessional novelist turned TV creator whose HBO series Bored to Death is a deft caricature of Brooklyn in all its heroic neuroses. Or designer Ouigi Theodore, owner of the Brooklyn Circus, a shop defining a new style you might call "Jazz Age B-boy." Or David Alhadeff, owner of design store the Future Perfect; or Kae Burke, Anya Sapozhnikova, and Jordann Baker of House of Yes, an art space in East Williamsburg; or Rebecca Collerton and Caroline Fidanza (Diner alums) of lo-fi bakery-sandwich shop Saltie; or St. John Frizell of Red Hook bar Fort Defiance; or Tom Mylan, the all-world, old-school butcher at the Meat Hook; or Dan Zanes, the guy whose music every parent in Park Slope plays on repeat.
At this point, some of you will be tempted to say, "Yeah, yeah, sure, sure, that's great. Now shut up, Brooklyn." Whenever a place takes on a loosely knit collective personality, that personality will always fray into cliché. As Jonathan Lethem, author of The Fortress of Solitude, says of Brooklyn, "It's one of the most agreeable, simpatico, attractive, and therefore completely obnoxious places to live on Earth." This criticism is familiar to Jonathan Butler and Eric Demby, co-founders of Brooklyn Flea, a weekly market that's less than three years old but is already an institution. After all, "The Flea has become a distillation of what people expect to find in Brooklyn—guys with beards, beautiful girls wearing rompers, artisanal food, and modern-industrial countrified antiques that are slightly overpriced," jokes Demby. Yet the Flea is an instructive example, beyond the superficial trappings. Butler and Demby conceived it as a town square writ large. It's aggressively curated yet communally imagined by its vendors. It exists as a cross between consumer bazaar and creative laboratory, promising high-quality offerings in a stridently low-key setting. And it's packed with people earnestly cultivating a quirky interest (old vinyl, pickling, modern-industrial countrified antiques) and other people who, in turn, are happy and excited to support and celebrate those people. It's a thriving hive united by a shared creative commitment: to find one specific thing, and do it very well. In other words, it's not a town square writ large. It's Brooklyn, writ small.