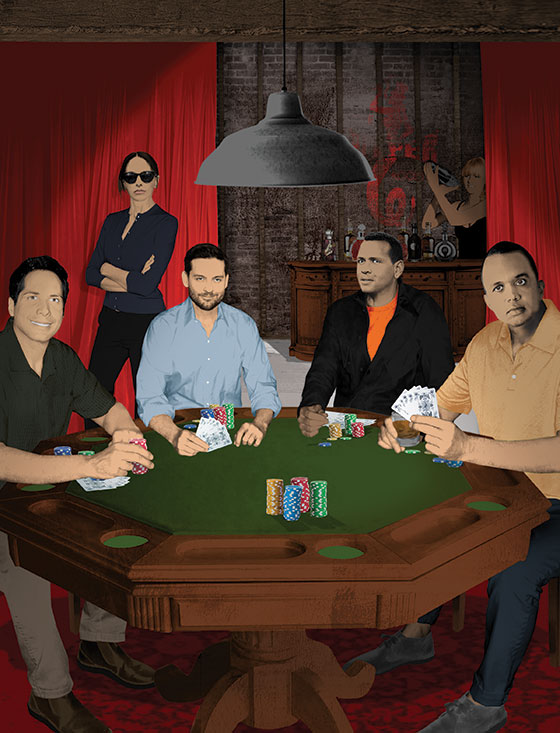 Until this past spring, you couldn't have picked a more likely prospect to be the next United States ambassador to France than Marc Lasry. The co-founder of the $12.4 billion Avenue Capital Group was supremely wealthy and well connected: He had a net worth of $1.4 billion, counted Bill Clinton as a close personal friend (Chelsea worked for him for a while), and hosted a $40,000-a-head event for Barack Obama in 2012, when much of Wall Street had abandoned him for Mitt Romney. True, Lasry would've had to have made some major sacrifices to get the appointment—disclose or divest certain stock holdings, maybe even sell his entire stake in Avenue to his partners—but after conquering Wall Street for decades, he was more than interested. He told the people around him he was ready to move his family overseas.
But Lasry, like other hedge-fund executives, played poker. David Einhorn of Greenlight Capital, for example, arguably the best Wall Street poker player around, won third place and $4.35 million at a World Series of Poker event in 2012, only to announce that he would give the prize away to charity. Lasry wasn't like Einhorn. For him, the game wasn't interesting unless there were high stakes. And so on at least three occasions in the past year or so, Lasry found his way to a suite on the twentieth floor of the Plaza Hotel. Inside was the most expensive, exclusive private poker game in New York.
The suite was never crowded—at most there were enough people for one table of players—and the table itself was custom-made with a recessed card-shuffling machine. Bottle-service girls were recruited from nightclubs to work the room. Players ate filet mignon and sushi and drank Johnnie Walker Blue. The buy-in just to get through the door was $10,000. The game was Texas Hold 'Em with no-limit pots often growing to $200,000. The "blinds," or mandatory bets to stay in the game, started small on quiet nights but grew larger when whales like Lasry showed up.* Running a poker game for profit in New York State is merely a misdemeanor unless the proprietor charges a "rake," or pulls a certain amount of money out of every pot. The hallmark of the Plaza game was that, while it was raked, everyone there was too wealthy to care by how much. And while the raked Plaza game was illegal, as one regular put it, "it's perfectly legal to play. Everyone knows that."
Sitting around the table were people Lasry had only seen at other private games like these, including a young Russian-American player named Illya Trincher, who, along with his father, Vadim, and brother Eugene, had arrived on the poker scene about a decade ago with astonishing competitive skill and a seemingly bottomless bankroll. Now and then, the Plaza even attracted a few celebrities, like Phil Ivey, the nine-time World Series of Poker bracelet winner.
Molly Bloom, another face Lasry easily recognized, made a living organizing private poker games, and was darting in and out from behind the scenes. Tan with dark hair and a blinding white smile, Bloom was an almost spectral presence at these games. Around 2009, she'd moved to New York from Los Angeles, where she had spent several years running an exclusive high-stakes game for Tobey Maguire and several of his friends—Leonardo DiCaprio, Matt Damon, Ben Affleck, A-Rod. Some players found her hard to get to know; the wealthier ones liked the way she respected boundaries. For many of the regulars at the Plaza, Bloom's legend had preceded her. Just having her run their game was enough to make the night feel special. But more than that, Bloom, 35, brought a core competence, a sense of security that what you were doing was perfectly acceptable and legitimate.
On Tuesday, April 16, a sprawling 84-page federal indictment connected the Plaza poker game and other related floating games run from various apartments in New York City to a $100 million gambling and money-laundering operation orchestrated by the Russian mob. Illya and Vadim Trincher are featured players in the indictment; they and many more of the 34 people indicted are recognizable figures in the professional-poker world, like Noah "the Oracle" Siegel, Justin "Boosted J" Smith, World Series of Poker bracelet winner Abe Mosseri, and Eddie Ting. There is also one fairly prominent Hollywood name: Bryan Zuriff, executive producer of the new Showtime series Ray Donovan. Toward the top of the indictment is Hillel "Helly" Nahmad, the 34-year-old son of billionaire art dealer David Nahmad. The younger Nahmad stands accused of partially funding the operation through his family's art gallery in the Carlyle Hotel. The Nahmads may be the world's biggest art dealers; according to Forbes, their collection is worth an estimated $3 billion and includes over 300 Picassos. (In a theatrical flourish, the FBI raided the gallery, seizing computers and records.) And at the very top is the whale prosecutors might have been after most of all: a purported Russian crime boss named Alimzhan Tokhtakhounov, charged with "extortion conspiracy" and "money-laundering conspiracy," amount other counts, who has been living as a fugitive in Russia for a decade.
*This article has been updated to show the correct terms of the Texas Hold 'Em games.
Not named in the indictment was Marc Lasry. Still, about a week after the arrests, reports surfaced that he was no longer interested in becoming the ambassador to France. "I am very grateful to have been considered, but I would like to put the speculation to rest," he wrote to Avenue's investors on April 23. A source close to Lasry insisted that his decision had nothing to do with poker. That didn't stop another source from telling the Post that Lasry's appearances at these games "open a can of worms" that would have endangered his bid.
"Today's charges demonstrate the scope and reach of Russian organized crime," George Venizelos, the FBI's assistant director in charge of the bureau's New York office, said as the suspects—minus the fugitive oligarch in Russia—were being rounded up across the country. But the fact that the games could attract someone as powerful as Lasry is a testament of sorts to the woman at the center of it all. Molly Bloom's name appears just a few times in the indictment; she is accused of running an illegal gambling business and depositing two checks totaling $25,900 into a bank account in California. But prosecutors might have needed someone like her to make this case: a natural social connector with an artful knack for curating an irresistible poker game. All of which earned her the nickname the "Poker Princess."
In the beginning, Molly Bloom was like any number of anonymous arrivals in Hollywood searching for a career. What made her story different was that she found success almost right away, and it was more lucrative than she ever could have imagined. In L.A. and later New York, her games were a unique space where worlds collided seamlessly: poker, fine art, Hollywood, Wall Street, politics, pro sports. But for someone with such an undeniable talent, Bloom has always been hard to pin down. She's often described in general terms: ambitious, clever, beautiful. She's never spoken publicly, except in court. Even those closest to her are protective of her reputation, singing her praises as they hint at her failings. "She's determined," one friend says. "Molly's never had anything handed to her on a silver platter." Says another friend, more ruefully: "Molly could have done a lot of things."
Molly Bloom grew up in Loveland, Colorado, a small town about an hour north of Denver. Her father, Larry, is a clinical psychologist, and her mother, Char, is a ski instructor who let Molly and her two younger brothers run free on the Keystone mountains. According to a friend, Molly developed scoliosis when she was young and doctors told her she couldn't ski, but she ignored them, worked twice as hard, and made the U.S. team anyway. While Molly's brother Jeremy went on to compete in the Olympics twice, Molly dropped the sport. At Colorado State University, she studied political science and, it appears, got an early start as a party host. When she was 18, the police reportedly busted her once in her dorm for various disorderly-conduct charges including serving alcohol to minors.
In 2003, Bloom moved to L.A. and found work as a cocktail waitress. One night, she got to talking with a group of guys who worked for the same real-estate company, and they hired her to assist one of them, Darin Feinstein, who had recently bought a stake in the Viper Room. After a matter of months, Feinstein announced that she would be running a poker game for him in the basement of the club. The guest list would include the biggest star of the moment, Tobey Maguire, who was just coming off the second Spider-Man movie. Friends say she knew nothing about poker at the time.
Maguire had been hosting a poker game at his house that was getting too big to manage on his own. Unlike the old fossils at Gabe Kaplan's and Jeffrey Katzenberg's games, the regulars at Maguire's were mostly his contemporaries—young directors and producers like Todd Phillips, Nick Cassavetes, and Steven Brill. He had started at about the same time that a player named Chris Moneymaker, the man with the perfect last name and out-of-nowhere backstory, paid a $39 online-tournament qualifying fee and ended up winning the 2003 World Series of Poker's main event in Las Vegas, having never before played in a professional tournament. Suddenly, the American Dream had come alive in poker. It was the only game that everyone in the world could watch on TV and visualize themselves doing on a professional level.
And for a certain type of player, movie stars among them, a private game will always be preferable to Vegas. At casinos, anyone in the world can sit down next to you. Home games are controlled. In a few respects, they're confining: It's expected you'll stay the night, or you won't get invited back. You can't just bring a friend with you, unless that friend is a big fish, and it's understood that you can keep certain people out; the mix becomes something worth obsessing over. Players aren't judged just by the size of their wallet but by their style of play—if they're "good for the game" or "not good for the game." A person with a lot of money who slowly siphons cash from other players without winning or losing big is, for instance, not good for the game.
Maguire took his home game seriously. He even had a cash-counting machine. The buy-in started deceptively small, at $5,000. "In the first hour, half the table reloaded three or four times," one regular remembers. "By the end of the night, some guys are in for $50,000 or $75,000, sometimes $100,000. That was what was magical about the game. It's not like guys couldn't afford it, but the $5,000 buy-in gave them the security they needed to get started." Around 2004, Maguire felt less comfortable hosting. "Tobey is a vegan, and he's a little eccentric in some ways," a friend says, "but you get a bunch of guys, we're playing in his kitchen, chewing tobacco, ordering pepperoni and sausage pizzas, and he just couldn't stand it. One night he was like, 'How can we keep this game going without having all these scumbags come to my house?' "
Maguire and a friend approached Feinstein at the Viper Room. "Yeah, it's going to be great," Feinstein told people about his game. "And I'm going to have a hot piece of ass serving drinks."
Feinstein told Bloom she was in charge of making everyone happy. But Feinstein had no direct involvement in the game. That left Bloom to do everything from fixing cocktails to helping the players settle accounts at the end of the night. Before long, she was hiring massage girls and managing the player list. No one else wanted the headache of rounding up players and texting everyone the final lineup, so Bloom handled all the contacts Maguire and the others gave her and started building a list of her own. The only thing that players had to do was wait for a text from Molly saying who was coming.
The Viper Room basement smelled like a bathroom and didn't look much better. But it was both private and quiet, a safe distance from the main entrance and loud music. Players could come at seven and close the place down with no one even knowing they were there. The game wasn't raked—although technically the Viper Room games would have needed a license to be completely legal, the absence of a rake made it less of a target for law enforcement. Bloom and the card dealer worked for tips, and it didn't take Bloom long to realize that more money on the table meant bigger tips for her.
As the mandatory blinds went up, so did the pots. After a while, the buy-in went up, too. New players with fat wallets were more than happy to lose money for the chance to play with Maguire and his friends. DiCaprio isn't a natural gambler; he played what poker players call a tight game, taking few risks. But just having him there from time to time made the game even hotter. As the game became an open secret, security became so tight that one night even Maguire's then-girlfriend, Jennifer Meyer, couldn't get in to deliver his vegan meal. The circle widened to include Rick Salomon, Paris Hilton's sex-tape co-star, and Joe Francis, the Girls Gone Wild auteur (such a bad player he tried to ask a question in the middle of one hand). Bloom had made herself indispensable. One day, when she and Feinstein squabbled over something minor, the regulars of the poker game rallied around Bloom and followed her as she took the game to a player's house, then to suites in the Four Seasons, Beverly Hills Hotel, and the Peninsula.
Within a few years, the buy-in had exploded to $100,000. New players came in with bigger bankrolls and serious poker chops: Real-estate mogul Bob Safai, impostor–perfume founder Larry Hahn, Affleck, Damon (just once, losing $40,000), and Phil Ivey. Bloom made it her job to keep the big fish happy and in the game. She recruited the prettiest girls she could find to offer neck rubs and keep drinks flowing. "Molly was able to play into people's egos and desires," a close friend says. "She knew how to make them want more. She made sure her players were pampered, and she was also very professional about it. She created an environment that appealed to the five senses, and who wouldn't want that compared to a smelly basement?" On any given night, the winner was taking home $300,000. Armed guards with bulletproof vests sometimes stood by the door. There was still no rake, but Bloom was reportedly making as much as $400,000 a year in tips. "Ultimately, there were two people that never lost in that game—the dealer and Molly," says one regular.
In 2007, Bloom started her own business, registering Molly Bloom Inc. as an event and catering company, and had her workers file the appropriate forms. She was paying taxes on her own income, and because she was the conduit who managed all the game's money and cashed all the checks, she also paid taxes on every debt she didn't collect. "In fact, she was terrible as a poker manager," one source close to her suggests, "because she got stiffed for hundreds of thousands of dollars. But she was great at taking a terrible business model and turning it into something a lot of people wanted."
Poker was experiencing a TV moment, with shows like Ultimate Poker Challenge and Celebrity Poker Showdown. Everyone in Hollywood with the cash wanted in on the old Viper Room game. A few famous players, like Illya Trincher, found their way into Molly's game. So did Illya's brother Eugene and Eddie Ting. "They're all from New York," a former regular says. "And anyone who came into the game, they either had to know Molly or, if a player brought them in, their names would have gone into Molly's Rolodex."
Other players, like Bradley Ruderman, were recruited directly by Bloom herself. Ruderman was a hedge-fund manager with his own company and a house in Malibu near Rick Salomon's. He met Bloom when she arranged some games at Salomon's house. He was a handsome guy but awkward with women (a friend of Bloom's says she eventually even tried to set him up on dates). He played for almost three years. He never won, and some nights he would lose six figures—at one point Maguire tried to get him a few books on poker. To settle his debts, Ruderman wrote checks, but he never brought checks to the game; everyone knew Molly would get the checks over to them in a couple of days. "I think Bradley Ruderman's introduction was when it left the entertainment industry," one player says, "and all of a sudden you had money guys and real-estate guys and it became something that it wasn't."
Friends noticed how Bloom's life was changing, how ambitious she became. She dated Drew McCourt, whose father formerly owned the Los Angeles Dodgers. "I heard that kid was in love with her," a friend says. "He came by sometimes, he never played, sweet guy. I think Molly was wrapped up in the fact that she was making her own money. Once you're making $30,000 a night in tips, you don't want to lose that, and you'll do anything to protect it."
Inevitably, a few players started to grow suspicious of her. According to at least one source, the player who started to cool on Bloom the most was Maguire. Sure, she wasn't raking, not formally, but the fortune she was making in tips was starting to seem like a rake. "Some of the guys in the game were getting agitated about the amount of money that was being made," one regular says. "People said, 'The big tipping's got to stop.' " Bloom felt like she was being edged out. "Molly was not being treated properly in L.A.," a close friend says. "There were a lot of people that were jealous."
When she announced she was moving to New York City to manage poker games there, the game she'd made famous moved back into private houses. Everyone was relieved: Once again, she had taken care of every detail for them.
New York didn't turn out the way Bloom had planned. She had a few contacts from the L.A. game, including one older Wall Street guy who had been hosting an informal game of his own for years. But Bloom soon learned how unique Maguire's game had been; there was no such thing as a game with a $100,000 buy-in in New York. The New York players who encountered Bloom were impressed by her legend at first, but they found her a little too brash. "She was aggressive about maximizing her personal earnings from the games," one player says. "She would be forthright in letting players know what she expected in terms of tips." So for the first time, she started running raked games so she could make something approaching what she used to make in L.A.
Then, in 2011, she became more notorious than she'd ever wanted to be. Ruderman had turned out to be a mini-Madoff, the architect of a $44 million Ponzi scheme, and his creditors were going after her, Maguire, and a host of other players to collect more than $5.2 million from the L.A. game. The lawsuit claimed that because Bloom was not a licensed poker-game operator, the "winners" of the games had no contractual right to their take. In a deposition, Ruderman named Maguire, Cassavetes, and A-Rod—the only player to consistently deny his involvement. (Maguire may have been comforted, at least, when Ruderman told the FBI that the star was the best player among them.) Bloom named Salomon, Maguire, and Joe Francis in her deposition. Nearly all of the defendants settled.
As for Bloom, Ruderman accused her of being "very aggressive to get me to keep playing," taking advantage of him because he was "not a good gambler." Ruderman's creditors were going after the $473,200 he allegedly paid to Bloom in various checks. (She settled for $30,000 in early 2012.) "The checks to Molly were probably just a pass-through to repay others in the game," one former L.A. regular says. "She was simply helping do the books. He put her in that position. And the people in court, they didn't care about that. They treated her just like the players."
By then, most of what Bloom made in L.A. had evaporated. In June 2010, she was served with a $116,133 lien for unpaid taxes on her New York revenue, which she had declared as "catering" income.
The only way Bloom thought she could make money in New York, a source says, was to start as many smaller games as she could. The buy-ins went down to $10,000, then $5,000. That's when the trouble began. The main problem, according to one source, was that her players were never rich enough. "She was dealing with a tougher crowd that needed financing, credit, that sort of thing." Bloom started receiving threats, which she didn't take seriously at first. "She didn't understand until very late how deeply she was resented and how great the lengths were that people would go to stab her in the back," says a friend.
In the fall of 2010, two men reportedly burst into her apartment and started beating her before she gave them what money she had lying around. Reports called the men Eastern European, but Bloom told one friend they were Italians, perhaps an unrelated criminal ring that she'd unwittingly upset. "She had black eyes and was black and blue all over her face," says a friend. "From what I know, it was over some kind of raked game she was staging."
By the next year, the Feds had begun to crack down on online poker sites across the country in an unprecedented sweep, making the demand for private games even stronger. And Bloom had allegedly forged alliances with a set of wealthier, more powerful partners.
Illya Trincher is seven years younger than Molly Bloom, but they both made their names in the poker scene at about the same time. No one seemed to know where the Trincher family's money came from, but there seemed to be enough of it for Illya to buy his way into all the bigger tournaments at just the age of 18, without ever having worked his way up from smaller games. "The fact that Illya just showed up and the fact that he had all this money raised a few eyebrows," says one source.
In 2007, Illya appeared on the Game Show Network's High Stakes Poker and had become a regular t high-limit tables at the Borgata and the Bellagio in Las Vegas. "He was a pretty good poker player," remembers Doyle Brunson, a legendary player from Texas. "We all bet on sports, too, and he was knowledgeable about that. I heard stories about his dad," he says with a chuckle, "but as long as I've known Illya, he couldn't have been a nicer guy."
In L.A., Illya was welcomed at Bloom's game. One player remembers Illya losing everything he had one night on a quarter-million-dollar pot. He wasn't a regular, but he and other New York–based players came often enough to be remembered. The recession didn't seem to slow the family down; in 2009, Vadim spent $5 million for a three-bedroom Trump Tower apartment. Twelve floors below that condo was a bachelor pad occupied by a young art dealer named Helly Nahmad.
Helly was a little older than Illya, but like him, he had a wealthy father: David Nahmad, the patriarch of a Syrian Jewish family that owns a tremendous collection of art in Geneva, estimated to be worth $3 billion. For several years, Helly, a Dalton dropout, has owned his own art gallery in the Carlyle Hotel, and he and his father are responsible for millions of dollars in art sales. The Nahmads also have an affinity for poker. Helly's younger brother Joseph once said his father encouraged him to play poker in Monte Carlo when he was 16, as a way of learning about business. "He thought … I would learn a lot about life, about the real world," he later said. "I really learned a lot of things—how people are, how people, when they are desperate and have nothing to lose, will fuck you over at all costs."
Prosecutors say that Helly and Illya were friends and collaborators in an illegal gambling business that encompassed both sports betting and bookmaking. The money to finance the organization allegedly came from their wealthy fathers (though David Nahmad was not named in the indictment). Vadim is accused of laundering more than $50 million in sports-gambling proceeds through shell companies in Cyprus and the United States, and Helly's gallery in the Carlyle Hotel stands accused of investing in the gambling business. Helly also allegedly oversaw wire transfers from his father's bank account in Switzerland. While Helly's involvement appears to be strictly financial, prosecutors say Illya helped with the collection of debts, allegedly through extortion and threats. He is accused of taking 50 percent of one debtor's Bronx plumbing company in lieu of payment. And according to prosecutors, Vadim was taped on a phone call in which he warned a customer who owed money to be careful, lest he be tortured or found underground. The indictment includes a branch manager at JPMorgan Chase who allegedly helped Illya split up a big transaction into several smaller ones to fall below bank reporting thresholds.
Not named in the wider charges of intimidation and money-laundering, Bloom stands accused of running a poker game. The indictment covers her activities from 2010 to the present, suggesting, perhaps, that prosecutors took notice of Bloom during the Ruderman litigation and never lost interest. Her association with Illya Trincher, and Illya's with Helly Nahmad, only made the case more enticing. But easily the most significant target in the case remains the Russian oligarch Alimzhan Tokhtakhounov, who prosecutors say helped the others launder tens of millions of dollars through bank accounts and shell companies in Cyprus.
Tokhtakhounov, or "Alik" to his friends, is widely known as a vor or vory v zakone—a Russian term translated as "thief-in-law," or crime boss. In Russia, he's well known as an old-guard oligarch, one of many who, under Vladimir Putin, have been largely left alone provided they don't cause noticeable trouble. He makes appearances at fashion shows and concerts and even published a novel (he has long denied being a vor). But he hasn't left Russia for a decade because he is facing a federal indictment by the Southern District of New York on charges related to his role in allegedly fixing ice-dancing and pairs-skating competitions at the 2002 Olympics in Salt Lake City. "Why in all these games am I the only one to suffer, if I bought medals as part of some conspiracy?" he told one interviewer a few years ago, arms crossed in frustration.
Federal prosecutors believe that Tokhtakhounov received $10 million from his friends in New York over just two months beginning in late 2011. These New York friends, prosecutors say, included Vadim Trincher. Illya and Helly aren't accused of conspiring with Tokhtakhounov or even knowing him. Neither is Molly Bloom. Her lawyers insist her only connection to the case is that she hosted poker games that Illya attended, and that she's being unfairly roped into the investigation. But prosecutors will make the case that the money connects them.
On April 16, FBI agents raided the Helly Nahmad gallery at the Carlyle and Vadim's apartment in Trump Tower, seizing $75,000 in cash and $2 million in chips from the Bellagio casino in Las Vegas. If convicted on all counts, Helly and Illya face prison terms of nearly 100 years each. They both are out on bail and are vowing to be exonerated. The trial date should be sometime in the summer of 2014. Their attorneys will say that the indictment contains little more than innuendo and that the government is arbitrarily combining lesser charges. "We do not believe Mr. Nahmad knowingly violated the law," one of Helly's lawyers, Benjamin Brafman, said in a statement. They might also argue that everybody plays poker, that this is a victimless enterprise, and that it's ridiculous for the government to suggest it is protecting anyone involved, when everyone was wealthy enough to handle the stakes and pay whatever might or might not have been raked.
Bloom faces up to ten years in prison if she's convicted. Those who know her say she's unlikely to name more names. Says one of her close friends, "That's not the kind of person she is. She's not someone who seeks out the limelight, and in fact, she's avoided it at any costs. People keep throwing around the term 'Poker Princess,' and it literally makes Molly want to tear her hair out."
Of course, Bloom's reticence may merely be convenient. She has spent the past year completing a memoir that a division of Harper­Collins is scheduled to publish in 2014. The truth is, her mystique has always helped her, even as it made her a bigger target. "The anonymity that we all wanted from the game, we maintained, and she became the face of the game," one former regular of her L.A. game says. "And that was fine by us, you know? She also liked it. Who wouldn't? She's making money hand over fist. And if you asked her herself, she'd say it got the best of her."
When Bloom turned herself in, one of her lawyers, Dana Cole, suggested she's resigned to her fate. "Molly has been waiting for a long time for the other shoe to drop," Cole said outside the courthouse as her client walked past, hands in the pockets of her jeans, hot-pink scarf draped around her neck. "She has no intention of minimizing the case against her, but hopefully, prosecutors understand that even some of our Supreme Court justices enjoy a weekly poker game."