Bob Bowman
CEO, MLB Advanced Media
Responsible for bringing every single major-league game to your desktop—for a price. And last year, 1.3 million users paid as much as $80 apiece to watch baseball on MLB.tv. This isn't just changing the way games are watched—it could change how they're played. Back in 1998, the 30 major-league-baseball owners ceded control of profits from online broadcasts, agreeing that, unlike with TV revenue, they would share them equally—which means online profits could eventually put an end to, or at least counteract, baseball's famously unequal distribution of wealth. Other major sports are taking notice: This year, CBS live-streamed NCAA tournament games (with MLB.com's help). Next up: the entire World Cup, straight to your computer.
Steve Bornstein
President, the NFL Network
Reinventing the relationship between sports and TV. Having witnessed ESPN's ascent to dominance during his time as an executive there, Bornstein is now heading the drive to turn the NFL Network into the new ESPN. Next season, for the first time ever, the NFL will show eight games exclusively on its league-owned station—which makes it imperative for any sane cable provider to carry the channel. Which, in turn, should jump-start the NFL Network as a premium purveyor of insider information and chitchat—and a formidable competitor to every other football-carrying channel.
Tom Konchalski
Editor, High School Basketball Insider
If a high-school player wants to get a major college scholarship, Konchalski is the man he has to impress. Countless prospect-charting Websites litter the Internet, but Konchalski's High School Basketball Insider is different—the paper newsletter makes its way into the hands of coaches at roughly 225 schools, most of them Division I. A veteran of the East Coast high-school scouting scene for 25-plus years, the Queens-based Konchalski mails his newsletter individually to hundreds of coaches and writers who in turn reward him with information—which means any player he's following (Sebastian Telfair and Felipe Lopez were two heavily touted prospects) is assured attention, scholarships, or even a direct ticket to the NBA.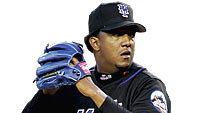 Pedro Martinez
Pitcher, New York Mets
Made the Mets into the favorite team of every great young Dominican ballplayer—which means many of those players will wind up as Mets. Sure, Omar Minaya remade the team, but he'd have gotten nowhere without harnessing Pedromania first. And the pitcher's appeal is priceless in the Wild West of Latin American talent scouting, which is just like American college-sports recruiting, except the players are poorer, the recruiters are richer, and there are no rules. Says Martinez's agent, Fernando Cuza: "If you're a 17-year-old prospect sitting in your living room with a scout from the Mets and a scout from the Kansas City Royals, who do you think you're going to want to go with?"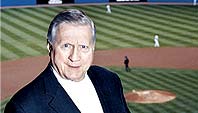 George Steinbrenner
Owner, New York Yankees
The blundering bully who fashioned the most profitable and envied franchise in sports. Steinbrenner has expertly created an organization in which every public utterance about the Yankee way, every hair-cutting photo op, every soft-focus-camera-and-inspirational-music show on YES (the first network of its kind—now every major market has one) drives home the point that the Yankees are special, superior, different. Which, of course, has made the mystique true. For his latest trick, Steinbrenner unveiled a plan for a new stadium-slash-nostalgia-museum-slash-gift-shop that's loaded with tax breaks and subsidies, yet can be technically described as 75 percent paid-for by the team, thus insulating it from criticism.
Mike and the Mad Dog
Commentators, WFAN
They convinced the world that endless, largely evidence-free discussion of sports, featuring a straight man and a guy with a funny nickname and a reputation for being unhinged, is not only surprisingly entertaining but also a remarkably viable commercial enterprise. It's not so much that the positions Mike Francesa and Chris "Mad Dog" Russo take on their show, first broadcast in 1989, drive the city's perception of its teams. It's that their jibber-jabber behemoth turns the sports world into a scandal-racked, gossip-filled soap opera, and—true or not—it's impossible to tune out.
Stephon Marbury
Point guard, New York Knicks
Brought down the Knicks. It was a team effort, of course, but Marbury was the go-to guy. Marbury was meant to be the symbol of general manager Isiah Thomas's reborn team—which, ironically, he is. His failures are frequent, his battles public (take this year's tiff with Larry Brown, so bad that a late-season get-well call from Marbury to Brown was headline news), and the triumphs of the pass-first players who succeeded him, first in New Jersey (Jason Kidd), then Phoenix (Steve Nash), impossible to ignore. Now every shoot-first point guard in the league is available for 50 cents on the dollar. And, as evidenced by recent Marbury-esque additions like Steve Francis and Jamal Crawford, those dollars are too often being handed out by the clueless Thomas, via a check signed by asleep-at-the-switch owner James Dolan.
Sandy Montag
Senior vice-president and managing director, IMG Broadcasting
Montag represents the best on-air talent today and finds the best talent of tomorrow. As head of the broadcasting division for the country's largest sports agency (by far—IMG has more than 50 percent of the market), Montag turns well-compensated athletes into well-compensated talking heads, as well as representing such heavyweights as John Madden, James Brown, Bob Costas, and WFAN's Chris "Mad Dog" Russo. And he knows a thing or two about creative deal-making: When Al Michaels wanted to break his ABC contract to move to NBC's new Sunday Night Football crew, Montag brokered the deal that sprang Michaels in exchange for Ryder Cup matches, Olympic highlights, and rights to a historic 1927 cartoon character, Oswald the Lucky Rabbit, that ABC's parent company, Disney, had been trying to recapture for years. Next: The Influentials in Religion