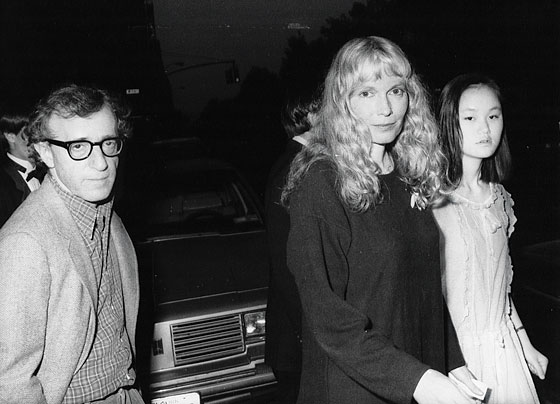 1992
It was a New York fairy tale turned seriously sordid psychodrama: In 1992, Woody Allen, the nearsighted little Jew from Brooklyn who redefined film comedy; bedded a series of slim shiksas; preferred to stay in Manhattan on the night he won an Oscar for Annie Hall to play his clarinet; conferred hipness on whatever restaurant/club he visited while maintaining an air of privacy and radiating (his word) anhedonia; and evolved into a high-toned director and a moralist, anointed by Vincent Canby as one of our greatest filmmakers, was discovered to have slept with and taken lots of dirty pictures of the 21-year-old adopted daughter of his decade-long partner, Mia Farrow. The funny part? He said there was no scandal.
New York disagreed, violently. But it was hard to apply conventional morality to such a couple. Farrow, born into Hollywood royalty, was a serial wife of accomplished men (Frank Sinatra, André Previn) and serial adopter of neglected children. She and Allen also had a son together, Satchel, but he lived across the park from Farrow and her brood. The object of Allen's ardor, Soon-Yi, was eating out of garbage cans in South Korea before Farrow and Previn adopted her, at age 8. Allen would have met her when she was 10.
Allen pointed out that he was neither Soon-Yi's father nor stepfather and that she'd liberated him from a moribund relationship. (His coruscating Husbands and Wives, on screens at the time, resounds with bad vibes.) It's easy to believe that he believed he did nothing wrong. Years earlier, Pauline Kael noted his peculiar morality in Manhattan, where the protagonist contrasts the self-centered intelligentsia with a fresh-faced 17-year-old Dalton girl: "What man in his forties but Woody Allen," Kael wrote, "could pass off a predilection for teenagers as a quest for true values?"
The aftermath was yet more fascinating. Farrow unsuccessfully prosecuted Allen for sexually abusing a girl they had adopted together and penned a scathing account of his perfidy in What Falls Away—written while seeing Philip Roth, another illustrious Jew with a notorious sex life. Allen responded with a movie, Deconstructing Harry, about a Roth-like novelist whom the world decries as a shit. Then he made a movie about the corrosiveness of celebrity culture. Manhattan: S'wonderful no more.
Allen married Soon-Yi in 1997, and she seems surprisingly right for him; in Barbara Kopple's documentary Wild Man Blues, she's alternately deferential and ball-busting—a good combo for overmothered Jewish men. Farrow adopted six more kids. Satchel changed his name to Ronan and is now a human-rights crusader who considers the actions of his father, with whom he has no contact, a "moral transgression." Everyone has a point of view!
From the Archives: 'Everything You Ever Wanted to Know About Woody and Mia,' (September 21, 1992)