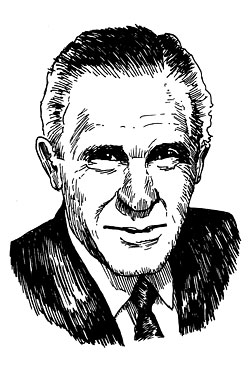 Leading up to the 1968 primaries, Michigan governor George Romney looked like a formidable presidential candidate: the Republican governor of a Democratic state, with a successful business background and leading-man looks. On the national stage, however, he was a bust—and not just because he claimed to have received a "brainwashing" from the Johnson administration about Vietnam. Here, an excerpt from The Romney Riddle, an anti-Romney screed published in 1967 by Michigan conservative Gerald O. Plas that paints an all-too-familiar picture.
Governor Romney is a "winner" by any criterion in that pseudo sociology which divides the world into winners and losers. After making himself one of the most well-known industrialists in the world, he entered politics and turned himself into one of the most colorful and well-known politicians in the country. He is a beautiful man, photogenic from any angle, with a jutting, confident jaw and temples grayed the way few men's temples gray outside the hair styling studios of Hollywood. "There are times when Romney seems almost too good to be true," says Stewart Alsop. He glitters as few men glitter, and it can't be denied that some of that glitter is pure gold. Closer examination, however, quickly reveals that there is more than a little clay in his makeup.
George Romney is a religious man, an intensely religious man. Everyone knows this because he has made elaborate show of his religion on more than one occasion. Faced with a decision to run for Governor in 1962, Romney called a news conference and announced he was going into seclusion on Friday night (February 9) to pray and seek guidance beyond that of man. It was never revealed what advice he received during his seclusion, but he did announce himself as a candidate for Governor on Saturday morning. This made good reading on the front pages of the country's newspapers, but another version of the story barely made print. Romney's son, Mitt, then 14, told reporters that his father had informed the family around the supper table on Friday night that he had made up his mind to run for Governor at 3:30 Friday morning. Perhaps Mr. Romney entered his vigil to seek a consensus on his candidacy.
One of the manifestations of Romney's religious zeal is an absolute sense of morality. Former Romney associate Charles A. Ferry describes the trait: "He has an oversimplified, horse opera sense of morality, which neatly divides the world into good guys and bad guys." "There's something in the man's makeup that gives him the knowledge that he is doing right and that those who oppose him are the apostles of the devil," says a Michigan Democrat who knows him well. Romney himself states that after making a decision, one must "believe that the decision you have made is a right one and put everything you've got into it."
[This] desire to put everything he's got into a decision once it's made may stem from the painfully long time he often takes to make a decision. Indecision on a subject has never stopped the Governor from making long dissertations on the matter, however. He simply speaks on all sides of the subject—right, left, and center. One doesn't have to do much reading on George Romney to discover that vacillation and subsequent contradiction are part and parcel of his makeup.
Romney on civil rights: "Romney listed housing discrimination as the most pressing problem in the field of civil rights … He urged laws which would ban such discrimination." " 'The Civil Rights Commission and its broad authority provided in the new state constitution will make it unnecessary to seek a new open occupancy law from the legislature,' Governor Romney said Friday."
Romney on Vietnam: "Michigan's Governor Romney said Friday night he opposed at this time a negotiated settlement in South Vietnam." "Romney says he … agrees with Mr. Johnson that 'we should be ready to talk and negotiate at the same time.' " This time it only took him a month to reverse his position.
This is the man who would be our President. (One can visualize President Romney asking Congress to repeal legislation that he himself had sponsored a week or a month before.) "The thing that gets you," says one Republican observer, "is that he believes he's absolutely right in every statement he makes, even when a statement contradicts his opinion of five minutes before." Lapses such as these, and Romney's American Motors background, have earned him the nickname "the Rambler."