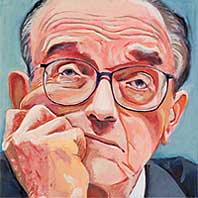 Painter Erin Crowe, 25, bids farewell to the eighteen-year reign of Fed chairman Alan Greenspan, who is retiring at the end of the month, with a show at the Broome Street Gallery. She spoke to Carol Vinzant about her show, consisting of 35 portraits of him.
Why Greenspan?
I had painter's block like some people have writer's block.
Are you obsessed with the Fed?
To be honest, not really. I love to look at him. I don't understand a lot of what he says. That's not what interests me about him.
Which is what?
Originally for me it posed an interesting challenge to make paintings. Every time I saw his photo, I saw that it would be a challenge. I'd look at the way his mouth was contorted or look at the way his forehead was wrinkled.
Who's buying them?
Bankers and hedge-fund people, mostly. There's a woman who's a dental hygienist.
What draws them to the work?
When you're younger, you want a poster of, like, a pop idol in your dorm room; to have an oil painting of someone you might equally adore in more adult terms is somehow socially acceptable. The people that buy it generally do love him. One guy said, "I want one where it looks like he's yelling at Hillary Clinton." A lot of them went into offices.
How much are they?
The biggest will go for $12,500. The smaller ones are $3,000 to $6,000. They're sized for your office. The very, very small ones are, like, $800. I was just trying to hit all my price points.
Do you worry that now that he's retiring, the value of these paintings will fall?
I don't worry about that. Greenspan is retiring, and I am retiring my painting of him. No one else is going to have the opportunity to buy a six-foot-by-four-foot Greenspan.