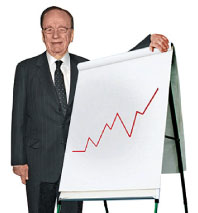 Paul Steiger, former managing editor and now editor-at-large.
He's apparently been approached about being a member of the News Corp. board, but he hasn't decided yet whether to accept.

Dan Hertzberg, international editor.
Murdoch has promised to invest in overseas coverage and expand the paper in Europe and Asia, potentially empowering Steiger's former lieutenant, now based in London.

Mike Miller, enterprise editor.
Murdoch wants to grow lifestyle coverage to compete with the Times, including the creation of a slick new magazine (it's already been mocked up).
Marcus Brauchli, managing editor.
Recently promoted; would lose power to Steiger or Robert Thomson, the Times of London editor who might become publisher/Murdoch go-between.
IAPE, the once-quiescent Dow Jones union.
Murdoch is a known union buster, and this one vociferously resisted his acquisition of the company, going so far as to seek out other suitors.
Gordon Crovitz, publisher.
Could get axed if Murdoch brings in Thomson. Some insiders believe he's too cerebral and careful for News Corp. anyway. Told his own paper, "I'd certainly like to stay."

Martin Peers, "Media & Marketing" news editor.
An Australian native and resident Murdoch expert at the Journal, he's friendly with News Corp. bigs and knows where all the skeletons are buried.
Have good intel? Send tips to intel@nymag.com.