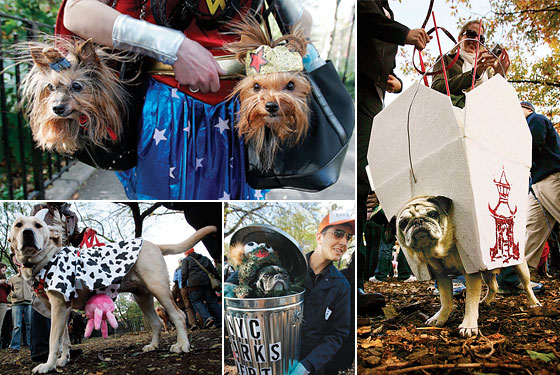 More than 400 costumed pooches—along with their arguably overinvested owners, many in coordinating outfits—will descend on the Tompkins Square dog run Saturday for one of the country's oldest, and biggest, canine Halloween parades. It's also quite competitive: Started in the late eighties, before the then-scruffy park was renovated, it now draws dogs from all over the tri-state area. "About 70 to 80 percent are not from the neighborhood," says Greg Komar, who recalls early parades as community events, when the fun was more casual. "Now people have higher expectations."
Karen Biehl, who competes with her Chihuahua, Eli, delivers on those expectations. Last year, Karen and Eli dressed as Milk-Bone boxes (his with her picture, hers with his); they took second place. This year, they'll come down from the Upper West Side, probably dressed as Carmen and Escamillo, the dancer and bullfighter in Carmen—Biehl is a former opera singer—though she might choose any of the seven dog-and-human costume sets in her closet, including Lucy and Ricky and a Legally Blonde ensemble. (Some are homemade; others were professionally sewn.)
Last year, a headless horseman from Brooklyn took the Tompkins Square prize, in part because the shih tzu diligently carried a pumpkin in her mouth all day. "You've gotta start planning it in August, and if you don't have an idea by September, you're behind the eight ball," says Ann Hinshaw, an organizer who won the Spirit of the East Village prize last year for dressing her Jack Russell terrier, Jake, as a "dog for Democratic régime change," spangled with anti-Bush slogans.
In the East Village, homemade costumes still dominate. There are bouquets of small dogs costumed as flowers and herds of black-and-white dogs as cows. "The dogs are always going to be adorable," says Hinshaw. "But even if you want to get a store-bought costume, you should at least doctor it up to win." There's a best-in-show award plus categories for big and small dogs, groups, and those with kids (who otherwise have an unfair advantage with the judges). Judges also get to make up categories to fit favorites. Last year's event stretched on for three or four hours, and the judges realized too late they'd forgotten a pug—dressed as a sumo wrestler—they'd loved. "No matter what we offered her, she was inconsolable," says dog-run manager Garrett Rosso, of the owner. So this year, judging is going to be done in manageable rounds of 50, and organizers hope to hand out prizes more quickly. Komar hits up dog-run regulars for donations from their employers (publishing types give magazine subscriptions, for example) and local pet shops for gift baskets or certificates. The biggest prize is an iPod.
Most dogs tolerate the costumes well, even enjoying the attention, as long as nobody tries to make them wear anything on their paws or the head. "I think Eli likes the attention he gets when he has a costume on," says Biehl. "He holds his head a certain way." The outsiders may walk away with the best prizes, but the regulars win in the end: Between entry fees and raffle tickets, they take in thousands of dollars to fix up the run.
Have good intel? Send tips to intel@nymag.com.