TRIBE: THE COLLECTORS
HQ: The Four Seasons
Members: Jerry Speyer, Eli Broad, Steve Cohen, Peter Brant, Beth Rudin De Woody, Asher Edelman, Michael Lynne.
Party of Choice: After-party for private screening of Berlin, the Lou Reed film directed by Julian Schnabel.
Spot Them: Trying to sneak into the NADA fair early to see Daniel Reich's booth.
Most Likely To: Promise never to sell a piece, then sell it.
TRIBE: THE ARTISTS
HQ: The Raleigh
Members: Damien Hirst, David LaChapelle, Doug Aitken, Jack Pierson, Aaron Young, Kehinde Wiley, Terence Koh.
Party of Choice: Visionaire. It's launching a $250 "sound magazine" (tracks by U2, Courtney Love, Robert Wilson).
Spot Them: Doing midnight karaoke at the Shelborne.
Most Likely To: Hoard the gift-bag bottles of Imperia vodka.
TRIBE: THE CELEBRITIES
HQ: The Setai
Members: Dennis Hopper, David Byrne, Steve Martin, Russell Simmons, Lou Reed—and maybe Keanu Reeves.
Party of Choice:Sotheby's dinner—by imported French chef Pierre Gagnaire—saluting contemporary Asian art.
Spot Them: With an art adviser.
Most Likely To: Get comped bottle service at the new Lenny Kravitz speakeasy, the Florida Room.
TRIBE: THE FASHION PEOPLE
HQ: The Ritz-Carlton
Members: Calvin Klein, Nadia Swarovski, Tamara Mellon, Donna Karan, Laudomia Pucci, Vivienne Tam, Kenzo.
Party of Choice: Cartier, which is flying in a crystal party dome to shelter part of the city's botanical garden.
Spot Them: Nowhere near the art fair.
Most Likely To: Actually get a table at Prime One Twelve, then order chopped salad.
TRIBE: THE SUITS
HQ: Mandarin Oriental
Members: UBS's Karl Schweizer; Citicorp's Mary Hoeveler; execs of Campari, Cartier, BMW.
Party of Choice: UBS banquet. Nearly two dozen buffet tables of free food and drink.
Spot Them: Fielding requests for access to the lush corporate VIP lounges.
Most Likely To:Wonder if they can afford to spend all this money next year if the economy keeps slowing.
TRIBE: THE LOCALS
HQ: Their villas on the Intercoastal
Members: Donald and Mira Rubell, Marty Margulies, Craig Robins, Norman Braman, Rosa de la Cruz.
Party of Choice: Miami Museum of Contemporary Art's Jorge Pardo opening.
Spot Them: In the design district, matching furniture to art.
Most Likely To:Trying to start a trend.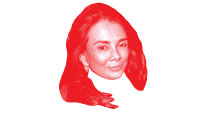 TRIBE: THE ART DEALERS AND ADVISERS
HQ: The Delano
Members: Larry Gagosian, Mary Boone, Andrea Rosen, Barbara Gladstone, Mark Fletcher, Sandy Heller.
Party of Choice: Crazy transgressive Taschen Books party.
Spot Them: : Offering faux-urgent fifteen-minute "holds" on pieces.
Most Likely To: Complain that it was better last year.
Have good intel? Send tips to intel@nymag.com.