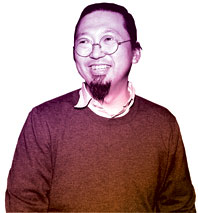 It won't be as controversial as the 1999 "Sensation" exhibition that upset Rudy Giuliani so much, but the Brooklyn Museum's latest contemporary art megashow comes with its own baggage. Celebrated Japanese pop artist Takashi Murakami's "© murakami" retrospective was put together by the Museum of Contemporary Art in Los Angeles, where it included a boutique by Louis Vuitton, for whom he designs bags. Leather goods, plus limited-edition canvases by Murakami and Marc Jacobs, will be on sale in Brooklyn, too. Murakami pal Kanye West will perform at the April 3 preview party. The artist spoke to Alexandra Peers.
How is the show in Brooklyn different from L.A.?
MoCA was a big box, but the Brooklyn Museum is an artist's museum … classic style. I'm readying some new installations, new wallpaper, and also the Vuitton shop has a very new program.

There's been criticism of your partnership.
Warhol said, "When I die, the people will understand what I am doing now." It was breakthrough. Early Beatles, Rolling Stones, no one cared. People weren't thinking of them as artists. Now they know.

Does your partnership with Vuitton influence the art?
One-hundred percent yes. When I started with them, I totally didn't know. "What is a Louis Vuitton?" Now I understand: They make large, very expensive bags. This is the same way paintings are very expensive.

Some accuse you of just imitating Warhol.
Andy Warhol was very cheap in the 1960s. Now he's not cheap.

Do you think the critics are out to get you?
My feelings will be down if I get bad reviews. In New York, over 50 percent bad reviews is normal.

Do you make work with your collectors in mind?
Sometimes. Some big collector asked me for some huge piece, a commission, and I said, "I could do that." But I'm a bad artist. I didn't finish yet. So I don't do that anymore.

Who is it?
Ahhh … François Pinault … Steve Cohen.

Will the art market crash?
I think it will crash. Soon. This is its history. Really soon—maybe this year or next.

Will it matter to you?
What will I do? I'll keep making art—paper and pen. I'll make small things.
Have good intel? Send tips to intel@nymag.com.