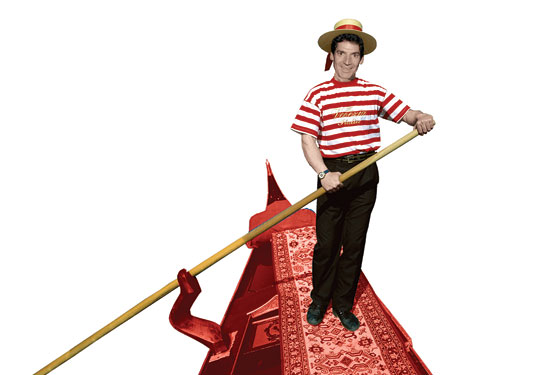 On May 1, while much of the city's publishing elite was hobnobbing at the Time Warner Center for the National Magazine Awards, across the street in Central Park, Tom Florio, publishing director of Condé Nast's Vogue Group, was attempting to pilot a gondola. Florio, the younger brother of the late Condé Nast CEO Steve Florio, figured this was more important, since none of his titles were up for prizes anyway. On May 11, he'll be the only American on a team of Italian power players entered into the Vogalonga, a 1,500-boat, 30-kilometer gondola regatta in Venice that should take five hours to complete.
Florio first heard of the contest during a trip to Rome last year, and signed up. But how to train for a gondola race in New York City? His trainer at Equinox had him swinging kettle balls and moving weights on a pole around the floor while standing. Three months and five pounds of arm-muscle gain later, "I'm thinking I've got this down," Florio says. Then he got a call from his teammate, former Valentino chairman Matteo Marzotto: "He says, 'I have to warn you: I tried this and it's nothing like you think. My back's killing me, my hands are bleeding, my butt is sore. It has nothing to do with strength.' "
Florio signed up for $75-an-hour lessons with "Andres the gondola guy," at the Central Park Boat House. For the first lesson, Florio "spent the entire day going around in circles," he says. The second lesson, during Passover, "I'm trying to maneuver a gondola through a lake filled with Hasids in rowboats," he says. But he's getting better. So why is he doing this? Even he's not quite sure. "I think I already went through my midlife crisis."
Have good intel? Send tips to intel@nymag.com.