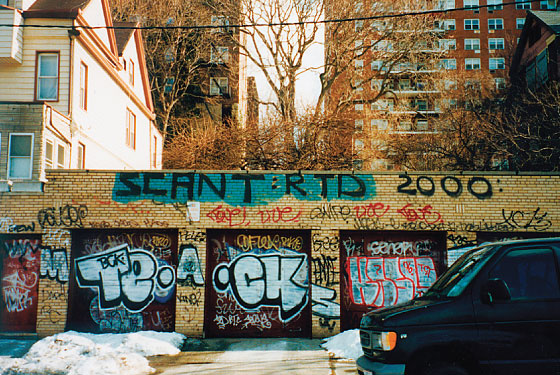 With requests for graffiti cleanup coming in to the city government at twice last year's rate, are the glory days of vandalism returning? Michael Martin asked former Transit Police vandal-squad member Joseph Rivera, who should know: He just published a book on the attempts to clean up the city in the eighties and nineties called Vandal Squad.
Today, graffiti-covered trains seem sort of romantic. I'm guessing you don't see them that way.
Covering trains with senseless scrawls never did appeal to me.
Were there any graffiti writers you admired?
Many were very creative and extremely hard to catch. Unique and different? I would have to say Revs; the creative Seen; the talented Ces, Ewok, Cope, and Stem.
Did you get respect?
The average New Yorker couldn't believe the unit existed. They'd refer to us as "crayon cops."
But the squad did do hard-core detective work: stakeouts, going undercover to graffiti shows …
They did require extensive, in-depth investigations to identify the markings, then identify those who are responsible for the incidents. Being able to read graffiti markings is a hard thing to do.
The penalties seem pretty ineffective—many who were bombing back then are still doing it today.
Absolutely. I still see vandals from the early eighties leaving their mark.
Why did you retire after the city merged the Transit Police into the NYPD?
There is no doubt that the members of Transit got the royal shaft afterward. Coming to terms with the fact that we weren't getting the [detective] shield was the easy part. The hard part was knowing that the city didn't take care of us after we performed at such a high level.
Have good intel? Send tips to intel@nymag.com.