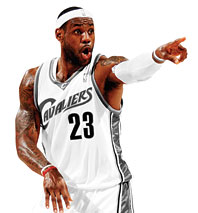 The question every Knicks fan needs to come to terms with: How much degradation can you withstand? Or what are you willing to suffer for the greater good? Can you be patient for one more year, even with no assurances it will be worth it?
As usual, the Knicks' draft inspired more speculation than practical roster turnover; it is telling that the two players the Knicks actually got, Jordan Hill and Toney Douglas, were the names you heard the least. The Knicks were, in a theoretical universe, trading for 18-year-old Spanish phenom Ricky Rubio, parting ways with Nate Robinson and/or David Lee, perhaps offering a contract to Jason Kidd. None of these happened, but the Knicks, as always, are more fun as a parlor game than as a real-life team.
No matter what the Knicks end up doing—and among those possibilities, my guess is that David Lee's the only guy here next year—the goal remains unchanged: Lure LeBron here by any means necessary. (Knicks message boards were breathless in reporting last week that, upon receiving Best Male Athlete at the BET Awards, LeBron brought a friend to the stage with him who was wearing a Yankees cap and an I [Heart] NY shirt. It has come to this.) Which means next year, like all the recent ones, is going to be rough. The Knicks can't commit to any contracts beyond this season, lest they lose cap room earmarked for LeBron and another 2010 history-altering free agent (Dwyane Wade? Steve Nash? Chris Bosh?), so their options are limited. As they should be.
General manager Donnie Walsh and coach Mike D'Antoni will be tempted to field a more competitive team next year, to bring in Kidd for an overly generous one-year deal, or to overpay Lee. The Knicks lost 50 games last year; surely they must show some improvement, right? But that is beside the point: What's one more season of struggle after the wretchedness of the Isiah Thomas era? The reason the Knicks found themselves in this mess in the first place was the misguided notion that their fans would not tolerate rebuilding; this led directly to a bloated roster of spoiled, unmotivated malcontents. Every year, the franchise has fallen further down this rabbit- hole. Walsh and D'Antoni have done an admirable job trying to dig the Knicks out. It was always going to take more than one season. This is season two. We're willing to wait. The Knicks aren't making the playoffs this season; we have no illusions.
Because LeBron is the prize, and we all know it. There's no way the Knicks are going to convince LeBron that they're a "contending" team before next season, or at least not more of one than his Cavaliers were last season … you know, the team that didn't make it out of the conference finals. LeBron will come here if he is dissatisfied with the Cavaliers' progress (possible) and if he thinks the best way to become a global superstar is to play in New York (equally possible). The Knicks just have to clear the decks and not give him any reason not to want to come here. The rest is out of their hands. So far, so good.
But it's going to require another year of sacrifice from us fans. Are you willing to watch Danilo Gallinari, Wilson Chandler, David Lee, Chris Duhon, and Darko Milicic lose 50 more games for the mere possibility of LeBron? I bet you are. I bet you don't have much choice. The Knicks might not be able to count on it … but they don't have any other choice. All they, and we, can hope is that LeBron keeps outfitting his entourage in Yankees gear.
Have good intel? Send tips to intel@nymag.com.