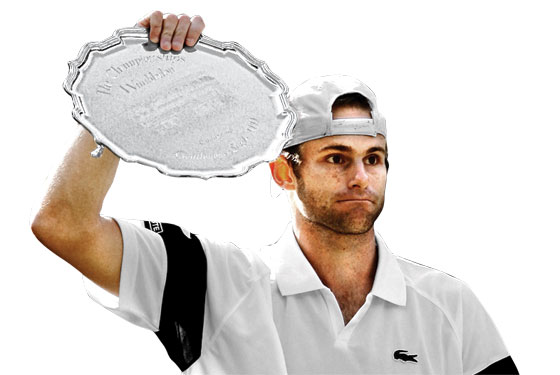 In Woody Allen's Sweet and Lowdown, Sean Penn plays Emmet Ray, "the world's second-greatest jazz guitarist." Whenever Ray meets Django Reinhardt, the actual greatest (and nonfictional) jazz guitarist, he faints. It's an odd parallel to contemplate with a great athlete like Andy Roddick, who, in the Wimbledon finals, confirmed his runner-up status—without fainting.
Roddick's the best American male player since Pete Sampras. But right after he rose to the No. 1 ranking in the world and won the U.S. Open title in 2003, Federer lapped him and never looked back. Since Roddick's lone majors title, Federer has won fourteen. But at Wimbledon this year, the newly married, stable Roddick finally came into his own, playing his best tennis in years.
Heading into the final against Federer, this was Roddick's best chance to grab it. He met Federer stroke for stroke, staving off his meticulous consistency in a five-set marathon. Roddick simply cannot play better than he did in that match. And he lost. Because he is not Roger Federer. Andy Roddick spilled his blood and guts all over the All England Lawn Tennis & Croquet Club grass for four hours and sixteen minutes, wringing every ounce of his talent and will. And he still lost. He finished in second place, which is really last place: Just ask the Buffalo Bills, Mothra, or Al Gore.
In a way, Roddick is the Salieri of modern tennis. Blessed with incredible talent, but not transformative talent. Or think of Patrick Ewing, a Hall of Famer, the fifteenth-leading scorer and sixth-leading shot blocker in the NBA books. He was once considered so dominant that the NBA changed its draft rules so teams would not purposely lose games in order to pick him. In most generations, he would have won several championships. But he was unlucky enough to play in the same era as Michael Jordan and Hakeem Olajuwon, otherworldly talents whose stars outshone his own. Ewing was a dominant basketball player—but he was not dominant enough. He never won that title. It's the curse of being born at the wrong time, in the shadow of someone greater.
Federer's now beaten Roddick in three Wimbledon finals and will always beat him. How awful that must be, to learn that the skill that you have spent every waking moment since puberty working to improve still leaves you but a footnote. We've all been there, but usually in a less public way. Nobody always wins; there's always someone better organized, better looking, smarter, more determined. More talented. It's little wonder that, after the crushing loss, Roddick murmured, unfortunately within earshot of the microphones, "Yeah, you'd already won five" at Federer when he tried to console him by bringing up his own loss to Rafael Nadal (Federer's only real rival) at Wimbledon last year. Easy for him to say. You felt for Roddick. Emmet Ray knew what he is finding out: There's no glory in being great but not great enough.
Have good intel? Send tips to intel@nymag.com.