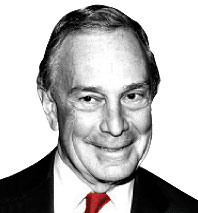 Mike Bloomberg's reelection effort is funded and staffed to the point of apparent inevitable success. But for all the high-priced consultants he's hired, is there an actual grassroots effort here?
I decided to find out by joining the "young professionals volunteers night" advertised on his campaign website. But when I showed up at the campaign headquarters on West 40th Street, the woman sitting behind the reception desk didn't know what I was talking about.
Soon I was escorted past a yellow WELCOME VOLUNTEERS sign into a long, windowless space that looked like a Wall Street boiler room decorated by grade-schoolers and pollsters. Handmade posters paid tribute to microtargeting: TIKES 4 MIKE; HARLEM [HANDSHAKE] MIKE; BRUNETTES [HEART] BLOOMBERG.
A tanned brunette named Julie greeted me with a mix of warmth and puzzlement. Then it dawned on me that I was the only one there for the special event. There were a few other regulars, however.
For a campaign with a bottomless budget, the volunteer amenities were minimal. The stacking chairs were upholstered but not terribly back-friendly. The Panasonic phones lacked a MUTE button. And while the cooler was stocked with Diet Coke, the phone team wasn't entitled to the staff's free Red Bull. After a two-minute tutorial, Julie handed me a script and a voter list plucked from what I gathered was the elderly-Democrats-from-Manhattan-with-Jewish-sounding-names file.
To the left of me sat Rose, a middle-aged beverage executive who spoke about the mayor with sober admiration. We were joined by a petite Indian marketing student and Jimmy, a bus driver who said he got to know the mayor while making stops around Bloomberg's home.
To my right sat Chloe, whose job was to persuade supporters to host a Bloomberg party for friends and neighbors. ("We'll give you buttons, stickers, talking points.") The table got a laugh when Rose discovered that Chloe was telemarketing Rose's own husband. "You're calling me!"
I spotted a little sign across the room: STATISTICS SHOW THAT 22 PHONE CALLS = 1 ADDITIONAL VOTE, a fact that didn't strike me as especially encouraging. What was most important was to find out if the voter loves Bloomberg (which you mark as a 1) or detests him (coded as 5). Each station has a bell, which you're supposed to ding when you hook a 1—though the bell has fallen out of favor. "It used to drive people crazy," Rose explained.
One of my first calls was to the deceased. "I'd like to talk to Martin also, but he's dead," said the woman who answered the phone.
But my luck started to change. Eben, 76, who told me he met Bloomberg at "various antique shows," was a solid 1. I had a setback with Walter, 74, who told me that a Bloomberg third term was "the beginning of a dictatorship." From what I could overhear, the other phone bankers were having similar problems. "He's not interested in your money. He just wants to know if you support him," said one. Given that no one I spoke to seemed to have a clue about Bloomberg's opponent, Bill Thompson, I wondered if we actually did him a favor. "I didn't know there was anyone but Bloomberg," said a woman named Cassandre.
Have good intel? Send tips to intel@nymag.com.