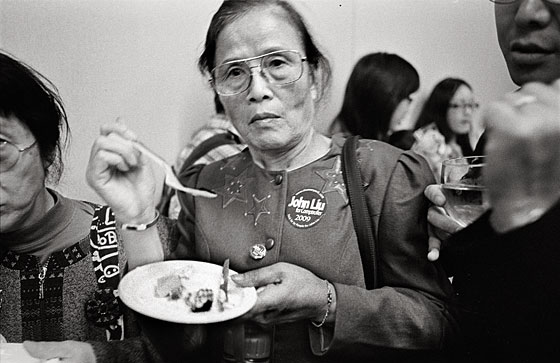 Liu Chuan Yah! Jai yo! John Liu walks down Mott Street, followed by a mob of supporters chanting his name in Chinese (Liu Chuan Yah!) and encouragement to keep going—or gas up! (Jai yo!) It's a grand day in Chinatown for the councilman from Flushing. After beating David Yassky in the primary runoff for city comptroller, Liu is on his way to be the first Asian-American ever elected to a citywide post.
He has a catatonic, I-can't-believe-this-is-happening-to-me look on his face.
"Rock star," says Councilman David Weprin, a comptroller rival turned supporter, trailing along. "I wish some of it would rub off on me." Already there's talk of whether Liu could, in fact, keep going.
Liu is watching his crowd like a traffic guard. "Don't cross," he says. "It's too dangerous."
Liu, 42, a former actuary, majored in mathematical physics. He tries to calculate everything and not let his emotions get in the way. Moments earlier, he engulfed a Chinese newspaper editor in a hug. "Oh wait," Liu said. "I'm not supposed to do that."
Liu represents the latest chapter in the city's evolving ethnic story of bootstrap politicians. Without the endorsements of any major newspapers, he was able to assemble such a diverse coalition of labor and good-government groups that insiders are considering him a contender for mayor after Mike Bloomberg is finally out of the way. Until then, "The man can't always do what he wants in this town," Liu says.
The city's old ethnic guard ran his campaign (Harlem macher Bill Lynch was a chief strategist), while the Working Families Party also endorsed him. He's an insider now.
"I'm just an immigrant kid who grew up in New York and, you know, one thing leads to another," Liu says. He was born in Taiwan and grew up in Flushing. As a boy, according to his campaign commercials, Liu helped his mother work in a sweatshop (though this detail was challenged after his mother claimed she worked from their apartment).
He was a long-distance runner at Bronx Science. (How far could he run today? "I could probably go ten miles—at an easy clip. It's all in the mind.") He got his degree at SUNY Binghamton and worked at PricewaterhouseCoopers before losing a race for the school board in '89, and then one for City Council in '97. After his father (also an accountant, he became a bank president) was convicted of conspiring to embezzle a million dollars, Liu still ran and won the Democratic primary in 2001 by 202 votes (and ultimately the election).
In the council, Liu became chair of the Transportation Committee, developed a reputation for tirelessness ("Sleep is overrated"), and fought Bloomberg's extension of term limits.
He originally wanted to run for public advocate, but when Bronx borough president Adolfo Carrión went to work for Obama instead of running for comptroller, Liu decided that was a better goal for him.
On East Broadway, amid the tenements that have housed successive generations of newcomers to this country, he ducks into hair salons and apothecaries and bakeries, thanking voters like an old hand. But Liu bristles at ethnic clichés. His favorite song is "California Dreamin', " with all its implications of broader horizons. He never has acted like he's just a Chinatown politician. "I hate labels," he says. "I hate the word insular."
Have good intel? Send tips to intel@nymag.com.