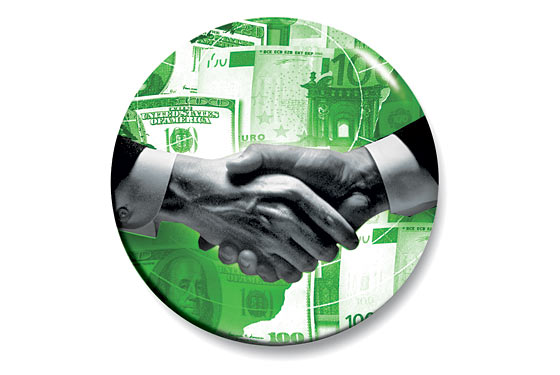 With the pro-labor Working Families Party on the rise, a coalition of New York business elites is laying the foundation to counteract its influence with a political operation of their own. The plan is to collaborate with the Independence Party, which just backed Republican Mike Bloomberg, to push what they see as fiscally responsible positions. They want to help elect Bloomberg-like candidates statewide. The problem is going to be convincing voters that what's good for the capitalists is good for them too. Their tentative slogan? "It's Your New York."
"The business community has never attempted to involve the general public," says Matt Crosson, who heads the Long Island Association and is one of the group's organizers. Voters, he theorizes, "have a general disdain for Albany, but they don't realize how bad it is."
The movement began taking shape after lawmakers in Albany passed a $133 billion budget in April, increasing taxes and fees by $7 billion and raising spending by 9 percent. Deficit projections have risen to nearly $30 billion over the next three years. While Governor Paterson has warned lawmakers that the state may not be able to pay its bills by the end of the year, the Legislature has spurned his attempts to slash education and health care.
It's being advised by Jay Kriegel, a longtime Democrat and member of the city's Establishment who started his career as a hotshot 25-year-old aide to Mayor Lindsay. Most recently, he was executive director of Bloomberg's failed 2012 Olympics bid. (Today, he works as an adviser to developer Stephen Ross.) The new group wants to wage an assault against the WFP, which has become an increasingly decisive force in city and state races, and the power of labor unions. WFP, the major health-care union SEIU 1199, teachers unions, and hospitals spent about $15 million on campaigns and lobbying in 2008. New York State United Teachers and 1199 have a combined membership of nearly 1 million.
The idea is to use the Independence Party, which was founded by billionaire governor-aspirant Tom Golisano in the nineties and is today controlled by Bloomberg allies, to back favored candidates. This is also how the WFP works. It gives these candidates a second ballot line.
Challenging the WFP, which is allied with a sophisticated army of operatives, canvassers, and pressure groups, is not going to be easy. The Independence Party lacks the same boots-on-the-ground infrastructure. Crosson says his new coalition knows what it's up against: "They're very effective and entrenched. The business community will be playing a game of catch-up for a long time."
Still, as pie-in-the-sky as it might seem, 140,000 people voted for Mayor Bloomberg on the Independence line, more than his margin of victory (everybody else voted for him as a Republican, since he was on the ballot twice). "In this last cycle, people hated the Democrats just a little more than they hated the Republicans. People are looking for somewhere to go," says Independence vice-chairman Tom Connolly.
Crosson is hesitant to describe the project as a movement. A big hurdle, ironically, is fund-raising. He's looking for $500,000 in seed money. Business leaders are used to donating for access, but not to being players in a more direct way. Real-estate developers are more accustomed to cutting zoning and wage deals with City Hall than garnering votes.
A generation ago, corporate New York commanded respect in Albany. They had a crafty ringleader, Ray Schuler, who corralled them into a single group, the Business Council. They swooped into Albany in private jets for top-secret summits. But as companies became more international in focus, they stopped paying close attention to local politics. They were also lulled into complacency under Governor Pataki, who generally took the pro-business line. Now they feel like they have to step in again, in public. "The problem is who is their constituency," notes labor lobbyist Michael McGuire. "Unions are all member organizations. Who are the members of 'business'?"
Have good intel? Send tips to intel@nymag.com.