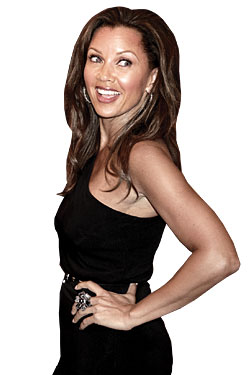 "Thank God I'm not singing 'Send in the Clowns,'" Vanessa Williams says, taking a break from a long rehearsal for the upcoming Roundabout Theatre Company production of Sondheim on Sondheim, a sort of greatest-hits medley of a show compiled by director James Lapine in honor of Stephen Sondheim's 80th birthday. Nope, that honor (or perhaps burden, as Williams sees it) goes to her co-star Barbara Cook. Sure, the 82-year-old legend has been interpreting Sondheim in concerts and cabarets for decades, but Williams, 46, is careful to point out that she and Cook didn't have a teacher-student relationship. "She hasn't even actually been in a Sondheim show," she observes. "She did a concert at Lincoln Center 25 years ago." Williams, however, played the witch in Into the Woods. "We're both kind of on a level playing field."
As for Sondheim himself, Williams has only spent time with him once. "I went out to dinner with him and James after we did Into the Woods. That was it," she said, adding that the reclusive composer was funny but "very quiet and shy." She saw him again recently in the front row of a rehearsal. "He came to our first run-through on Sunday, which was terrifying because it was the first time we actually ran through the show. And he was sitting in the front row with his yellow pad, taking notes," she said. "So that was intimidating." He didn't address the cast afterward.
Williams says she has no plans after this show winds up in June, since Ugly Betty is also ending. "We were on location and our executive producer flew in and started knocking on trailer doors," she said. America Ferrera's first. Westchester native Williams, who grew up going with her parents to see Broadway shows, was "devastated." "It's one of our best seasons yet this year. The story lines, writing, casting, looks," she lamented. "We finally get it perfect and running smoothly. It's feeling like the rug is being pulled up from under you." There ought to be clowns …
Have good intel? Send tips to intel@nymag.com.