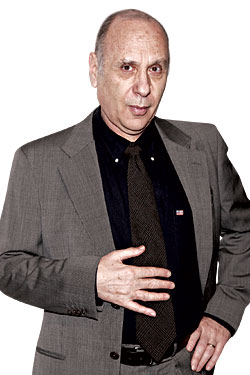 When Marshall Brickman first became famous, in the seventies, he would often say that every time something good happened in his life, he wondered what bad stuff God was saving up for later. If this worldview sounds familiar, that's because Brickman, 68, was the co-writer, with Woody Allen, of Annie Hall, Manhattan, Sleeper, and, later, Manhattan Murder Mystery. Still, a lot of good stuff has happened to him, from becoming the head writer of the Tonight Show at 28 to having a hit in his first outing on Broadway, co-writing Jersey Boys.
Today he's taking a break from work on the musical The Addams Family, for which he co-wrote the book, and has crossed Central Park from his home in the San Remo to see the Museum of the City of New York's exhibit "Charles Addams's New York." Brickman and the cartoonist share the ability to see the cloud surrounding every silver lining. "Addams connects with the dark part of everybody's personality," Brickman says. "And the Jews have a major part of their personality set aside for the dark stuff."
Brickman did not go into this show an Addams aficionado any more than he went into Jersey Boys a Frankie Valli fan. "That show seemed like a really interesting, potentially commercial project. And I know how to make an audience laugh." Addams didn't, necessarily. "These are not exactly laugh-out-loud funny," Brickman says, browsing the cartoons on the wall. "They're kind of smilers, you know?" More than once he stops. "I don't get it."
Brickman has a theory of funny. "I always thought comedy was some sort of a corrective," he says. "A particular ethnic group or social group was getting the shit kicked out of them. And comedy was a way of getting their own back. The Jews did it, the Irish did it, the blacks did it." He's not sure it serves that function anymore; it's become more self-referential. "While I think that, say, my downstairs neighbor who just hosted the Academy Awards, Steve Martin, is hilariously funny, I can't quite tell where he comes from as a person." Today, he says, "I think there's just too much comedy. Sometimes I get requests from people: 'How do I get into comedy?' And I always say that what we need is more people in health care. And less people in comedy."
In the meantime, there's a show on Broadway he's hoping will make people laugh. "I now believe that there's only a certain amount of good luck in the world, and so if something good happens to me, that means something bad has to happen to somebody, somewhere. On April 9"—the morning after The Addams Family opens—"with any luck there'll be a typhoon in Southeast Asia, and we'll have a hit."
Have good intel? Send tips to intel@nymag.com.