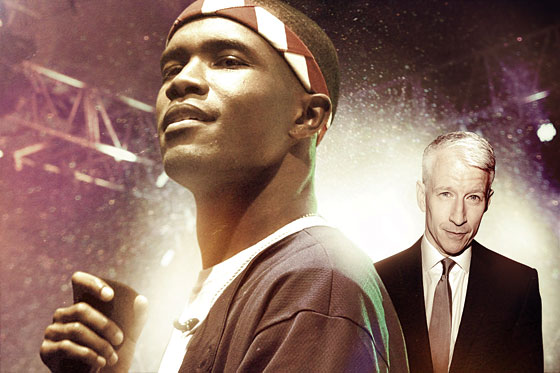 Newscaster Anderson Cooper and hip-hop crooner Frank Ocean both just told us they're gay, and their coming-out last week was an achievement in the long march toward it's "not mattering." In their own ways, they showed just how, these days, a public figure must now perform more contortions to stay jammed in the closet than to come out of it.
Not that Cooper and Ocean had much else in common besides timing. The announcements, actually, seem to come from two different generations. Ocean is a pop-charts comer, working with Kanye West and Jay-Z, and so had a great deal to lose. He posted his message on his Tumblr, with the explanation that he was going to put it in the liner notes to his new album, but "with all the rumors going round," it seemed better to just get it out there. While Ocean's alt-rap crew, Odd Future, trades more on liberal-arts-college credits than street cred, the broader hip-hop community has always been heterosexually vigilant, and front man Tyler, the Creator—who throws around the word "faggot" but says, weirdly believably, that it doesn't mean anything—felt the need to tweet with bro-sensitivity: "Proud Of That Nigga Cause I Know That Shit Is Difficult Or Whatever." But anybody who's listened closely to Ocean's "Thinkin Bout You"—a track sung in his affecting falsetto—didn't see his news as a total surprise.
Cooper's statement was more tortuously self-justifying. It came in an e-mail to his friend Andrew Sullivan, who made his name as the young, gay editor of The New Republic (once a seedbed of a certain semi-well-known historical closet-iness, now owned by a young, married gay man) and who had asked Cooper for his "feedback" on an Entertainment Weekly cover story about Hollywood's shrinking closet. For those who live in New York, or in the web-based gossip version accessible worldwide, Cooper's sexuality was hardly secret. He's an aspirational figure for many gay men I know, TV-famous without playing gay for the camera (as does, say, Andy Cohen), pedigreed, emotionally expressive, and, of course, occasionally sighted at the gym. He's a respectably silver-haired grown-up who lives in a pleasingly borderline-kinky refurbished firehouse. He can both giggle too much and cover wars.
Though Cooper talked, abstractly, of "loving and being loved," there was nothing of the yearning immediacy of Ocean's Tumblr disclosure, where he told of being swept off his feet at 19 by a guy who couldn't yet admit he was gay too. Possibly Cooper has a story like that—some first love that jarred him into self-recognition. But being twenty years older than Ocean, he turned to his career to help explain his delay: "I've always believed that who a reporter votes for, what religion they are, who they love, should not be something they have to discuss publicly." His sexuality has long been part of the context anyway, the lens that knowing viewers watched through when he stonily grilled the woman from a North Carolina church that wants to put homosexuals behind electric fences or spoke out against the bullying of gay teens. We knew where he was coming from.
Media critics have been calling for CNN to become more like MSNBC, to come out as liberal and play a more ratings-friendly part in the current game of thrones. It's easy to imagine Cooper's decision as related, part of a plan to drop the pose of disinterestedness. And maybe it would help CNN to have its own declared Rachel Maddow. But does anybody even think about Maddow's sexuality anymore? I suspect not that much. Nor is it likely that people will stop thinking about their injured heterosexual hearts when they hear a Frank Ocean song that happens to be about a boy.
Related: Anderson Cooper: When Out Is Easier Than In
Related: Abebe: Why Frank Ocean's Coming-Out Was Unique
Have good intel? Send tips to intel@nymag.com.