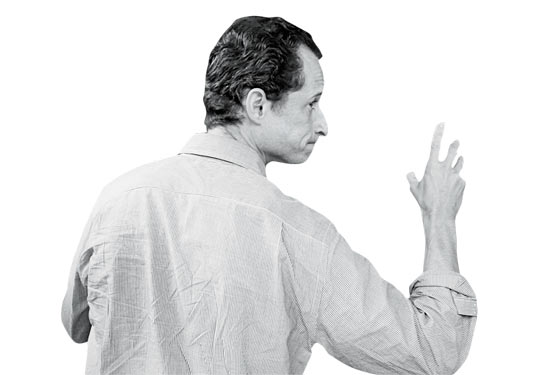 The self-serving post-scandal spin from New York's other elected officials portrayed Anthony Weiner as a lone wolf, politically friendless. Strange, then, that his fall has set off an enormous chain of political dominoes.
The early leader to succeed Mayor Mike Bloomberg in 2013, Weiner had an outer-borough middle-class base, and his GOP-bashing rants were adding Netroots and other city liberal elites to his column. Now those groups are up for grabs—along with Weiner's former donors. But while subtracting the front-runner helps every Democrat contender, it doesn't help them equally, especially in a large-field primary, where the game is all about cold demographic calculations.
Bill Thompson lost a surprisingly close race to Bloomberg in 2009; his black base, coupled with Weiner's departure, leaves him even better situated. "After Anthony, Bill sat down with two or three businesspeople who said he's now worth the investment," a Thompson associate says. Scott Stringer has a slightly improved shot with the Jews and Manhattan progressives Weiner would have locked up—and is therefore more likely to jump in. Bill de Blasio, the very tall public advocate, has a much stronger claim on libs, however, and is also well-positioned to scoop up labor unions, outer-borough ethnics, and brownstone Brooklynites previously in Weiner's camp. Meanwhile, as Weiner was melting down, City Council Speaker Christine Quinn was trying to broker a teacher-saving city-budget deal that could bring her union support to go with the business-community backing she's assiduously built. Weiner's flameout only increases the opportunity allies see her having with outer-borough blue-collar whites, particularly in Queens. City Comptroller John Liu, on the other hand, remains in a tough spot: The exit he needs is Thompson's, to give him a chance at black voters. "A lot will happen between now and 2013," one potential contender says. "Remember that as of September 10, 2001, Mark Green was considered the leading candidate for mayor."
Which is why the biggest winner, for now, is someone unlikely to make a bid for City Hall: Congress­man Joe Crowley. Crowley's Queens-Bronx congressional district straddles the East River; he's also a major fund-raiser for the powerful Queens County Democratic Organization and the Democratic Congressional Campaign Committee. With Weiner out, he'll be freer to play kingmaker in the mayor's race (as he did in providing crucial backing to Quinn's bid for Council speaker). He'll also have a strong hand in choosing Weiner's House replacement.
The real prize, though, is that he's likely to inherit much of Weiner's district. "Crowley needs to grow somewhere, into white turf. He needs to get out of the Bronx," one strategist says. This could be his chance. Redistricting looms, with New York losing two seats, and Shelly Silver will have a big say in drawing the new map for 2012. Crowley's ability to steer campaign cash to the Democratic Assembly leader could be rewarded with a hefty slice of Weiner's old neighborhood. Crowley won't be as entertaining a representative, but his new constituents in Glendale have probably seen enough photos of naked congressmen for a while.
Have good intel? Send tips to intel@nymag.com.