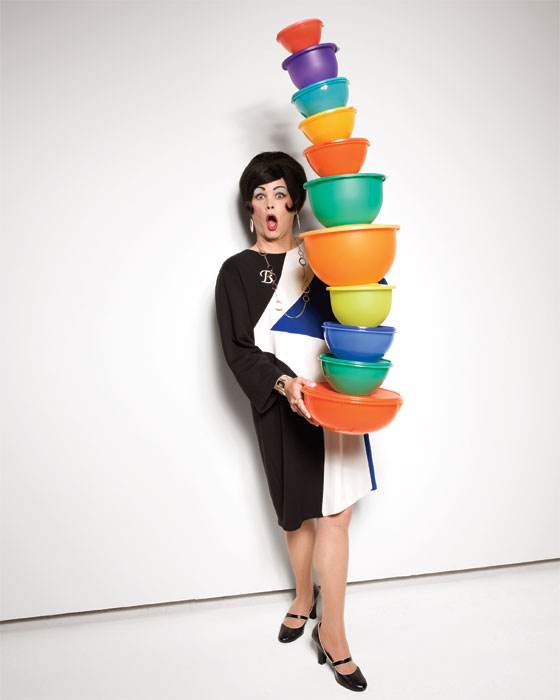 Ages ago, my sister had a Tupperware party and nobody showed up. She had all this food prepared, so I went. The Tupperware consultant was saying how you could bake things in this and that, and I'm like, "Well, I don't bake, but how funny is it that you could have martinis at the beach with that shaker rather than putting your pancake mix in it."
Later, when I was 38 years old and struggling, I figured it was time to take a chance. So I ordered a Tupperware kit and invited my friends and family to come over. What really came in handy is that my mother managed a thrift shop. I went in and got a big dress, big shoes, false eyelashes, and just slapped together this character emulating my Aunt Barbara, who lives in Florida. She has no idea.
I was hoping to sell once a week to a small group of people who might think this was fun. But now mainstream housewives are really into it. One woman said, "It's like bringing a little Off Broadway show right into my living room." At this point, I'm booking into 2010 and making more off Tupperware commissions than at my day job. You can hardly speak to a woman on Long Island who doesn't know somebody who's been to one of my parties. I'm doing five a week, and I cannot keep up with the demand. These women, they clamor.
Suchan recently formed Aunt Barbara, Inc., and plans to expand beyond Tupperware.

As told to Jill Lederman.

Have good intel? Send tips to intel@nymag.com.