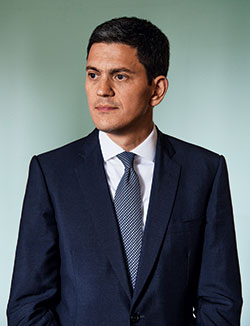 People are nice about you when you're dead," mused David Miliband. The former British politician was standing at a curve in the High Line, in Chelsea, eyeballing the glistening bulk of the Starrett-Lehigh Building. Throngs of tourists streamed around him. German was overheard. French, Spanish, something that might have been Albanian. Miliband, who has close-cropped salt-and-pepper hair and a genial, hyper­caffeinated demeanor, shouted over the din. "When you're in government, you're in a goldfish bowl. Every reverberation means you lose some perspective. But once you've gone"—here he paused and shrugged—"it's very different."
Four years ago, Miliband seemed poised for the prime ministership of the United Kingdom. The unabashedly intellectual son of a famous Marxist theorist, he had been appointed Tony Blair's chief of policy at 29. Election to Parliament soon followed, as did stints as environmental secretary and foreign secretary. Then in 2010, in an upset worthy of Shakespeare, Miliband lost a very close contest for the leadership of the Labour Party to his kid brother, Ed. The headlines were cruel. Bruised feelings abounded.
Uninterested in serving in his brother's shadow cabinet, Miliband retreated to his post in Parliament. In March of this year, he announced he was leaving politics altogether for a job, in New York, as head of the International Rescue Committee, a nonprofit that works with refugees. Last month, just before Labor Day, Miliband and his wife, the classical violinist Louise Shackelton, and their two sons, Jacob and Isaac, moved into an apartment on the Upper West Side.
"New York is wonderful," Miliband said. "Of course, you do have to catch yourself before making right-hand turns in an automobile and at pedestrian crossings. And we've discovered that walking anywhere with the kids is more or less impossible because they'll just stop and gawk. You're in the great mass of humanity, aren't you?"
Still, remnants of the old life have followed him across the Atlantic. A couple of months ago, the Daily Mail published photographs of his family riding the C train during an advance trip designed to give the boys a taste of the city. "Ticket to Ride … But No One Knows Who He Is," read the headline. "At least they blurred out the faces of the boys," Miliband said with a sigh.
The sun beat down mercilessly. Miliband soldiered on, a few droplets of sweat building on his upper lip. Near 22nd Street, he stopped in front of a statue of a man holding up a vial of anthrax. He leaned in to look at the placard: It depicted Colin Powell giving a speech in front of the United Nations in 2003. "It's a tragedy because the Syrian people are paying the price for Iraq," he said. Syria was very much on his mind. A day earlier, David Cameron had failed to win parliamentary support for an attack on the regime of Bashar al-Assad, and Miliband had spent the afternoon alternately unpacking boxes and checking the website of the BBC.
As a policy, IRC doesn't take a position on intervention, so Miliband declined to say how he might have voted had he still been in Parliament, but he clearly believed that some kind of action was necessary. "Is there a just cause for engagement?" he asked rhetorically. "I would say yes. Is there a political strategy, within which there is a clear ­military component? Not yet and not clear."
He was getting hungry. On his way east on 29th Street in search of a sandwich, Miliband recalled his previous stints in the U.S. In 1989, he'd earned a master's degree at MIT; in the seventies, his dad took a yearlong job as a lecturer at Brandeis University and moved the whole family into a rental in Newton, Massachusetts. David went to ­Bigelow Middle School.
"It was a fantastic year," Miliband said. "I got to play the mayor in Destry Rides Again. I was banned from singing or dancing because I was so bad." He settled into a table at the Molly Wee Pub, on Eighth Avenue, and ordered a BLT and a cup of coffee. "I learned how to pledge allegiance to the flag, and in social-studies class, we wrote out the Bill of Rights on the fingers of a hand. Whose hand? I don't know." He took a haul of his coffee. "This country has been very important to my personal story," he concluded.
His lunch companion bravely ventured a question about his brother. Did they talk? Miliband answered in the affirmative. And did Ed ask David for advice? No comment. Would Ed some day visit David in New York? "I hope so," David said. "But we probably won't tell you guys in the media or you'll snap a picture of us on the tube. Sorry. The subway."
Back to his old job. He must miss it. "At IRC, you're not governing the fate of countries in the same way. So will I miss it? Of course," Miliband allowed. "But in truth, I've been frustrated for two or three years. I've had a feeling that I've got experience and ideas and things to say, and I've not really been able to say them. As I was telling the IRC staff, the nonprofit sector can do some things much better than government, and one of those things is innovation. It's incredibly refreshing, actually."
He drank a second cup of coffee and stood up. At home, the boxes awaited. "Chaos," he said ruefully. "Our first night, we had no sheets or towels. The kids had a bath and got dried with napkins. Moving is not hard compared to the problems some people have, but on the list of ­middle-class traumas, it's quite high."
He set off toward the subway. Outside of Madison Square Garden, Miliband found a newspaper stand. He pointed at the Daily News, which had run a cover story on Parliament's Syria vote under the headline THE BRITISH AREN'T COMING! He dug in his pocket for 75 cents.
"I'm one of those British who isn't coming," he said to the woman manning the stand. She smiled blankly and handed him the paper.
Have good intel? Send tips to intel@nymag.com.