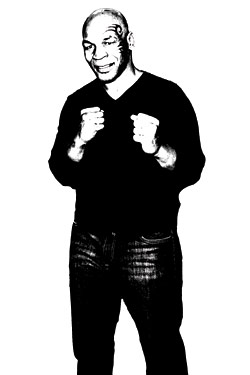 Mike Tyson walks into the Ringside Lounge in Jersey City. It's late afternoon on a Wednesday but feels after-hours inside the bar. A pink neon light faintly streaks the walls, which are covered with Tyson photos, and the ceiling, which drips with Mylar streamers. The music is loud. A birthday posse, four women, already drunk, shimmy around their stools as if they were stripper poles.
"What's the food situation?" Tyson asks the proprietor. "I'm famished."
The house specialty is pork chops.
"You have rice?" Tyson asks. "Yellow rice? And carrots?"
"So mixed vegetables. Sautéed onions, Mike?
"No onions."
"And what to drink, Mike? Tea?"
"Chamomile."
It's an unexpected order from the former most feared man on the planet, but it's what his new diet dictates. After retiring from boxing, Tyson struggled with drug addiction. He wasn't exercising, and he got so fat he thought his heart might explode. For more than a year now, he's been vegan. He claims to have lost over a hundred pounds.
As Tyson waits for his food, proprietor Mario Costa ("I own the block") scurries behind the bar and puts in a DVD to show on the flat-screen. It's a teaser for Tyson's latest venture: an Animal Planet series centered on Tyson's longtime passion for pigeons. Tyson keeps thousands of birds in different coops around the country; that way, wherever he is, he can always spend time with them.
Tyson's having his own family-friendly show, and his return to New York to promote it, can be seen as completing the redemption of his image. "Isn't it crazy?" Tyson asks. "I go from being this horrible guy, this rapist, this psycho-man walking the streets … and now when I see these young kids on the street, they give me hugs … Ain't that some shit?"
Behind the Ringside is one of Tyson's oldest coops, a houseboat-size structure with running water and heat. Ricky Roman, who looks after Tyson's birds in Jersey, calls it "The Dream Coop." Next to the building is a modest townhouse where Costa managed to squeeze a boxing ring into the living room. As heavyweight champ, when he was overweight and didn't want to be seen, Tyson did training sessions here.
Other than his pigeons, he's had pet tigers over the years. I ask Tyson if he were an animal, what animal would he be?
He looks up at the tinseled ceiling. He scratches his thick neck. "I'd like to be a lion, but I think I'm a wolverine," he says.
Wolverines: "They're like big giant rats. They're about 50 pounds and fearless. They fight to the death. They don't move fast. They walk slow because they're not afraid of nothing. That's how I think. And they can be a little reckless." But also, he says, "I'd like to be a lion and have lion status: to make other people do my work and get the credit for it."
Tyson is now 44 and has had eight kids. His youngest, Morocco Elijah, was born in January. In May 2009, a daughter, Exodus, then 4, died after an accident involving a treadmill cord. "You realize when you get older that life is not about acquiring shit, it's about losing shit," he says. "You lose your hair, your teeth, your loved ones."
Tyson's also lost wealth. He was once one of the ­highest-grossing athletes in sports, generating over $400 million. But after spending a reported $400,000 a month, he filed for bankruptcy in 2003 owing close to $30 million. In a way, it's a liberating feeling for him to be broke. "I live a rich life," he says. "People see me in a private plane—it's probably my friend's plane. I mean, I don't have no fucking money." Money, he adds, brings "a false sense of security. Sometimes you have so much money you believe you can't even die."
His order appears. The broccoli, carrots, waxed beans, and rice are arranged in a formation as elaborate as an English garden. I ask him what book he is reading.
"A [Natural] History of [Human] Emotions. By a guy named Stuart Walton. It's real cool shit. You know some of the greatest minds, since like the 1800s, didn't consider jealousy an emotion?"
He talks like a new man, but can people really change?
Tyson warms his giant hands on his tea. "I think we are born contradictions. The older we get, our thoughts change," he says, "until we reach a paradigm shift, and we realize that everything we've been learning is a lie, and we have to start all fucking over."
Down at the end of the bar, a cake is served for the birthday girl. The candle is in the shape of a giant penis. The birthday crew is dancing. Tyson gets up from his stool and does his own little dance; as they wiggle he wiggles too. "You just can't control it," he says.