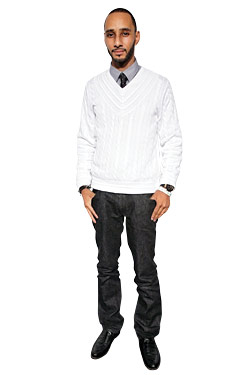 A student jam session is raging outside the office of the chair of NYU's Clive Davis Department of Recorded Music; inside, Swizz Beatz is bopping a shoulder to the beat of OutKast's "So Fresh, So Clean." Dressed in a V-neck sweater and dark denim, the megaproducer and rapper—whose many collaborations with the hip-hop elite include one with Jay-Z that just won Beatz his first Grammy—looks more or less like a natty grad student, except for the flashy jewelry on his left ring finger; he was married last summer to Alicia Keys.
Beatz, real name Kasseem Dean, is the department's first producer-in-residence, a post he assumed in November. The job offer came after an overwhelming response to a guest lecture he gave last year. "When I thought about it, I really love this environment, the students. It wasn't, like, annoying," Beatz says. He comes in every couple of weeks for personal advising sessions.
Today his first students are Morgan Neiman and Giovonni Lobato, a "lo-fi electronica-pop two-step" act called Etches. "Hold on a sec, I need my pad," Beatz says. "So do you guys have a business plan?" Neiman explains that they hope to make appearances at something called the Dirty Rotten Dance Party. Lobato adds that he's doing web design.
"Okay, so that's a business plan for that, but what about for your music?" Beatz asks. "The truth is … I don't know, really," Lobato replies. The lesson commences. "So, for me, the music comes last," Beatz explains to the duo, now wide-eyed. "Well, in my heart the music comes first. But living in this world and being realistic, the music comes last and the business comes first. You might have a hot single, and you might not be prepared for it."
Neiman and Lobato have brought two tracks to play. After a quick listen, Beatz assigns their homework: Get registered with an entity like ASCAP, make a CD, and try handing it out at "cool-out bars" and lounges. "You'd be surprised how much response you get," Beatz says. "Like, you know, 'We really love this vibe, can we get a couple more of these?' The first couple are free, and then you start charging."
"Totally!" Neiman says. "We hadn't thought of that!" adds Lobato. "That's why we here," says Beatz. "That's why we here!"
After Neiman and Lobato have left, Beatz talks a little about his own education. He grew up in the South Bronx, bouncing through several schools before moving to live with family in Atlanta. "The funny thing about me being a professor, I didn't really get along with school," he says. "It wasn't based on education, it was based on survival. You go in there with a new pair of sneakers on, trying to focus on work, but this person over there is thinking about jumpin' you." At 14, he honed his entrepreneurial skills as the youngest barber in the neighborhood shop. "What made me different, I was doing designs in people's haircuts," he says. "Then I started giving an incentive—you buy a design, you get a mix tape. I was charging $30, more than anybody."
He says he sees his younger self in the NYU kids, to a point. "But I was a little more realistic. I still have my plan, by the way!" The "plan" is something he drew as a plucky 17-year-old, a picture of himself in a D.J. booth with a compass next to it, meant to show he could expand beyond the Dirty South sound he'd become associated with. "Ninety-six percent of the students here are not ready to go off to the races, as you can see." It's not that he isn't sympathetic. "I know they want me to sit here and jam to these beats and have me tell them, 'That was hot!' But I feel I'd be wasting their time."
Along with this teaching gig, Beatz has been branching out into visual art. (And product design: Reebok has named him curator of its new Reestyle Collective, in a move seen as a bid to recapture some of the brand's old street cred.) He rolls up his sleeve, revealing an arm full of arty tattoos: a Shepard Fairey veiled woman; Damien Hirst's diamond-encrusted skull; Andy Warhol's Muhammad Ali; a Keith Haring radiant baby; Basquiat's face. He's a big fan of Kenny Scharf's wall on Houston Street. "I want my art to be up there one day!"
But first, he has more teaching to do. "I have a whole new plan, knowing the scope of what I'm dealing with," he says, "where I can have these kids do music and pay off their student loans at the same time. That formula is 85 percent done." He nods thoughtfully, seeming to work it out as we speak. "I want to make a real difference, so I can help them and we can help each other," he says. " 'Cause I'm a student too."
Have good intel? Send tips to intel@nymag.com.