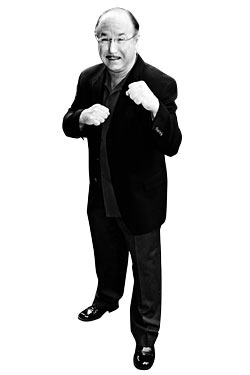 The bus to the press conference is rumbling through midtown traffic two days before the fight. The trainers, sprint coach, and strength-and-conditioning coach are all piled in the back and cracking jokes. In the front, ­Victor Conte reaches into his jacket and pulls out a small plastic bag. It is filled with powder. He gives it to his fighter, Nonito Donaire. He pulls out another packet. He gives it to me.
I read the label: "PED." Performance-­enhancing drugs? I look closer. Oh! It's a "Performance Energy Drink"—a just-add-water vitamin-boosted raspberry-lemonade elixir he's cooked up.
Conte waits for the joke to kick in, then laughs. His pencil mustache rolls into a curl, and his light-blue eyes twinkle. It is a gutsy kind of joke to make for Conte, the nutritionist villain in America's steroid morality play. It was his Balco facilities that the feds raided—targeted simultaneously by the U.S. Attorney, FDA, IRS, the U.S. anti-doping agency, and a local narcotics task force—in a case that made PED use in professional sports a matter of public record. Ballplayers Barry Bonds, Gary Sheffield, and Jason Giambi, and track-and-field stars Marion Jones and her husband, Tim Montgomery, were all dragged in front of a grand jury, their reputations with them, to testify about potions like "the cream" and "the clear," prompting new inquiries into steroid use by Major League Baseball and on Capitol Hill. Conte himself was indicted on 42 counts, and faced 30 years in prison.
"They said I was a modern-day Al Capone," Conte says. "In reality, it was very soft. I pled guilty to sharing a prescription for testosterone and money-laundering of $100, which may be the lowest amount ever in the federal judicial system. I did not cooperate. They asked me to wear a wire. I did not.
"I did four months in Club Fed. You had guys smoking marijuana in there, dealing coke, meth, steroids," says the onetime funk bass guitarist (he played with Tower of Power and Herbie Hancock). "You had guys in there using baby oil to get a suntan. It was bizarre."
Now on the outside, Conte is back in the training business, working with world-class boxers Zab Judah, Andre Ward, Andre Berto, and Donaire, whom he is prepping for an October 22 championship fight against Omar Narvaez at Madison Square Garden. (Donaire will win handily.) "I guess it's fair to say this is my comeback," Conte says, insisting that the new supplements he's been feeding Donaire are legal and au naturel. "We give him all sorts of different things: Ubiquinol, beta-alanine, L-cernitine and L-arginine"—this last, Conte says, "to smooth the walls of the muscles in his heart."
"Man, I have so much energy," Donaire chirps from the front of the bus, unable to sit still. He turns around to address his team, first singing playfully in Spanish, then his native Tagalog, then talking in English while imitating the Beatles, then singing like the Beatles, then fading back into a Filipino ditty.
"I feel amazing, I feel incredible," Donaire says. "Now I'm at like 21,000 feet."
"As the fight gets closer, we'll bring him up to 22,000 feet," Conte says.
Altitude is important to Conte: Since Balco, he's embraced "intermittent hypoxic training," which starves the body of oxygen by simulating mountain conditions with the help of a breathing mask, triggering the production of red blood cells and erythropoietin, or EPO—a natural energy booster. "For years, you had guys like Oscar de la Hoya and Shane Mosley and all these champions setting up camps at Big Bear," Conte says. "Up there is the worst place you can go. The problem is there is no time to get a good rest. At that altitude, your body can't relax. With the machine, we take you all the way up and bring you all the way down."
"Victor is really good at the downtime," says Donaire. It is the boxer's first trip to New York, and he sees the Garden marquee in passing. His name and picture are on it. "How cool!"
On 52nd Street, the bus lurches to a stop. The press conference is in a steakhouse, and the sight of Conte inside raises eyebrows. "I can't believe he can even walk around like that," says one wag. "Think of all the careers he ruined, the families." On the dais, Donaire seems amped to have Conte in his corner. Pumped full of supplements, he is speaking so fast he struggles to get the words out. His lines are tripping over themselves. "Man," he says, "I have to calm myself down."
Have good intel? Send tips to intel@nymag.com.